Schools told to ditch textbooks and let pupils experiment in science lessons
Children need practical science for the same reasons why they would not be expected to learn to play football from a textbook, argues Katherine Mathieson from the British Science Association
Rachael Pells
Education Correspondent Comments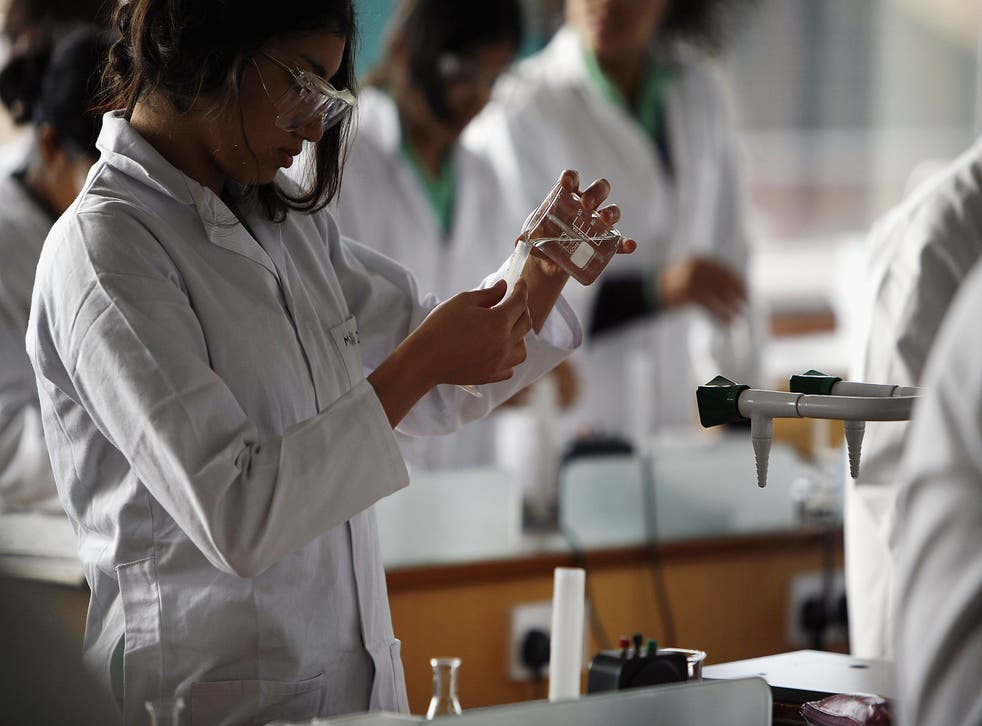 Schools are failing their pupils' education by forcing them to regurgitate facts instead of letting them take part in practical science lessons, a leading expert has said.
Practical science can be overshadowed by factors such as a need to learn a "mountain" of information, a focus on English and maths and a lack of specialist teachers, according to Katherine Mathieson, chief executive of the British Science Association.
Likening learning science to playing football, Ms Mathieson argued children would not be expected to learn to play the sport by reading about it in a textbook.
In a blog for the Times Educational Supplement (TES), Ms Mathieson states: "What is science? Is it a body of facts, to be memorised and regurgitated? Or is it a method for finding out facts and testing and refining ideas?
"Most philosophers of science would argue it is the method, rather than the facts, that is science's distinctive feature."
The current curriculum requires children to learn to think scientifically, by applying scientific method to solve a problem, she notes.
But, she adds: "How do we learn how to think scientifically and, perhaps more importantly, how do we teach it?
"Other subjects emphasise experiential learning - getting your hands dirty and finding out through trial and error what approach works best in a given situation.
"No-one believes that you learn to play football, for example, by reading a textbook day after day - you get outside and play.
"Even at a young age, when their skill levels are still very low, children are encouraged to play music, act, draw and write stories."
Pisa rankings 2015: The best countries in the world for education

Show all 20
Students need chances to practise scientific thinking, not just concentrate on facts, Ms Mathieson said.
"Current curricula do usually offer opportunities to build scientific thinking skills - but they can be overshadowed by the mountain of facts, emphasis on English and maths, lack of specialist teachers and the myriad of other pressures on teachers."
UK students fall behind their international peers in terms of science, judging by recent Pisa rankings.
The league tables, which take into account attainment scores from teenagers across 72 participating countries, place the UK in 15th position, below countries including Singapore, Canada, China and Finland.
Responding to last year's results, academic leaders criticised the government for "failing" a generation of pupils as a result of its "obsession" with structural changes to education.
A poll published earlier this year found that more than a quarter of teenagers take little or no part in science experiments in school.
Many pupils would like to do more practicals in lessons, the Wellcome study found, although it also showed that some young people do not understand the purpose behind the work they are asked to do.
Ms Mathieson said in her blog post: "Attainment isn't the only way to measure who is able to "think scientifically", but it's probably the best measure we have at the moment.
"Ultimately, we want to see young people given the same opportunities across the board and across all subjects.
"And if young people are given the chance to try out science for themselves, I believe that can only lead to a generation that understands and appreciates science as something more than just a bunch of facts."
Register for free to continue reading
Registration is a free and easy way to support our truly independent journalism
By registering, you will also enjoy limited access to Premium articles, exclusive newsletters, commenting, and virtual events with our leading journalists
Already have an account? sign in
Join our new commenting forum
Join thought-provoking conversations, follow other Independent readers and see their replies