Science teachers most likely to consider quitting school, research says
Survey suggests that many science specialists feel overwhelmed by running practical lessons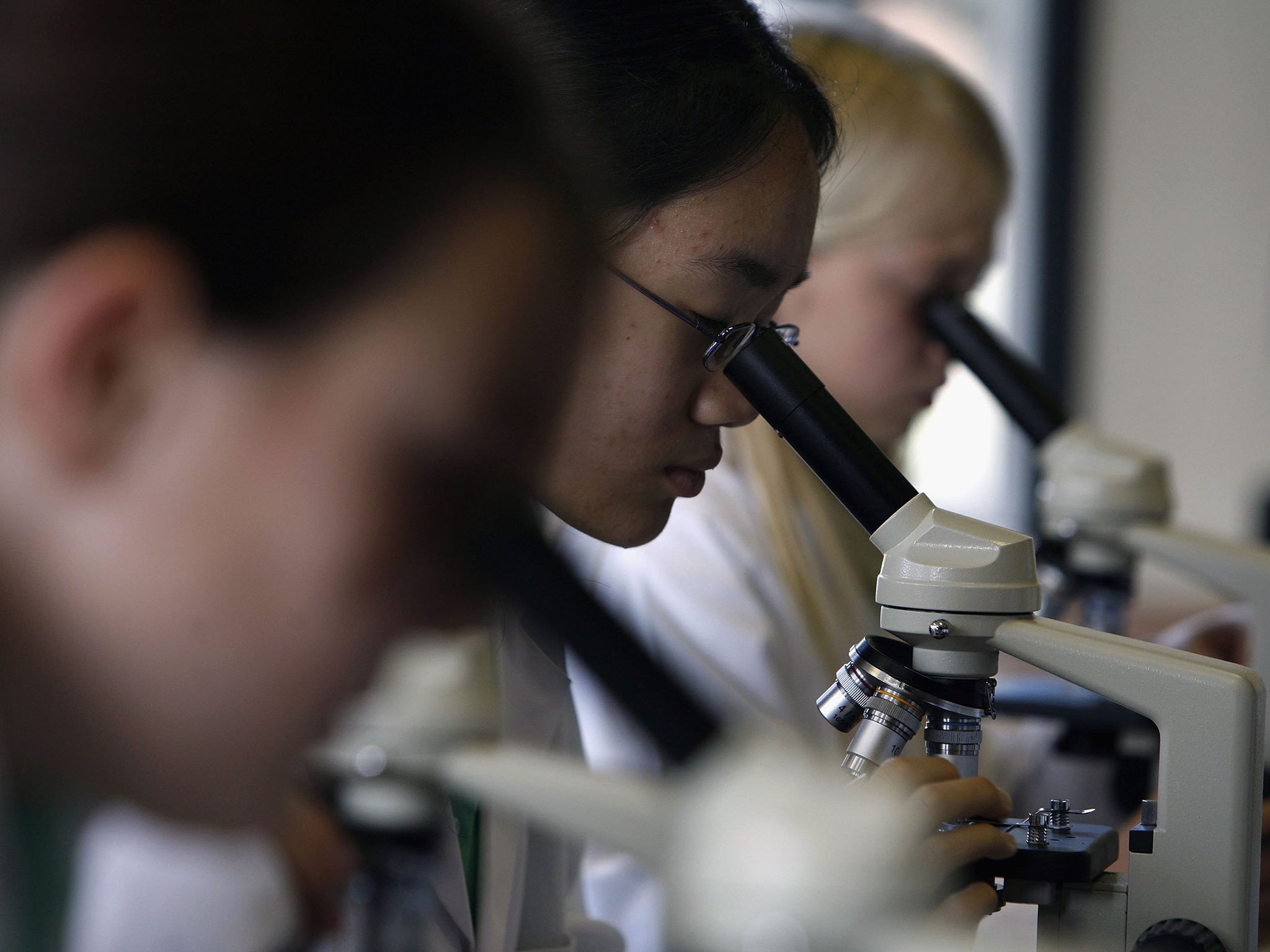 Science teachers are the subject specialists most likely to consider quitting the classroom, according to new research suggesting that many feel overwhelmed by running practical lessons.
The results of the survey are alarming, given the particular shortage of experienced science teachers in many schools.
Nearly seven out of ten science specialists (69 per cent) have considered quitting teaching in the last six months, according to YouGov polling for the think-tank LKMco and education company Pearson. A high workload and dissatisfaction with their school's leadership and management were the main reasons given by science teachers for wanting to quit.
The study found a widespread "sense of disillusionment" across the profession, with more than half (59 per cent) of teachers surveyed considering leaving in the past 6 months.
The study of more than 1,000 teachers in England comes amid growing concerns around teacher shortages.
In November 2014 there were over 1,000 unfilled fulltime teacher vacancies in English schools, more than two and a half times as many as in 2010. Meanwhile, another 3,000 posts were only temporarily filled.
Science teachers were "significantly" more likely to complain about pay with 48 per cent saying that their low salary had prompted them to consider quitting, compared to 28 per cent for Maths teachers and 43 per cent for all teachers surveyed.
They were also much less likely to recommend teaching. Nearly two thirds of science teachers (62 per cent) would not recommend teaching to their brightest student compared to 49 per cent for all teachers.
Shaun Reason, chief executive of the Association for Science Education, said the requirement to run practical lessons made science teaching a particularly stressful job which had been made more pressured by current changes to A-level and GCSE science courses.
Top 10 subjects to study at university to get rich
Show all 10
He said: "There have been considerable changes to A-level science followed by GCSEs. This has resulted in science teachers having to teach a different curriculum to different year groups. Many of these changes have been applauded but they have undoubtedly led to a big increase in workload."
He added that new science teachers probably started on roughly the same salaries as fellow science graduates but could become dissatisfied when they saw their contemporaries working in industry overtake their pay.
Alan Smithers, director of Buckingham University's Centre for Education and Employment Research, said: "Science teachers really have got a difficult job to do in schools. They are responsible for practical classes that involve a lot of hassle and 20 to 30 potentially unruly students. A not insignificant number of physics teachers switch to teach maths and one of the reasons is to escape the hassle and stress of practical lessons."
The most common reason for choosing to train as a teacher, amongst those surveyed, was that people think they will be good at it - with 93 per cent saying it was an important factor in encouraging them to choose teaching.
Teachers said their main reason for staying in teaching was feeling they were having an impact, with 92 per cent saying the opportunity to make a difference in pupils' lives was an important motivation:
Rod Bristow, President of Pearson UK, said: "This research points to a simple conclusion: teachers want to make a difference for our children; when they feel they can't for whatever reason, we risk losing them from the profession. We need nothing less than a call to action to give them the support they need to make that difference."
Join our commenting forum
Join thought-provoking conversations, follow other Independent readers and see their replies