Secret memo shows Michael Gove's plan for privatisation of academies
Fresh from his GCSE U-turn, Education Secretary wants to start selling off state schools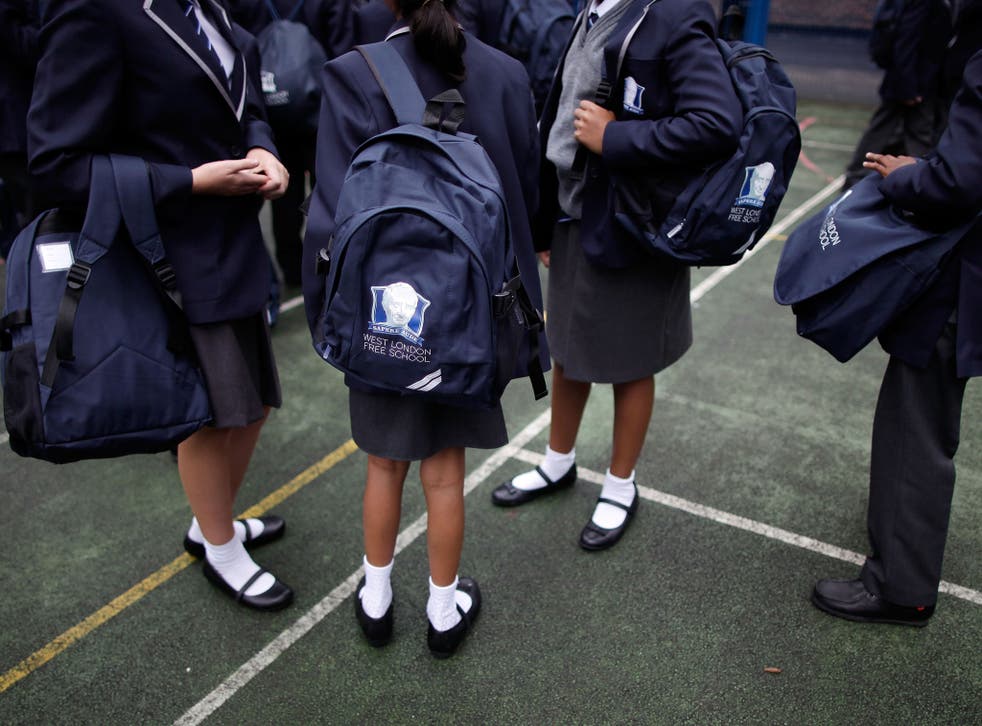 The full extent of Michael Gove's plans to revolutionise education are revealed today in a secret memo showing he is considering outright privatisation of academies and free schools. All academies and free schools in England, which are the Education Secretary's personal obsession, would be free to become profit-making for the first time, and be entirely decoupled from Whitehall control.
Leaked documents of the minutes of a meeting of top Department for Education officials on the future of funding the academies programme have alarmed teaching unions and the Liberal Democrats. Nick Clegg last year ruled out any expansion of the private sector in state schools.
Last week Mr Gove abandoned his controversial plans to replace GCSEs with an English Baccalaureate after protests from regulators, teachers and the Lib Dems. But the memo revealed today shows that Mr Gove's officials are considering "reclassifying academies to the private sector" to cut government costs.
Mr Gove is considering the radical step because massive expansion of academies and free schools is costing government too much money. The minutes, seen by The Independent on Sunday, state: "it is difficult to see how we could manage expansion of the academies and free schools programme much beyond 5,000 without increasing central resource."
The document acknowledges "risks" in the move – including "decreased ability to overcome resistance at local level, and more nasty surprises arising from not managing projects as closely as we have up to now".
At present, a third of the Department for Education's staff deal with academies and free schools, which account for 18 per cent of the DfE's revenue and capital budget. About 10 per cent of all state schools are academies or free schools.
The document, which relates to a senior management board meeting in October, considers two options: the first is to group together existing and new academies into chains, managed by a trust – similar to NHS trusts – which would be allocated a limited budget to divide between individual schools. This option could "help increase the pace of primary conversions and would require less central resource than continuing one-to-one relationships".
It adds: "The second, more radical, route is towards fundamentally shifting the basis of our relationship with academies through reclassifying academies to the private sector, possibly coupled with a change in the legal framework such as adopting a licensing or FE-like statutory corporation approach."
The document reveals that the administrative costs of funding academies and state schools will need to be increased by March 2015 – two months before the general election. Yet it says that "the lead-in times for achieving such a radical change of paradigm mean that it would be wise to begin now describing what a future operating framework could look like, even if we have no firm plan for moving to it". It adds: "This would enable us to both make interim policy decisions that support the longer-term direction of travel and begin creating the conditions needed to deliver it."
A Lib Dem source said they had not been informed of the proposals, pointing out that David Laws, Mr Gove's Lib Dem deputy, had made clear in an interview last month that state schools would not be allowed to be run by profit-making companies while his party were in coalition. The Lib Dem source said: "That hasn't changed."
Chris Keates, general secretary of the NASUWT teachers' union said: "None of this comes as any surprise to the NASUWT, although it gives us no pleasure to say we told you so. Since the Secretary of State's academisation programme began, we have maintained that the agenda was to put as many schools as possible into predatory chains of private providers.
"Instead of the focus at the DfE being to discuss how to support children and young people and the school workforce, everything is dominated by this obsessive focus on structural change which does not raise standards, and how to turn a fast buck at the expense of the taxpayer. Education is in the grip of a free marketeer who knows the price of everything and the value of nothing."
Christine Blower, general secretary of the National Union of Teachers, said: "The NUT has been in no doubt that outright privatisation of schools with the private sector making a profit at taxpayers' expense has always been highest on Michael Gove's agenda. This would be entirely the wrong thing to do and a policy which has not been put to the country."
The shadow Education Secretary, Stephen Twigg, said: "This is worrying. We know that the Education Secretary has an 'open mind' about profit-making in schools. We don't need a fast-buck culture in education – ministers need to rule this out immediately."
A Department for Education spokesman refused to comment on a leaked document.
Different classes
Academies
State schools that are semi-independent of central government. They receive funding directly from Whitehall, outside of local authority control, and have greater freedom over finances, curriculum and teachers' pay and conditions, but are unable to make a profit. In this school year, there are 2,309 academies, including 200 set up under the previous Labour government. The number is expected to reach 5,000 by the end of this Parliament.
Free Schools
Schools set up by groups of parents, teachers, charities and voluntary non-profit-making groups. Funded in the same way as academies, and based on the charter school system in the US and trust schools in Sweden. As of September 2012, there were 79 free schools in England. Many have been controversial as local councils have little influence over where they are set up, meaning that groups can set them up in areas where there is already full school provision, but create a two-tier system within neighbourhoods.
Independent and private schools
Run by profit-making organisations, although they fulfil charitable-status rules by offering bursaries to poorer students. Are regulated separately from state schools, and can teach outside the national curriculum.
A bumpy week
Sunday Michael Gove's advisers face claims that they have used a Twitter feed, @toryeducation, to spread smears and personal attacks against critics, in contravention of the Civil Service Code.
Monday His constituency chairman, Geoffrey Vero, says the minister privately told him of concerns that the Church of England could be sued over gay marriage reforms.
Tuesday In a speech to the Social Market Foundation, Gove says his schools revolution was inspired by the reality TV star Jade Goody, whose lack of knowledge was a result of her being failed by the education system.
Wednesday He is accused of erasing Queen Victoria and Florence Nightingale from history in changes to the national curriculum.
Thursday He announces a major U-turn by scrapping plans to replace GCSEs with the English Baccalaureate Certificate, but says exams will get tougher.
Friday Glenys Stacey, of the qualifications watchdog Ofqual, expresses concern that Gove's plan to beef up GCSEs within two years might be introduced too quickly.
Join our new commenting forum
Join thought-provoking conversations, follow other Independent readers and see their replies