State schools 'an open door for evangelical groups to push creationism,' warns study
National Secular Society calls on Government to introduce stricter codes of conduct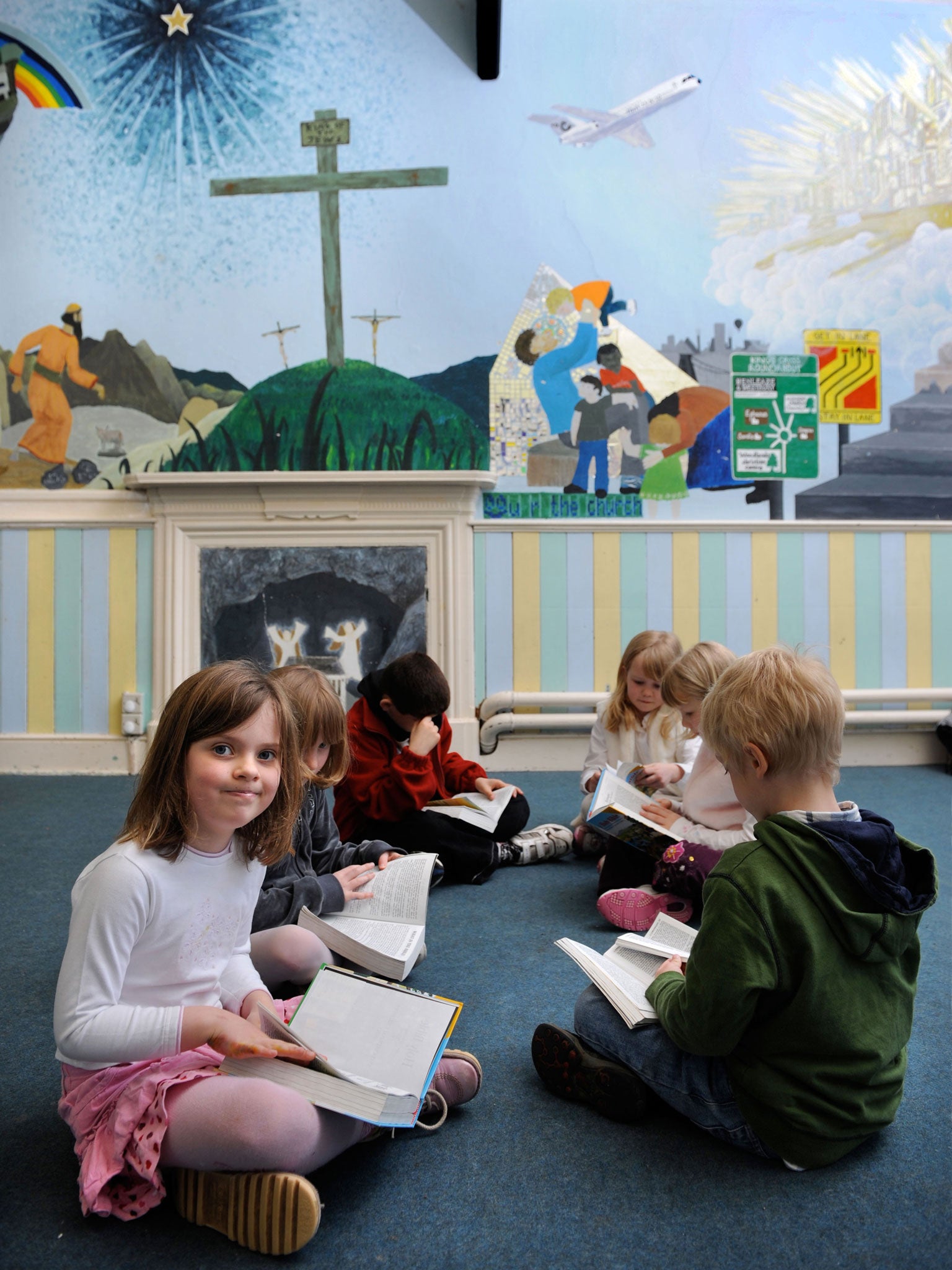 Evangelical Christian groups committed to converting young people are being allowed access to children in state schools because of the marginalisation of religious education, a new study warns.
The report, by the National Secular Society (NSS), calls on the Government to introduce a stricter code of conduct to prevent visiting groups "proselytising" during RE lessons.
The report claims that the squeezing of RE in the curriculum and the absence of trained RE teachers has created an "open door" for evangelical groups to push creationism and their own brand of sex education.
Head teachers' leaders warned that "a line is crossed" when religious theories such as creationism were taught as if they were scientific theories. However, groups named in the report were quick to deny any suggestion they were "proselytising". The report says: "The low priority given to RE and collective worship in many schools, combined with the short supply of qualified RE teachers and general pressure to provide sufficient teaching hours provides an ideal environment for evangelical groups to exploit."
"As one Christian organisation that provides assemblies states on its website; 'Meeting the standards set down by the Government on collective Christian Worship and Religious Education can become an extra burden in a busy teacher's day – the Assembly Angels are here to help'."
The report recounts the activities of one evangelical visitor called "Matt the Christian" who is alleged to have told pupils that "there wouldn't be any paedophiles if there was more celibacy".
Evidence collated for the report, Evangelism in State Schools, indicated that it was not just faith schools that were opening their doors to evangelical groups. Little warning was given of visits thus threatening a parent's human rights to insist that their child's education was "in conformity with their own religious and philosophical convictions".
The report lists 18 evangelical Christian groups with access to schools – and warns of concern over "the appropriateness of the message being delivered by a number of external visitors to schools".
"The Secretary of State for Education has made it very clear that the teaching of creationist views as a potentially valid alternative to scientific theory should have no place in a 21st-century, publicly funded school," it adds.
"External visitors to schools will be regarded as figures of authority, particularly by younger pupils. When fundamentalist Christians express their sincerely and passionately held belief in the creation story, few children are likely to differentiate between what is being presented as a 'belief' and what is being taught as 'valid scientific theory'."
Terry Sanderson, president of the NSS, said: "Our schools are becoming playgrounds for religious interests who are exploiting their opportunities to the full... With fewer and fewer people regarding themselves as religious, it is clear that faith groups see schools as their best hope of reviving their fortunes. Children have to be there by law, they are a captive audience."
In a letter to Michael Gove, the Secretary of State for Education, Keith Porteous Wood, executive director of the NSS, urges him to issue national guidance to schools setting out best practice for working with external visitors and contributors – particularly in regard to religion and belief groups.
Russell Hobby, general secretary of the National Association of Head Teachers, said: "Religious education must be clearly delineated as such. A line is crossed when religious positions such as creationism are taught as scientific theories, for example.
A spokeswoman for the Department for Education said: "We have not seen any evidence to support these claims and have not received any complaints about this. State schools cannot teach creationism as scientific fact."
Phil Togwell, director of Prayer Spaces in Schools – one of the 18 groups named in the report, said: "This is all about education. Prayer Spaces give pupils an opportunity to reflect on their spiritual lives, to consider big questions and to explore prayer under the oversight of qualified teachers. Head teachers have been overwhelmingly positive with their feedback."
Preacher teacher: Religion in schools
Among the 18 evangelical groups active in schools listed in the report include:
* Youth for Christ, the charity founded by the American evangelical Billy Graham (above) in 1946, says it is in touch with 250,000 young people and that its mission is to "raise up lifelong followers of Christ". "Taking the Gospel relevantly is what we do," its website says.... "until every young person in Britain has heard and responded to the good news of Jesus Christ."
* OAC Ministries says it is "committed to taking the Gospel... to unchurched people, wherever they are".
* Prayer Spaces in Schools, from 24-7 Prayer, has set up almost 600 prayer spaces. In one video, it says: "We have seen healings in prayer rooms... an eight-year-old girl healed of eczema ...".
* Barnabas in Schools, from the Bible Reading Fellowship, includes a study of the story of creation for five- to seven-year-olds, with a focus on God the Father and Creator.
* Bury Christian Youth runs a sex and relationships education workshop in schools which it uses to promote abstinence.
Join our commenting forum
Join thought-provoking conversations, follow other Independent readers and see their replies