State schools are 'failing to produce top sports stars'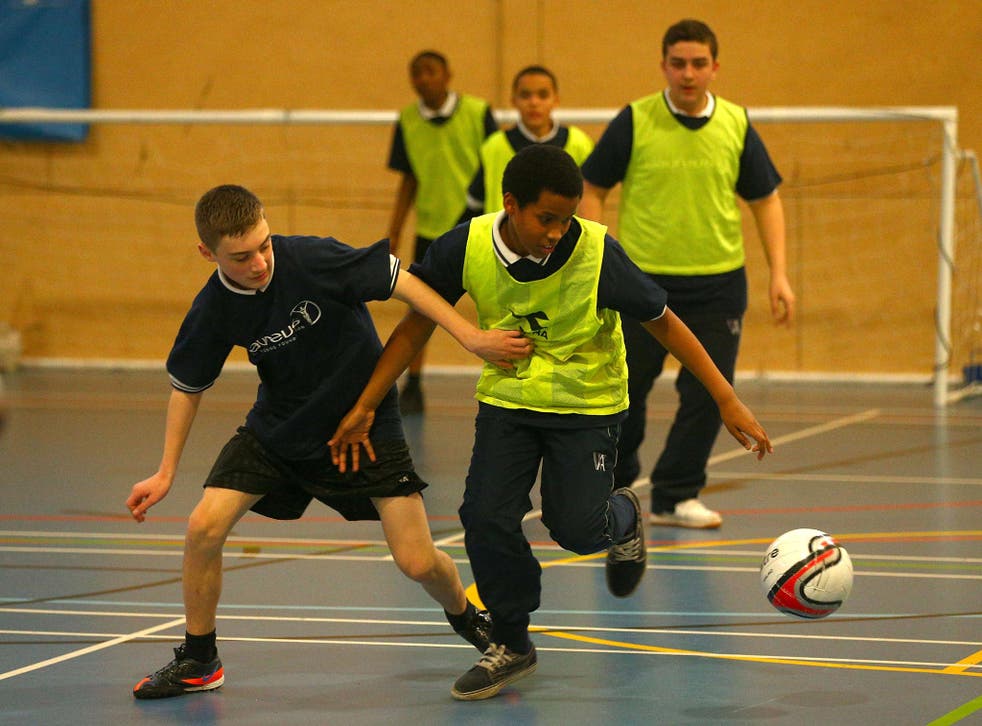 State school pupils are "woefully under-represented" in top sports teams, chief schools inspector Sir Michael Wilshaw will say today.
An inquiry into schools sports by education standards watchdog Ofsted reveals that there are "unacceptable discrepancies" between the number of state and independent school pupils competing in sports at an elite level.
It found that only 13 per cent of state school heads insisted all pupils took part in competitive sports. In some schools surveyed, not a single pupil took part. Also, less than half of 1,000 state school 11-to-18-year-olds surveyed played competitive sport out of school time.
"It simply cannot be right that state educated athletes are so woefully underrepresented in our elite sports," Sir Michael will say.
"Heads who treat competitive sport with suspicion or as an optional extra are not only denying youngsters the clear dividends that come with encouraging them to compete, they are also cementing the social inequality that holds our nation back."
The report, due to be unveiled this morning, adds that a sporting culture can also improve exam performance at a school.
Of 15 state schools visited with a strong sporting ethos, 13 were rated "good" or "outstanding" by Ofsted for their academic achievements.
It found some state schools were hampered by a lack of sports facilities with only eight of 35 visited having a swimming pool. One academy did not have any playing fields.
The inquiry was ordered after it was revealed that 41 per cent of UK medallists at the 2012 Olympics came from private school backgrounds - while only seven per cent of all young people went to independent schools.
It singles out male rugby union (where 61 per cent of players are privately educated) and cricket (with a third from private schools) as being amongst the worst offenders.
In a foreword to the report, Sir Michael says: "Regrettably, although some of our state schools are good at developing the talents of the next generation of Mo Farahs, not enough are. Outside of football, a disproportionately high number of athletes and tennis, rugby union and cricket players honed their talent on the fields and in the sports halls of England's independent schools."
He adds: "It is not resource that is the key to independent schools' success but attitude. Children are expected to compete, train and practise secure in the knowledge that teachers will go the extra mile to help them. Some state schools echo the success of their independent peers. They use competitive sport to energise the whole school culture: their leaders understand its value and continually promote it.
"Children's education is the poorer if they are deprived of the chance to compete. Children enjoy competition. It pushes them to do better and try harder. Of course, it also carries with it the risk of defeat but how better to prepare pupils for the setbacks that life will inevitably throw at them?"
The most successful state schools employed coaches to work alongside PE teachers to develop pupils' talents, the report adds.
It says: "Without the 'enthusiasts' and 'organisers' - the people on the ground to organise school sport - these schools struggled to enable students to compete regularly and excel. In some schools, we found limited facilities had led to difficulties in playing matches against other schools. Lack of playing fields or all-weather playing surfaces were noted as a significant barriers in some of their schools."
The report urges schools to develop links with local clubs and urges the Government to monitor the effect of a drive to encourage competitive sport in state schools before the next Olympic Games in 2016.
The Youth Sport Trust described the report as a "wake-up" call for schools that failed to take PE and competitive sport seriously.
However, Kevin Courtney, deputy general secretary of the National Union Of Teachers, said Ofsted's comparisons between state and independent schools were "ridiculous".
"State schools have neither the same facilities nor time and space in the curriculum for sport as independent schools," he added. "Free schools and academies are being allowed to open with little or, in some cases, no playgrounds let alone playing fields. The Coalition Government abandoned the target of two hours PE provision per week. Funding for the School Sports Partnership was also withdrawn."
Register for free to continue reading
Registration is a free and easy way to support our truly independent journalism
By registering, you will also enjoy limited access to Premium articles, exclusive newsletters, commenting, and virtual events with our leading journalists
Already have an account? sign in
Register for free to continue reading
Registration is a free and easy way to support our truly independent journalism
By registering, you will also enjoy limited access to Premium articles, exclusive newsletters, commenting, and virtual events with our leading journalists
Already have an account? sign in
Join our new commenting forum
Join thought-provoking conversations, follow other Independent readers and see their replies