State schools must drop 'outdated snobbery' against apprenticeships, says Nicky Morgan
New legislation will ensure technical colleges and companies providing apprenticeships give careers advice in schools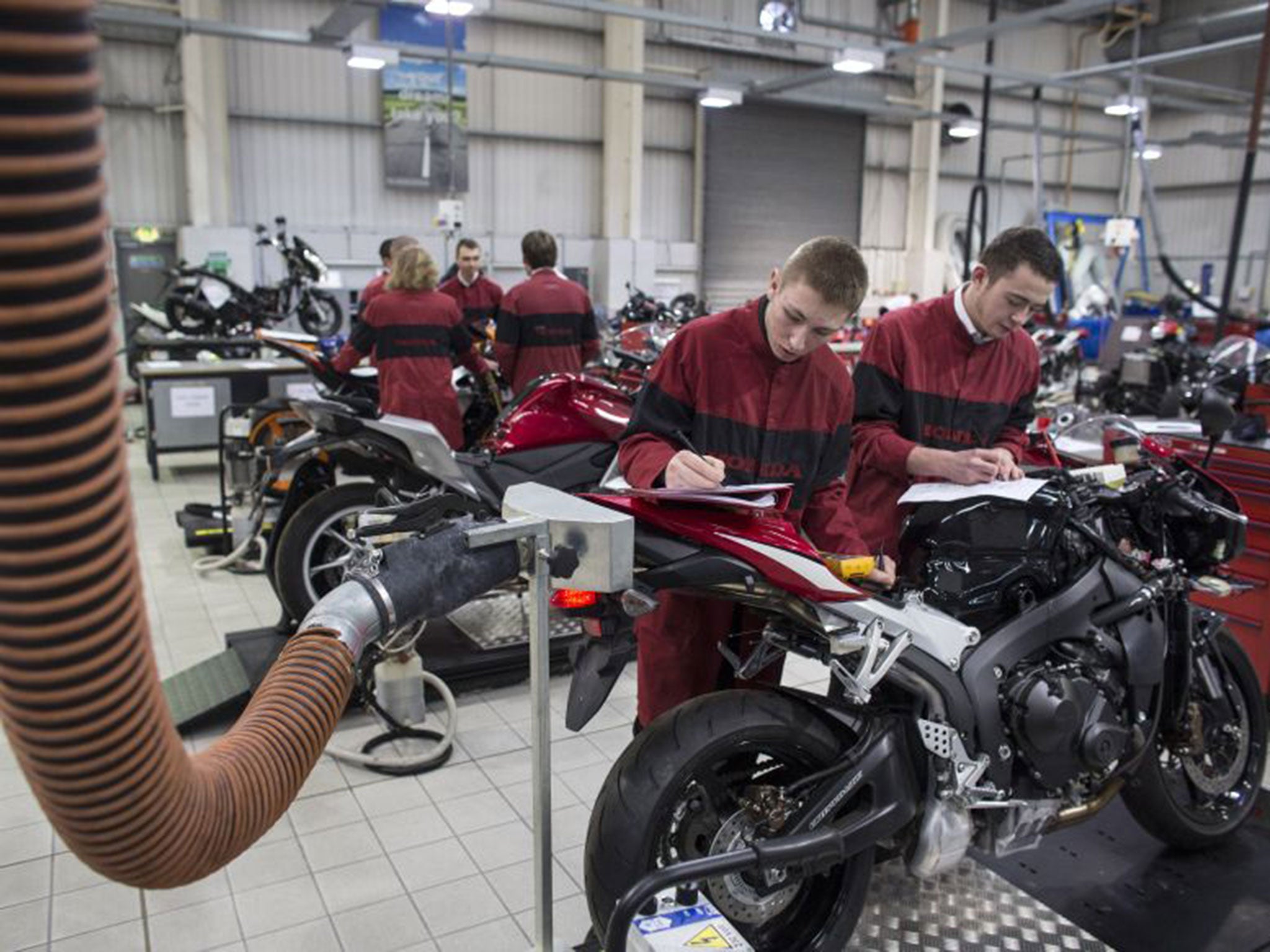 A new law ensuring that state schools promote apprenticeships as much as university education will be introduced this year in a bid to end the "outdated snobbery" against technical education.
Nicky Morgan, the Secretary of State for Education will legislate to ensure that technical colleges and companies providing apprenticeships get into schools to give careers advice to pupils.
The new law is designed to end the perception that non-academic routes are "second best", amid concern within government that some schools are failing to present technical and professional options on an equal footing to university.
Ministers believe some schools are unwilling to recommend apprenticeships or other technical and professional routes to any but the lowest-achieving pupils – effectively creating a two-tier system of careers advice.
A recent study by the Sutton Trust, an education think-tank, found that 65 per cent of teachers would not advise a pupil with the predicted grades for university to pursue an apprenticeship. But Ms Morgan said this reflected an "outdated snobbery" against apprenticeships which should be tackled.
She said: "As part of our commitment to extend opportunity to all young people, we want to level the playing field – making sure they are aware of all the options open to them and are able to make the right choice for them.
"For many young people going to university will be the right choice, and we are committed to continuing to expand access to higher education, but for other young people the technical education provided by apprenticeships will suit them better.
"That's why I'm determined to tackle the minority of schools that perpetuate an outdated snobbery towards apprenticeships by requiring those schools to give young people the chance to hear about the fantastic opportunities that apprenticeships and technical education offer."
The Department for Education is concerned that some schools are blocking further education colleges from speaking to pupils, in order to promote their own sixth forms. Ministers believe that too many teachers are reinforcing the impression that apprenticeships are second best to academic study.
The legislation will mean state schools, including academies, will be required by law to collaborate with colleges, university technical colleges and other training providers to ensure that young people are aware of all options – including degree-level apprenticeships.
The Government will look to bring in the legislation at "the earliest opportunity". A source close to Ms Morgan said: "This really shouldn't be necessary, but the truth is some schools are still stuck in the mindset created by the last Labour government that going to university is all that matters.
"As well as giving apprenticeship providers the chance to speak directly to kids, this measure should send out the message loud and clear that treating them as a second-best option won't wash any more"
Martin Doel, chief executive of the Association of Colleges, welcomed the move. He said: "To make informed choices for the future, young people need high-quality, impartial careers information about all post-16 education and training options, including apprenticeships and technical and professional education.
"We have long been calling for an improvement to the system, and welcome the changes outlined. Colleges recognise the critical nature of good careers education and will be very keen to continue to work with their local schools. This announcement will make that a reality."
Cable: Apprenticeship campaign
The announcement comes after the Government set up an "expert panel" led by the Labour peer David Sainsbury, which aims to put Britain's technical and professional education system "on a par with the best in the world".
It also forms part of a wider move to create three million apprenticeships by 2020 – a Tory manifesto commitment.
In November's Autumn Statement, the Chancellor, George Osborne, unveiled plans for an apprenticeship levy of 0.5 per cent on large company payrolls – raising some £3bn a year – to fund the pledge.
The new charge will be imposed from April 2017 and will help ensure that big business shoulders the cost of training workers. Only businesses with a wage bill of more than £3m will pay the levy, which the Government said would exempt 98 per cent of employers.
Ministers believe a boost in the number of apprentices is crucial to improving productivity. The amount that UK businesses have invested in training has fallen consistently over the past 20 years, and UK productivity lags behind other major developed economies. Firms bidding for government contracts worth more than £10m must show they have a "reasonable proportion" of apprentices.
Join our commenting forum
Join thought-provoking conversations, follow other Independent readers and see their replies