Student debt to cost Britain billions within decades
As jobless and low-paid graduates leave loans unpaid, critics say the Government's fees policy will swallow up future education spending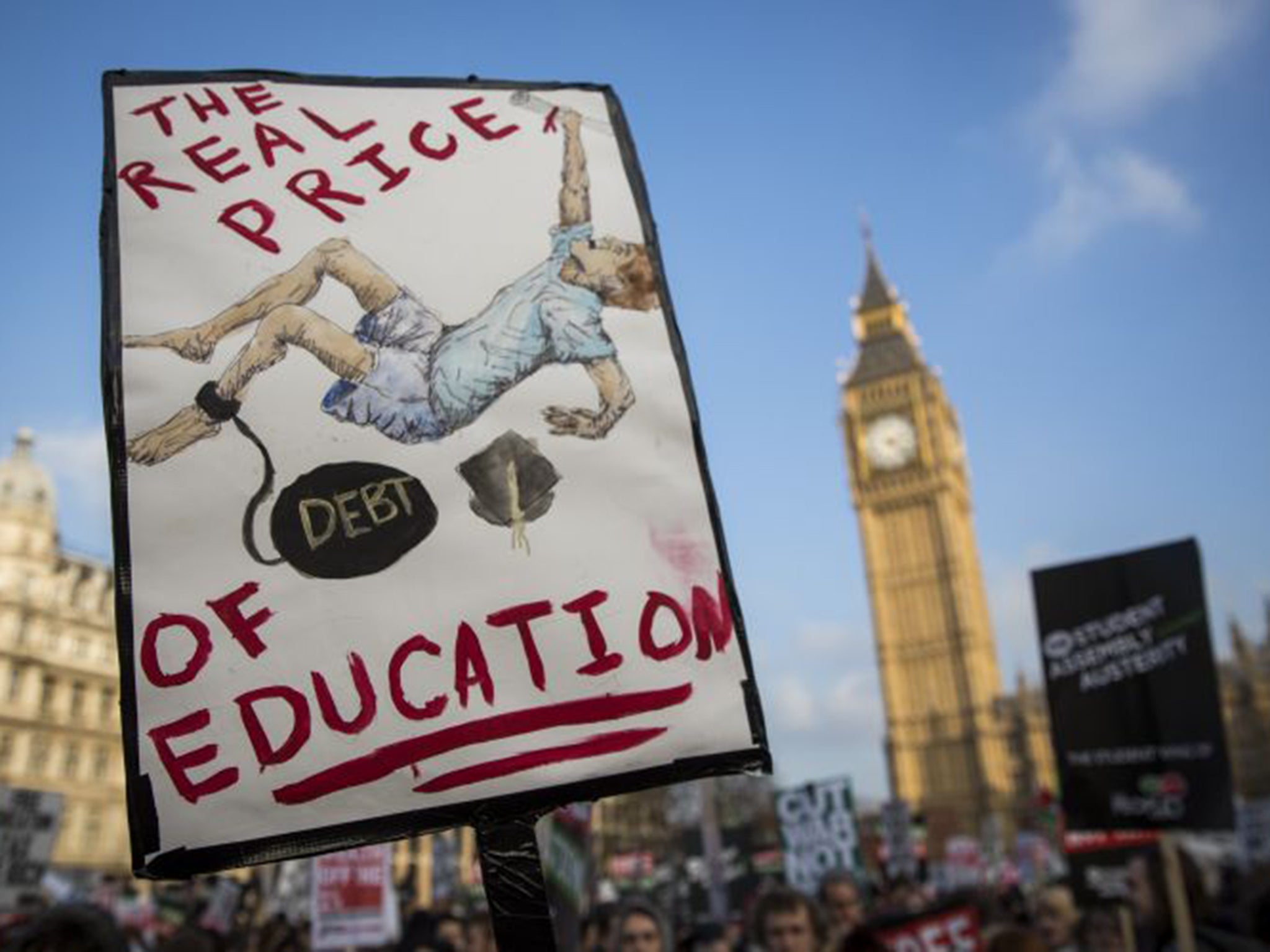 The cost to the country of paying for student debt will rocket to billions of pounds a year over the next three decades, almost equalling the entire higher education budget, new statistics show.
The figures, obtained by Labour's former universities minister John Denham, show that writing off students' debts plus net lending – the amount loaned to students less the amount they repay – will add up to more than £8bn by the 2040s, or 0.6 per cent of UK GDP.
In addition, interest payments on outstanding loans will amount to a further 0.3 per cent of GDP – bringing the annual cost close to one per cent of GDP (or £14bn in today's terms), according to figures obtained from the Office for Budget Responsibility by Mr Denham.
They come as the minister for Universities and Science, Greg Clark, indicated that he would like to see a Commons select committee review of the fees and loans system undertaken after the election – although he added he believed the current system it was "good for students because it has allowed more of them than ever before to fulfil their dream of a place at university".
According to finance experts, the current fees system means the Government is operating a costly "loan now, pay later" funding model for higher education, equivalent to the financial crisis facing schools and local authorities over public finance initiatives (PFIs).
An independent Higher Education Commission late last year warned that the current fees-and-funding system was "unsustainable", and left three-quarters of students unable to pay off their loans.
Mr Denham said: "The simple conclusion is... that the policies of the current government are now pre-empting a massive share of future national wealth to pay for their high-fee, high-debt policies. This money will not be available to fund future higher education. This is doing the opposite of the claims Ministers made: it is loading debt onto future generations in a way that is unfair and unsustainable."
University fees are likely to feature strongly during the general election campaign; Labour leader Ed Miliband hinted last week that his party would bring forward a package to reduce fees. Previously, he has talked of lowering the ceiling from £9,000 a year to £6,000, in an attempt to reduce student-debt levels.
New figures also highlighted that a third of graduates are failing to find graduate-level employment five years after leaving university. The number in lower-level jobs has increased by 4 per cent since 2010 and, at 34 per cent, is at its highest in more than a decade. "There is mismatch between the education of many graduates and the needs of employers and the economy," said Mr Denham.
"These levels of graduate under-employment are a far cry from the aspirations of students who now borrow huge sums of money to go to university," he added.
Mr Clark said: "Despite predictions to the contrary, students have seen that going to university is an exceptional investment. Graduates are half as likely to be unemployed as non-graduates and two-thirds are in highly skilled jobs, a proportion rising substantially as we recover from recession. Students know they will pay nothing up front and will pay back only if and when they can afford to do so."
He said what was lost through non-repayment was "small" when compared with the extra tax revenue from graduate earnings.
Join our commenting forum
Join thought-provoking conversations, follow other Independent readers and see their replies