Graduates left scared by student loan statement which risks poor financial decisions, top universities say
'It is a blunt, misleading tool that is financially dangerous,' says expert
Eleanor Busby
Education Correspondent
Tuesday 14 May 2019 12:07 Comments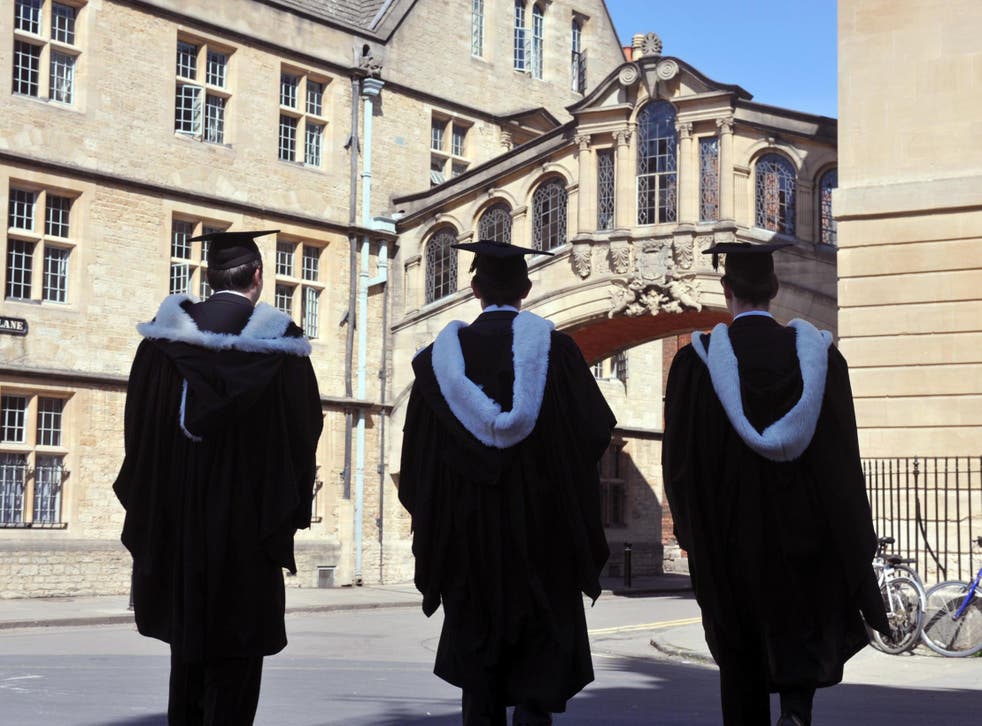 Many graduates are left "unnecessarily" scared by the outstanding "debt" on student loan statements which risks them making poor financial decisions, top universities have warned.
The current student loan statement should be scrapped as it is "misleading" the millions of people who receive it, according to the Russell Group of universities and MoneySavingExpert.com.
University leavers should be shown what they are actually repaying on a monthly basis instead of being given a long list of figures, through the new "graduate contribution statement", the report says.
A new format would inform students of their personal situatio, and illustrate how repayments really work, so they can see the true cost of their education, it adds.
The current statement has been criticised for being complicated and focusing on "debt" and the interest added, rather than what they need to repay.
Top 10 universities 2019

Show all 10
This leaves many graduates frightened, the report says.
Martin Lewis, founder of MoneySavingExpert.com, warned that focusing on the wrong information can have "damaging consequences" for individuals.
One woman, who was in a low-earning profession, used an inheritance to overpay thousands as she had a fear of the growing interest on her statement.
"She'd simply flushed the cash away," he said.
He added: "The current student loan statement is a blunt, misleading tool that is financially dangerous. It prompts often-unnecessary fear and distress from some of the millions who receive it. And worse, as it's a gateway document, this reverberates across society, and therefore risks wrongly deterring many from a future of higher education."
The report, which calls for the current student loan statement to be redesigned, will be presented to the government and to Philip Augar, who is leading the review of post-18 education and funding.
Amatey Doku, vice president higher education at National Union of Students (NUS), welcomed "a clearer, more detailed student loan statement" and calls for it to be more difficult to change loan repayment terms.
But he warned: "This report must not be used to suggest that students and graduates endorse the current funding system even if they would welcome clearer information, and improved loan statement should not be a Trojan horse to rebrand loans as a 'graduate contribution scheme' if their underlying mechanics remain the same.
"It would be more misleading to students and the public to downplay student loan arrangements which result in the poorest graduating with higher debts than the richest, and where the repayment system is flawed and regressive. We must start with a fundamental redesign of student finance, not its resulting paperwork."
Support free-thinking journalism and attend Independent events
A Department for Education (DfE) spokesperson said they welcomed the contribution to the government's review of post-18 education and funding – which includes "looking at how information about student finance can be communicated as clearly as possible to borrowers."
They added: "Student loan statements are currently issued annually, setting out the balance, repayments and interest for borrowers but we are continually working to improve the repayment system. We are exploring how students taking out a student loan can have better access to much more up-to-date information on their repayments."
A Student Loans Company (SLC) spokesperson said they were working towards making more repayment information available to customers online.
They added: "We are already engaged with customers to explore how best to present repayment information and always welcome discussion on how to make our communications transparent.
Register for free to continue reading
Registration is a free and easy way to support our truly independent journalism
By registering, you will also enjoy limited access to Premium articles, exclusive newsletters, commenting, and virtual events with our leading journalists
Already have an account? sign in
Join our new commenting forum
Join thought-provoking conversations, follow other Independent readers and see their replies