Students claim they are 'too depressed' by Brexit to do exams
Approximately 75 per cent of young voters opted to remain a part of the EU compared to around 40 per cent of voters over the age of 64
Rachael Pells
Thursday 30 June 2016 17:12 Comments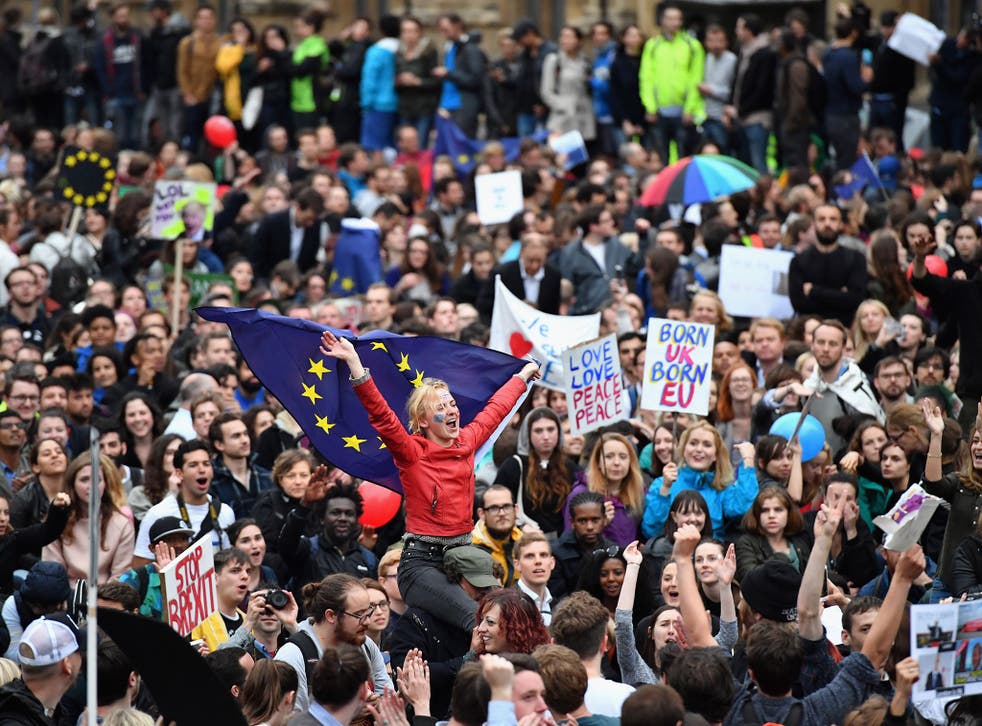 Students across the country claim they are so upset with the result of the Brexit vote that they are at risk of failing their exams.
In light of last week's referendum result, thousands of young people took to social media to voice their shock and fears regarding a future outside of the European Union.
"I've felt so down all day because of this, and just have this constant sick feeling in my stomach," one person posted in online forum The Student Room.
"I genuinely feel like I'm grieving... for our growing economy. I'm grieving for our loss of cultural enrichment."
"If we weren't a part of the EU I'd never have met people from the likes France, Norway, Germany, who have so much to offer to our country. We have so much to gain from these cultures."
"Can I class Brexit as a traumatic event when fail my exams next week? Because honestly I'm so distracted now because of it?" One user suggested.
Another replied: "I relate. I somehow survived an exam while still panicking the whole way through."
On Twitter, students undertaking their final A-level and GCSE exams mused that their results were "irrelevant" since they "have no future now anyway" due to Brexit.
While many were quick to blame their parents' generation for the Brexit outcome, initial polls estimate that only a third of eligible voters aged 18-24 took part in the referendum vote.
Approximately 75 per cent of those who did voted to remain a part of the EU, in contrast to around 40 per cent of voters over the age of 64.
In a blog post this week, Sir Richard Branson called for the voting age to be lowered to 16 following the UK's Brexit vote, arguing that young people have repeatedly ended up being "on the right side of history".
He also suggested that, thanks to social media, young people are more "interested, motivated and informed" than ever before.
"While democracy is based on the popular vote, we should not dismiss the voices and pleas of those that end up on the other side of the verdict – especially in this case, as young people will be most affected by the decision, moving forward," he said.
A spokesperson from school examinations board AQA suggested that special consideration such as extra time given in exams for "grieving" students was not necessarily out of the question, adding that it was up to individual schools to assess pupils' health and well-being.
Register for free to continue reading
Registration is a free and easy way to support our truly independent journalism
By registering, you will also enjoy limited access to Premium articles, exclusive newsletters, commenting, and virtual events with our leading journalists
Already have an account? sign in
Join our new commenting forum
Join thought-provoking conversations, follow other Independent readers and see their replies