University students more anxious amid increased assignments and challenging courses, survey suggests
Two in three undergraduates want their mental health issues shared with parents, report finds
Eleanor Busby
Education Correspondent
Thursday 13 June 2019 07:04 Comments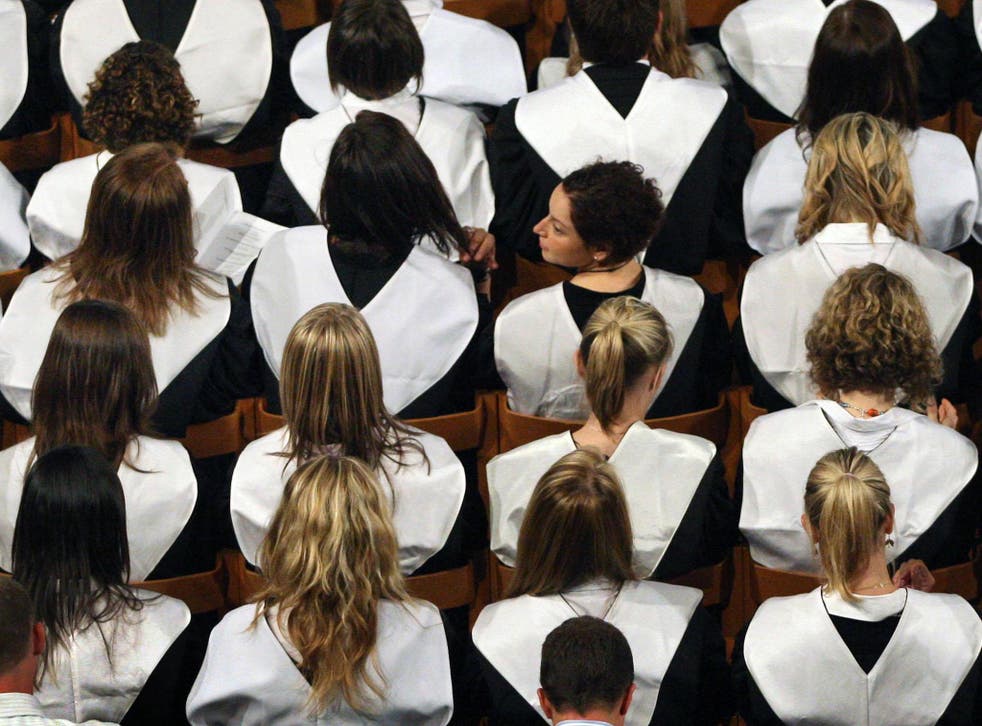 Levels of anxiety among university students are rising because of an increased number of assignments and a feeling that courses are too challenging, according to a new poll of more than 14,000 undergraduates.
More than two in three students believe universities should tell parents or guardians if they are worried about their mental health issues "under extreme circumstances", the survey suggested.
It comes as higher education institutions have faced calls to do more to prevent student deaths. Last year, Bristol University introduced an opt-in scheme following a spate of suicides at the institution.
The Student Academic Experience Survey 2019 found only 16 per cent of students said they had low anxiety, compared to 21 per cent in 2016.
This was lower than 37 per cent of all young people aged between 20 and 24 who report low anxiety, according to the report from the Higher Education Policy Institute and higher education company Advance HE.
UK news in pictures

Show all 50
Meanwhile, LGBT+ students are less likely to have low levels of anxiety than their peers.
A rise in the volume of assignments per term, as well a larger group of students who feel too challenged by their course, may have contributed to increased anxiety, researchers suggested.
Where students reported a worse experience than expected, young people were more likely to blame themselves for not putting in enough effort, rising from 30 per cent last year to 35 per cent.
Black and minority ethnic (Bame) students were also more likely (42 per cent) to blame themselves for their university experience not meeting their expectations.
Meanwhile, 21 per cent of students, whose experience was worse than expected, blamed their course for being too difficult – a rise on last year when only 16 per cent cited this as a reason.
"In this context, perhaps an increase in anxiety is not surprising," the report says. "Although workload and challenge often contribute to a rewarding experience, too high a level of challenge may also be having negative impacts."
The survey, which asked students about disclosing their mental health problems to parents or guardians for the first time, found only 18 per cent did not want their data shared.
Alison Johns, Advance HE chief executive, said: "Student wellbeing remains a huge concern, and if a green light were needed for changes to allow universities to contact parents and guardians where an individual may have mental health problems, we have a very strong signal here in support of that change."
Nicola Dandridge, chief executive of the Office for Students, said: "The survey provides further worrying confirmation of the extent to which students are struggling with mental health. While an increased willingness to talk openly about mental health in recent years is welcome, these figures provide a stark reminder that more work is needed in this area."
Support free-thinking journalism and attend Independent events
The study also revealed that the proportion of students feeling they were getting value for money from their course had risen from 38 per cent to 41 per cent.
But still 29 per cent say their course was poor value for money – and tuition fees were the main factor for students who perceive poorer value, with 62 per cent saying this was a consideration.
Nick Hillman, director of the Higher Education Policy Institute, said: "Fortunately, it is clear how to deliver for students. They want to be stretched, they want clearer feedback and they want more support for mental health challenges."
Register for free to continue reading
Registration is a free and easy way to support our truly independent journalism
By registering, you will also enjoy limited access to Premium articles, exclusive newsletters, commenting, and virtual events with our leading journalists
Already have an account? sign in
Join our new commenting forum
Join thought-provoking conversations, follow other Independent readers and see their replies