Pupils who take government's technical qualification could miss out on top universities, experts warn
Courses may be 'tarnished' if ministers fail to persuade institutions to admit students who take flagship qualification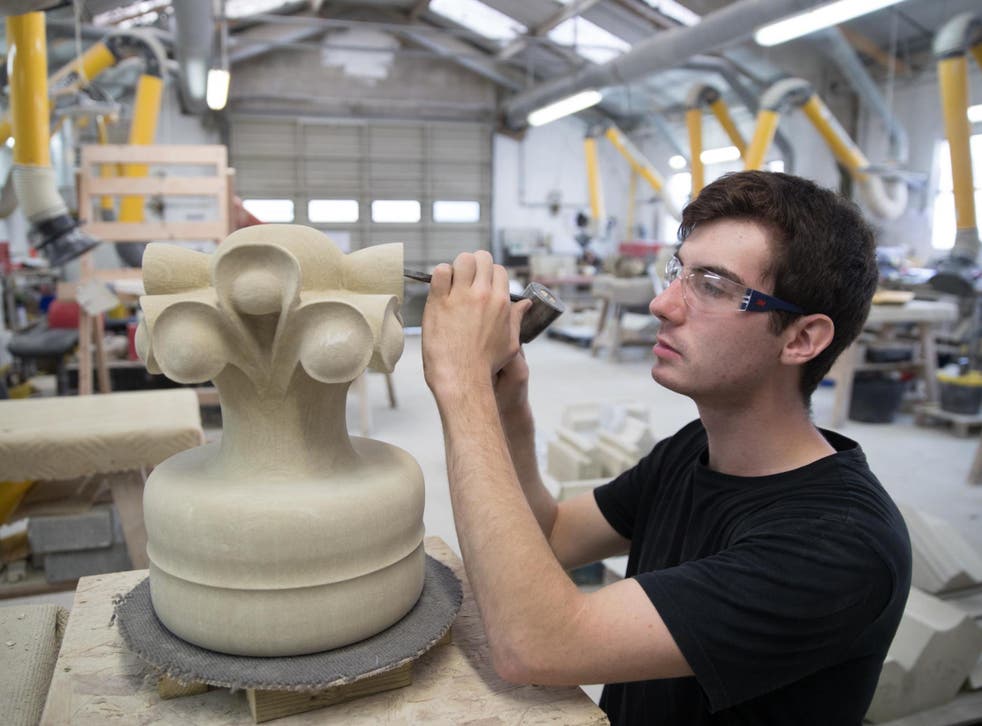 Students who take the government's new flagship technical qualification could miss out on going to Britain's top universities, experts have warned.
Ministers have been pushing for teenagers to choose to study T-levels – which are intended to have an equal status to A-levels – ahead of the first technical courses being rolled out in September.
However, most of the elite Russell Group universities are yet to decide whether they will accept students with these qualifications, less than a year before they are due to be introduced.
T-levels could be "tarnished" in the minds of students and parents if ministers fail to persuade universities to recognise them, a National Foundation for Educational Research (NFER) report has said.
Policymakers need to further promote T-levels to universities and provide "more clarity" on the intended progression from these technical courses into higher education, experts have said.
UK news in pictures

Show all 51
One two-year T-level is considered a full educational programme and is considered the same as studying three A-levels, with the top grade, a Distinction*, the same as scoring three A*s at A-level.
Learners who complete a T-level programme with a starred distinction will be allocated the same amount of Ucas tariff points as students pursuing the more traditional qualification.
The report warns: "Universities are free to decide whether they will accept T-levels and there were questions as to whether Russell Group institutions will accept T-levels.
"Linked to this, decisions made by Russell Group universities may influence other universities and could tarnish T-levels in the minds of parents/carers."
Researchers add that a number of "challenges" remain with T-levels – including the "tight timescale" for developing the qualifications and the late availability of the full specifications.
There is still "significant work to do" to raise understanding of T-levels amongst students, parents and employers despite a national awareness campaign from the government, the report says.
Suzanne Straw, education to employment lead at NFER said: "A significant challenge is demonstrating that these new technical education programmes will lead to positive progression into employment, apprenticeships or higher education.
"As well as focussing on raising awareness of the value of T-Levels with students, parents/carers and higher education providers, there needs to be sustained promotion across the full roll out and beyond."
Geoff Barton, general secretary of the Association of School and College Leaders, said the report should be "ringing alarm bells" as students are due to start courses in just nine months' time.
The first three T-levels, in education, digital studies and construction, are due to be taught in 50 colleges in England from September next year.
Mr Barton added: "We also badly need more clarity about the extent to which these qualifications will be accepted by high tariff universities.
"As soon as the general election is over, these concerns must be a key priority in the education secretary's in-tray. So too should be the lamentable state of 16-19 education funding in general."
The Department for Education (DfE) has previously said that the new technical courses have been developed in collaboration with employers and businesses. As well as classroom study, the qualifications include a work placement of at least 315 hours – or about 45 days.
Register for free to continue reading
Registration is a free and easy way to support our truly independent journalism
By registering, you will also enjoy limited access to Premium articles, exclusive newsletters, commenting, and virtual events with our leading journalists
Already have an account? sign in
Register for free to continue reading
Registration is a free and easy way to support our truly independent journalism
By registering, you will also enjoy limited access to Premium articles, exclusive newsletters, commenting, and virtual events with our leading journalists
Already have an account? sign in
Join our new commenting forum
Join thought-provoking conversations, follow other Independent readers and see their replies