Salaries for new teachers set to rise to £26,000 from September to tackle shortages
Plans will do nothing to improve 'dire retention rate' among school staff, union warns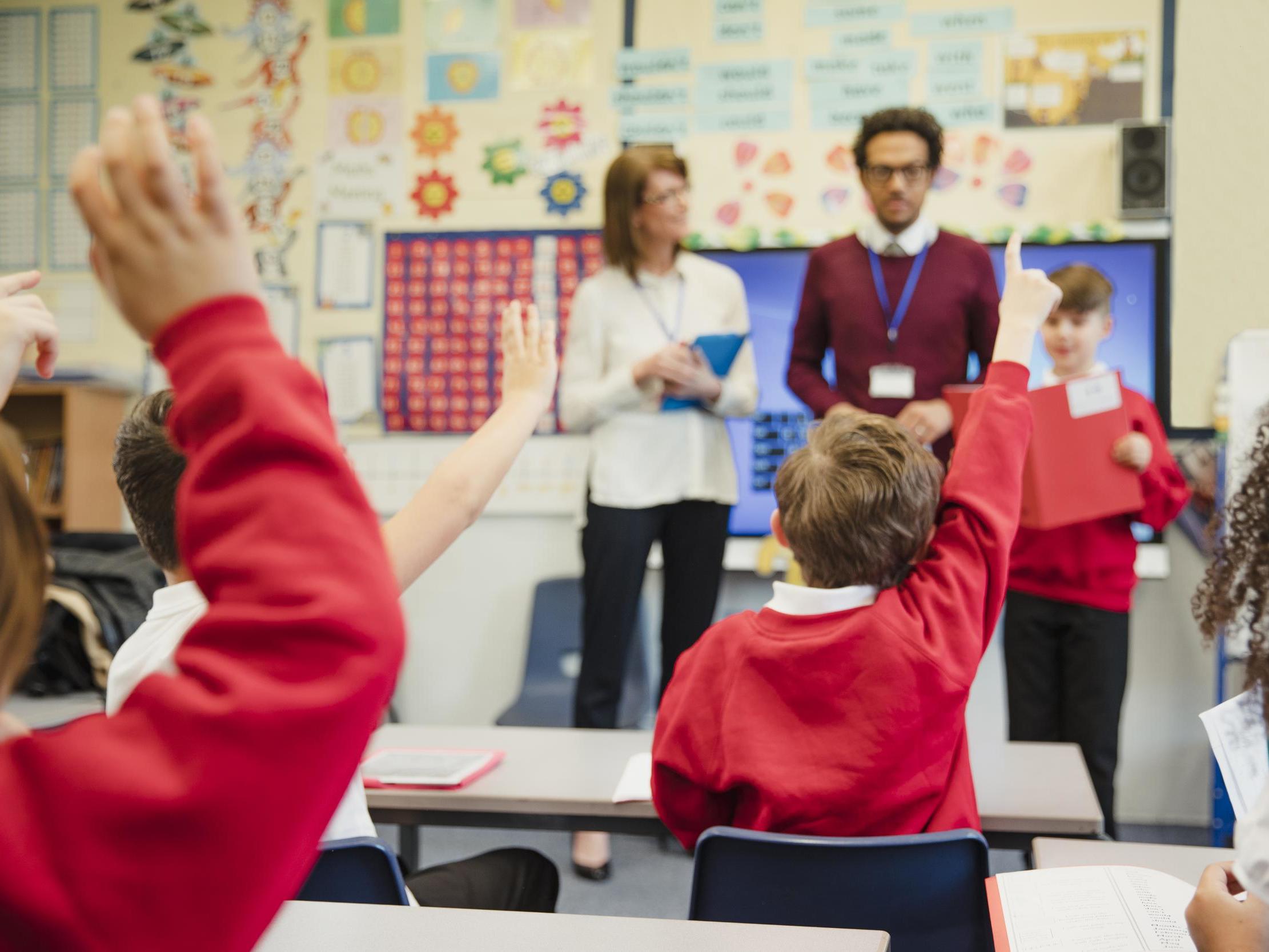 Salaries for new teachers in England are set to rise to £26,000 this autumn under government plans to stop them from leaving the profession.
The Department for Education (DfE) is proposing the increase this September as part of its pledge last year to raise starting salaries to £30,000 by 2022-23.
But unions say the increases to salaries for new teachers should be replicated across the workforce, adding that the changes will do little to address a decrease in real-terms pay over the last decade.
The proposals come after the government failed to hit its targets for recruiting secondary teachers for the seventh year running – and maths and science were among the subjects worst affected.
Wages for new teachers in England working outside London will rise by 6.7 per cent this autumn to £26,000 from the current minimum of £24,373 under the government's plans.
Salaries for those in outer London would rise to £30,000, and £32,000 for those in inner London.
And experienced teachers and school leaders would get a pay rise of 2.5 per cent this year – which would be funded out of extra money due to be pumped into the school system, the DfE has said.
Ministers have announced a three-year plan to increase school spending by £7.1bn by 2022-23.
The DfE has submitted its pay proposals to the School Teachers Review Body (STRB) – which reviews teachers' pay and makes recommendations on pay increases.
They say the changes could see more than 1,000 extra teachers retained per year by 2022-23.
But Geoff Barton, general secretary of the Association of School and College Leaders, said he was "dismayed" by the plans to only increase the pay of experienced teachers and school leaders by 2.5 per cent.
He said: "This is nowhere near enough to make up for years of real-terms cuts to their salaries, and will do nothing to improve dire retention rates. We have to do more to keep experienced staff in the profession, and this proposal is extremely disappointing."
Kevin Courtney, joint general secretary of the National Education Union (NEU), said the increases to starting pay represented "long overdue recognition" of recruitment and retention issues in schools.
He said: "But those increases need to be replicated across the teacher workforce. The 2.5 per cent increase proposed for September 2020 for experienced teachers is likely to be barely at the level of RPI inflation according to the latest forecasts. It will also fail to restore the value of teacher pay in the graduate labour market.
"With teacher retention problems worsening, this is a devastating message for experienced and dedicated teachers," Mr Courtney added.
Gavin Williamson, education secretary, said: "We want to make teaching attractive to the most talented graduates by recognising the prestige that we as a society place on the profession.
"We have set out proposals to significantly raise starting salaries for new teachers to £26,000 next year, rising to £30,000 by September 2022, alongside above-inflation pay increases for senior teachers and school leaders. These mark the biggest reform to teacher pay in a generation."
Join our commenting forum
Join thought-provoking conversations, follow other Independent readers and see their replies