Teacher recruitment falling behind rising pupil numbers, warns watchdog
National Audit Office found tens of thousands left England's schools before retirement last year, and headteachers are finding it hard to replace them with good quality candidates
Alison Kershaw
Tuesday 12 September 2017 01:28 Comments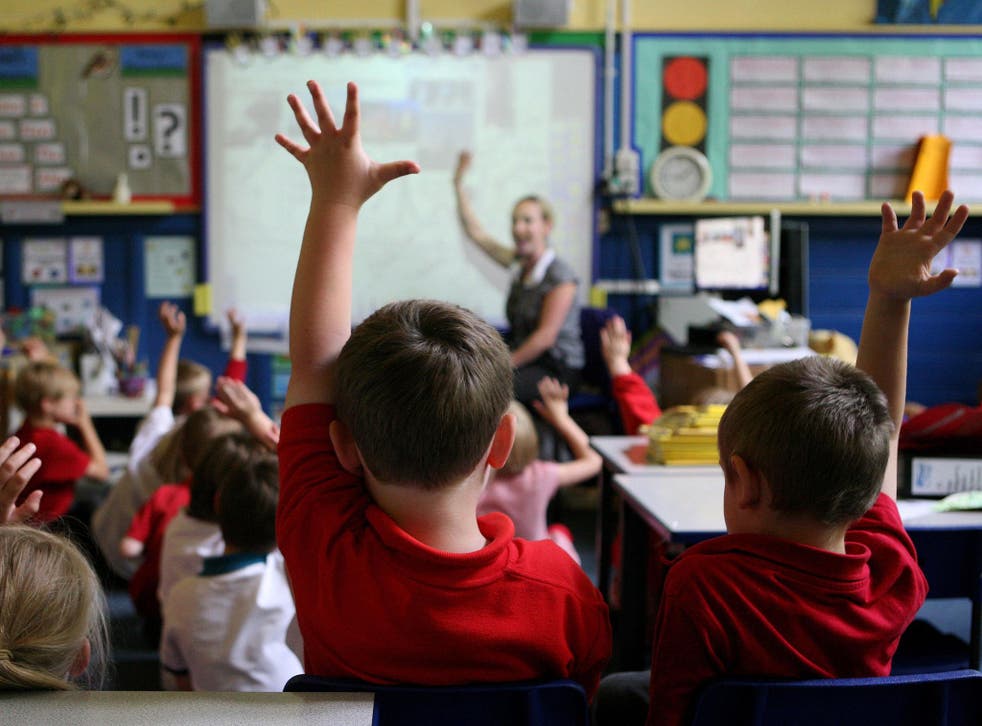 Secondary schools are facing significant challenges in recruiting enough teachers to keep up with rising pupil numbers, a Government spending watchdog has warned.
Tens of thousands of teachers left England's schools before reaching retirement age last year, and headteachers are finding it difficult to fill jobs with good quality candidates, according to a new report by the National Audit Office (NAO).
It concludes that the Department for Education (DfE) cannot show that its attempts to keep teachers in the classroom are having a positive impact and are good value for money.
The study says that almost 35,000 qualified teachers (34,910) left the profession for reasons other than retirement last year.
While overall, there was a 13.2 per cent increase in the number of primary and nursery school teachers between November 2010 and the same point in 2016 - 26,000 extra workers - during the same period there was a 4.9 per cent fall (10,800 staff) in the numbers of secondary school teachers.
A survey conducted by the NAO found that 85 per cent of secondary school leaders did not think they had been given enough support by the Government to retain high-quality teachers, while 67 per cent said that workload is still a barrier to keeping teachers in the profession and the vast majority (97 per cent) thought that cost was an obstacle to improving the quality of their workforce.
The survey also found that schools only filled half of their vacancies with teachers that had the right experience and expertise, and in around one in 10 cases, the post was not filled.
There were differences across the country, with the North East having the lowest proportion of schools reporting at least one opening (16.4 per cent of secondaries), compared to 30.4 per cent of schools in outer London and 26.4 per cent in the South East.
The NAO also says that DfE initiatives to support the teaching workforce have been "relatively small scale", estimating that the Department spent £35.7m in 2016/17 on teacher development and retention, as well as an estimated £34.2m on schemes aimed at improving teacher quality.
In comparison, in 2013/14 £555m was spent on training and supporting new teachers.
The study did find that more qualified teachers are returning to state schools, with 14,200 heading back into the classroom last year, up 1,110 on 2011.
UK news in pictures

Show all 50
And it notes that there are now more pupils in schools where Ofsted has rated the quality of teaching and learning as good or outstanding, although there are variations between different English regions.
The watchdog concludes: "Having enough high-quality teachers in the right places is crucial to the success of the school system and to securing value for money for the £21 billion that schools spend on their teaching workforce.
"Performance against national indicators suggests progress: the overall teaching workforce has been growing and more children are in schools where Ofsted has rated teaching, learning and assessment as good or outstanding.
"These indicators, however, mask significant variation between schools and concerning trends, especially in secondary schools. Schools are facing real challenges in retaining and developing their teachers, particularly when they are also expected to make significant savings by using staff more efficiently.
"Without a clear and practical integrated workforce and financial approach, supported by good evidence and school engagement, there is a risk that the pressure on teachers will grow, with implications for the sustainability of the workforce."
NAO chief Amyas Morse said: "Schools are facing real challenges in retaining and developing their teachers, with growing pupil numbers and tighter budgets. The trends over time and variation between schools are concerning, and there is a risk that the pressure on teachers will grow.
"Since having enough high-quality teachers is essential to the effective operation of the school system, these are issues that the Department needs to address urgently."
A DfE spokeswoman said there are 15,500 more teachers in schools than in 2010, and "significant sums" are being spent on teacher recruitment.
"We recognise there are challenges facing schools and we are taking significant steps to address them," she said.
"We have established a £75m fund to support high-quality professional development in those schools where teacher retention is an issue, and we are making it easier to advertise vacancies. In addition, we are working with Ofsted to tackle workload and will continue to engage with the profession to better understand the specific challenges and how we can address them."
PA
Register for free to continue reading
Registration is a free and easy way to support our truly independent journalism
By registering, you will also enjoy limited access to Premium articles, exclusive newsletters, commenting, and virtual events with our leading journalists
Already have an account? sign in
Join our new commenting forum
Join thought-provoking conversations, follow other Independent readers and see their replies