Teenagers forced to study fewer A-levels in squeeze on public spending, says exam boss
Mark Dawe said a growing number of schools and sixth-form colleges were arranging for their pupils to sit three A-levels instead of four
Richard Garner
Saturday 08 August 2015 22:34 Comments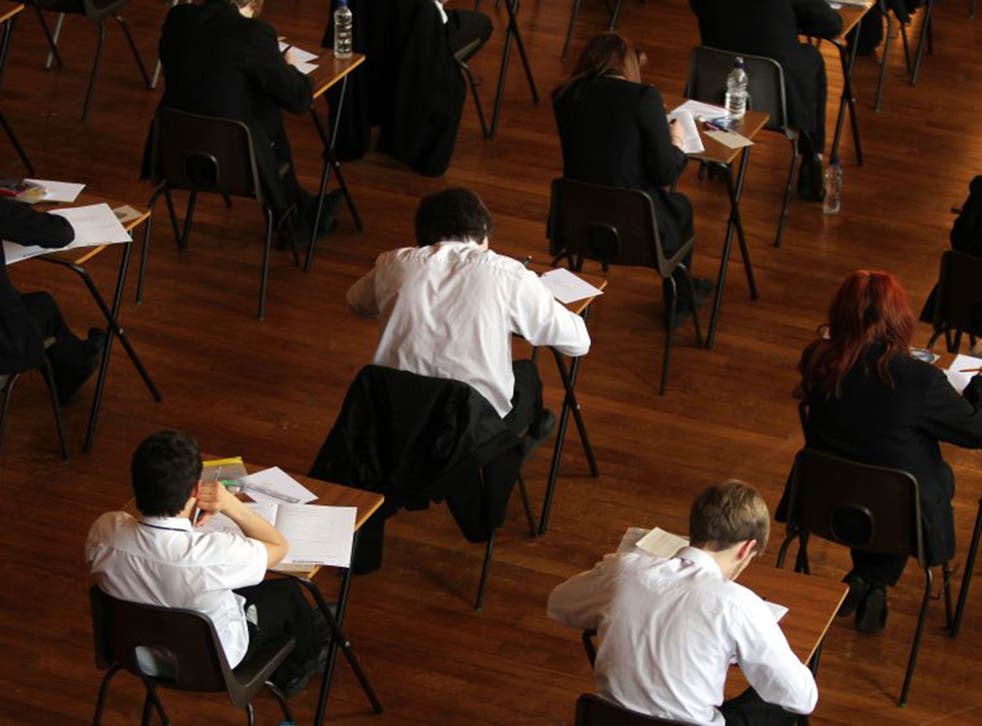 Teenagers are being forced to study fewer A-levels as a result of the Government's squeeze on public spending, an exam-board boss has said.
Mark Dawe, chief executive of the OCR (Oxford, Cambridge and RSA) exam board, said a growing number of schools and sixth-form colleges were arranging for their pupils to sit three A-levels instead of four.
Sixth-form college principals said that cuts meant many sixth-formers were being "poorly served", adding that less-popular subjects such as German and Latin had virtually disappeared from the school curriculum.
Mr Dawe told The Independent on Sunday that the trend towards pupils sitting three rather than four A-levels was largely due to funding. The Government's pledge to maintain spending on education covers the schooling of five to 16-year-olds – the years of compulsory education – but not sixth-form education. "We are beginning to see more schools and sixth-form colleges doing three A-levels instead of four," he said. "We're seeing the beginnings of this and I think this will happen more and more as funding tightens in schools."
James Kewin, deputy chief-executive of the Sixth-Form Colleges Association, also believed the trend towards fewer exams was likely to continue. "This has been driven by the relentless and disproportionate funding cuts the sector has faced rather than a hard-headed assessment of the curriculum offer young people actually need to get on in life," he said.
Sherlock's in, but Mockingbird is out: AQA's GCSE set texts

Show all 18
"Fewer subjects combined with the move to end-of-course exams and reduced extra-curricular activities will leave many students poorly served. Without greater investment, sixth-formers in England will experience a part-time, exam-factory model of education."
Mr Dawe added that 16-year-olds were also opting to take fewer GCSEs as a result of a new exam league-table measurement that ranks schools based on their pupils' performance in their best eight GCSE subjects.
At GCSE level the new ranking –which replaces the old system that ranked schools according to the number of students achieving five A* to C-grade passes –will rate schools according to the progress pupils make in eight subject areas.
These will include English, maths and the other core areas comprising the English Baccalaureate: science, history or geography and a language, plus three other subjects.
The change to the way schools are ranked is likely to end the practice in some of getting pupils to take as many GCSEs as possible to bolster grades, which can often mean that candidates study 12 subjects. The measurement based on using five A* to C grades fell out of favour because it was widely believed to have led schools to concentrate on helping borderline C to D-grade candidates rather than on stretching their most talented pupils.
A spokesman for the Department for Education said: "Thousands more students are staying in education or training after the age of 16, giving them the skills and experience they need to thrive.
"We have protected the schools budget and ended the historic and unfair difference between post-16 schools and colleges by funding them per student, rather than discriminating between qualifications, and increased funding for the pupils who successfully study four or more A-levels and large TechBacc programmes, enabling them to further help their most able students."
Mr Dawe also made a plea to "dampen down" expectations placed on pupils that they should be getting A or A* grades in their exams.
He believes that 50 per cent of the predictions made by teachers about their pupils' exam performance were "wrong". "If you think your pupil is going to get an A or a B, you're probably going to say they are predicted to get an A," he said.
"As a result they [the pupils] are getting incredibly worried that they should be meeting the school's expectations. We've got to try and dampen this down a bit and make them realise that not getting an A* grade is not a failure."
More than 250,000 teenagers are due to receive their A-level results on 13 August.
Register for free to continue reading
Registration is a free and easy way to support our truly independent journalism
By registering, you will also enjoy limited access to Premium articles, exclusive newsletters, commenting, and virtual events with our leading journalists
Already have an account? sign in
Join our new commenting forum
Join thought-provoking conversations, follow other Independent readers and see their replies