The Beatles' iconic Sgt Pepper album to be taught to GCSE music students
Three songs from the record will be studied as part of the new AQA course
Richard Garner
Wednesday 13 May 2015 23:05 Comments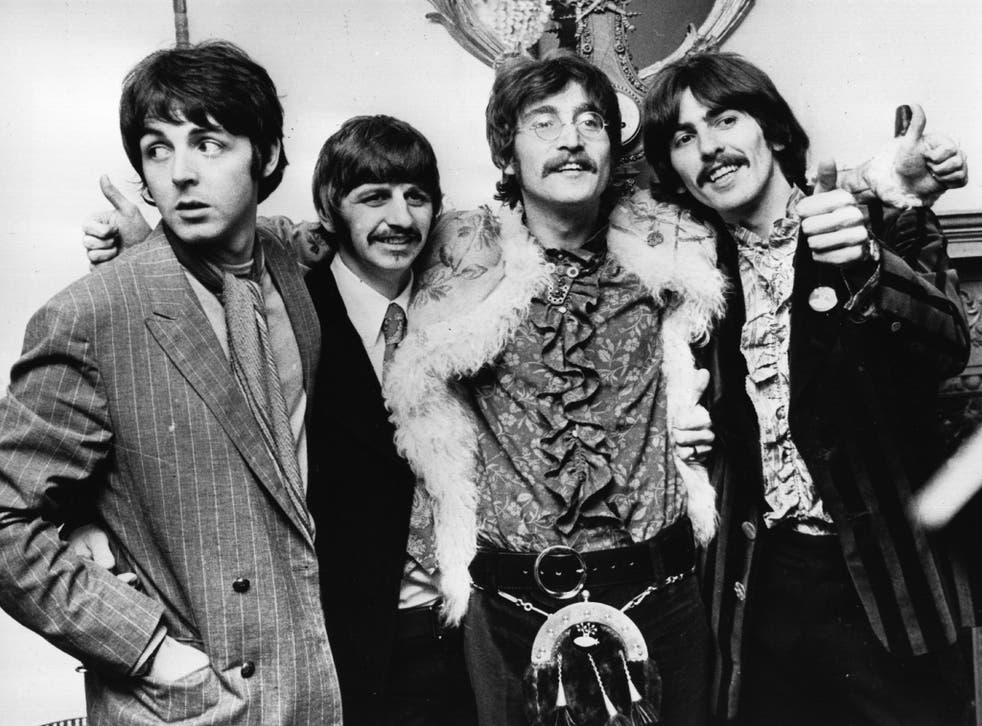 Everyone knows that Sgt Pepper taught the band to play; now, it seems, he will teach children to learn music as well.
Britain's biggest exam board, the AQA, is to make Sgt Pepper's Lonely Hearts Club Band a central theme of a refreshed GCSE music course.
It is insisting that all students study three songs from the album – "Lucy In The Sky With Diamonds", "With A Little Help From My Friends" and "Within You Without You".
They will be asked to study the melody, harmony structure and rhythm – and the meaning of the lyrics which, in the case of "Lucy In The Sky With Diamonds", have been debated by Beatles' fans for years. Some have argued the title – which includes the letters "LSD" – refers to drug-taking but Lennon always maintained it was based on a girl called Lucy who was a friend of his son's.
The inclusion of The Beatles on the syllabus is an attempt to freshen up the GCSE music exam – the scope of the course will also be broadened to give pupils the option to prove their DJ-ing credentials for the first time as part of the performance section of the qualification.
They will be asked to demonstrate their technical skills and show how they would prepare for a DJ-ing set at a club – including using the technique of "scratching", which is associated with hip-hop music and involves producing different sounds by moving a vinyl record back and forth on a turntable. They can use a vinyl record, CDs or a laptop for their performance.
They will also be asked to sing or play a musical instrument as part of their performance – they will be free to choose their favourite songs regardless of whether it's "Nessun Dorman" or a Beyonce classic number.
Classical music will not be ignored – with composers Copland and Hayden featuring on the syllabus as will legendary guitarist Carlos Santana's Supernatural album.
"We've chosen The Beatles because John, Paul, Ringo and George helped to define popular music and the iconic Sergeant Pepper album has taken on a life of its own," said Seb Ross, the head of AQA's music department.
Ernie Sutton, treasurer of the British Beatles Fan Club, added: "It's a great tribute to The Beatles that their music is being studied for new AQA music GCSE.
"The Beatles changed the face of popular music and song writing in a very short space of time which future musicians benefitted from. It's fantastic that young people can study their ground breaking and influential Sergeant Pepper album, which changed recording techniques for ever."
The new syllabus, which is being submitted to exams regulator Ofqual for accreditation, is designed to come into force in schools in September 2016. It coincides with a revamping of the GCSE Dance syllabus, which will include the study of a wide range of dance styles – including ballet, contemporary, and urban – plus dance from a range of other cultures.
GCSE Music
Students will have to:
complete one exam paper 9listening and writing)
do two performances (solo and ensemble)
compose two pieces of music
Musical content:
Western classical tradition 1650 to 1910 - Haydn's Symphony 101 in D Major, The Clock.
Popular music - The Beatles - Sergeant Pepper's Lonely Hearts Club Band.
Traditional music - Santana - supernatural
Western classical tradition since 1910 - Copland - Saturday Night Waltz and Hoedown from Rodeo.
Performing music:
Students must learn how to perform as an instrumental/DJ/vocal/technology soloist and the second as part of an ensemble.
Composing music:
Two compositions must include a response to a brief and a free composition.
Register for free to continue reading
Registration is a free and easy way to support our truly independent journalism
By registering, you will also enjoy limited access to Premium articles, exclusive newsletters, commenting, and virtual events with our leading journalists
Already have an account? sign in
Join our new commenting forum
Join thought-provoking conversations, follow other Independent readers and see their replies