'The children used to throw chairs at people out of the window': How a failing school was turned round – with a little help from the Royal Navy
St Luke's in Portsmouth hired a team of ex-sailors as pastoral support workers who patrolled the school sorting out problems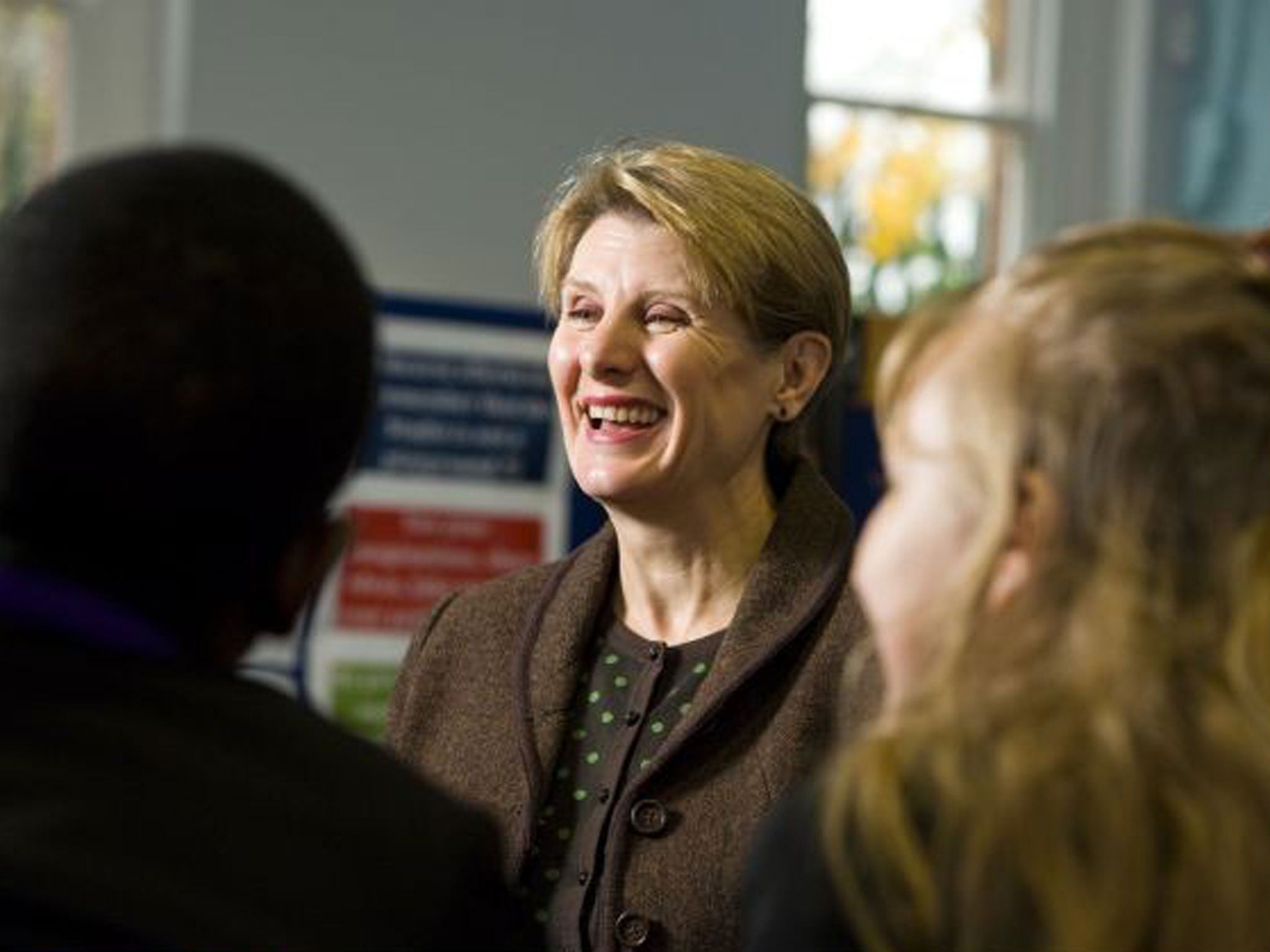 The school's motto – brought to the attention of its pupils daily – says it all: "Work hard, be nice and no excuses." It wasn't always so. Its principal, Dame Sharon Hollows, recalls trying to persuade a neighbouring school to use the school's swimming pool. "They said no," she said. "When I asked them why, they said that when they had used it in the past, the children used to throw chairs at them out of the third floor window and spit at them."
That was in the days of the former St Luke's Church of England school in Portsmouth. The school, which has become the Charter Academy, is viewed in national circles as an outstanding model for tackling the thorniest problem facing the UK's education system: how to address the poor performance of white working-class pupils.
The task facing Dame Sharon as the first head of the new academy five years ago was immense. Fourteen years ago, not a single pupil at the school achieved five A* to C grade passes at GCSE, including maths and English. A decade ago, the school was languishing in the bottom three of national school league tables with only 3 per cent.
Today it can boast 68 per cent A* to Cs – making it the top performing school in the city and above average for the country. Dame Sharon reckons the results could have been even better had the school not gained a reputation for coping with pupils transferring schools, sometimes because of behaviour problems, or newly moved to the area. Just over half the age cohort in the GCSE year were new arrivals at the school during that year.
In Dame Sharon, ARK Schools, sponsors of the school, had found someone with a proven track record for turning schools round. She had previously worked in the East End of London as a primary school head, running the most improved school in the country, Calverton in Newham.
"I have to say it has been different to my experience in London," she said. "There I've always worked with schools with very diverse ethnic school intakes. This one is not – this is predominantly white working class. The challenges are different.
"I met so many families here who just didn't have any expectations for anything other than generation on generation of dependence on the state.
"I was shocked at the time. I think you tackle it by constantly telling the children and the parents they can do it – by constantly giving them examples of people who had [made it]."
She added: "I'm used to having to teach English to those who come from other countries but this was a big shock – there were children arriving in the secondary school with a reading age of four."
Brought up in the cotton and mining communities of Burnley, Lancashire, she was able to draw on her own childhood to help lift their aspirations. Both my parents left school at 14," she said. "If it hadn't been for education, I would not have been able to pursue this fantastic career. That's what I keep telling the children."
It starts, though, with discipline and attendance, she said, so one of her first acts on taking over at Charter – apart from ensuring the motto was printed on the front of the school building for all to see when they arrived – was to insist on the wearing of a school uniform.
She also hired a team of pastoral support workers – ex-Royal Navy personnel – who patrolled the school sorting out problems. "The Navy is a very valuable source of personnel," she said. "Most of them retire from the navy in their early forties."
If children did not turn up at school, a car was immediately despatched to their home to bring the recalcitrant pupils into school. If it did not find them on the first visit, the car went back again.
Staff also patrol the school gate before and after school to make sure the pupils arrive and leave in an orderly fashion. The senior management team look in on every classroom every day to ensure everything is all right – and staff wear radio ear-pieces and carry walkie-talkies so they can communicate any problems.
The next priority was to tackle performance – particularly in maths and English. Dame Sharon hired two primary school teachers to help the children with a reading age of four to catch up. Extra lessons were laid on – the school has a longer school day than most, with lessons continuing to 4pm, to include extra English and maths. Homework can also be done on the premises by those children whose home circumstances are too difficult for them to study.
As a result, some of the slowest readers are now achieving B and C grades at GCSE.
The school is planning its next venture – opening a sixth form in September for pupils who would previously have turned their backs on education at 16. It has steadily built up from just over 300 pupils to 460 in the past five years, and hopes to recruit 200 to the sixth form.
Naomi Carter, a vice-principal at the school who worked at St Luke's before the changes, said: "It has been a real privilege working for this school. In the olden days, the staff weren't challenged, the kids weren't challenged. Now it's made clear. If you're going to come here, you're going to work."
Bottom of the class
Concern over the educational performance of white working-class youths was raised in a number of publications last year. The education standards watchdog Ofsted revealed in a report last summer that only 26 per cent of white working-class boys from the UK obtained the holy grail of five A* to C grade passes at GCSE, including maths and English, and only 35 per cent of girls. Black Afro-Caribbean boys and girls were the next lowest performers with 32 per cent and 48 per cent. "Five years ago, Bangladeshi and black African pupils were trailing their white British counterparts," it said. "Now Bangladeshi pupils outperform their white British peers and black African pupils perform at a similar level."
The report was followed by another from the Centre for Social Justice which said white working-class boys were in danger of becoming "an educational under-class".
That was followed by Tim Leunig, an adviser to the Lib Dem Schools Minister David Laws, saying that "being white" is now a problem in state schools and that more needed to be done to tackle the underachievement of the "dominant racial group" in schools if standards were to improve.
Few initiatives have so far targeted this group, though chief schools inspector Sir Michael Wilshaw describes their performance as "an unacceptable waste of human potential". He believes we need to tackle a climate of low expectations on the part of too many teachers – and, of course, pupils and their parents.
However, other state schools in a similar situation come to Dame Sharon Hollows to learn from her. "They are very keen to see what we've done," she said, The key, she is telling them, is to put and end to any conscious or subconscious thought along the lines of "What can you expect from these kids?".
Richard Garner
Join our commenting forum
Join thought-provoking conversations, follow other Independent readers and see their replies