Top state schools are 'preserve of the rich', social mobility charity warns
Over 85% of top performing state schools take in fewer disadvantaged pupils than they should for their catchment area, with faith schools called out for being the most 'socially selective'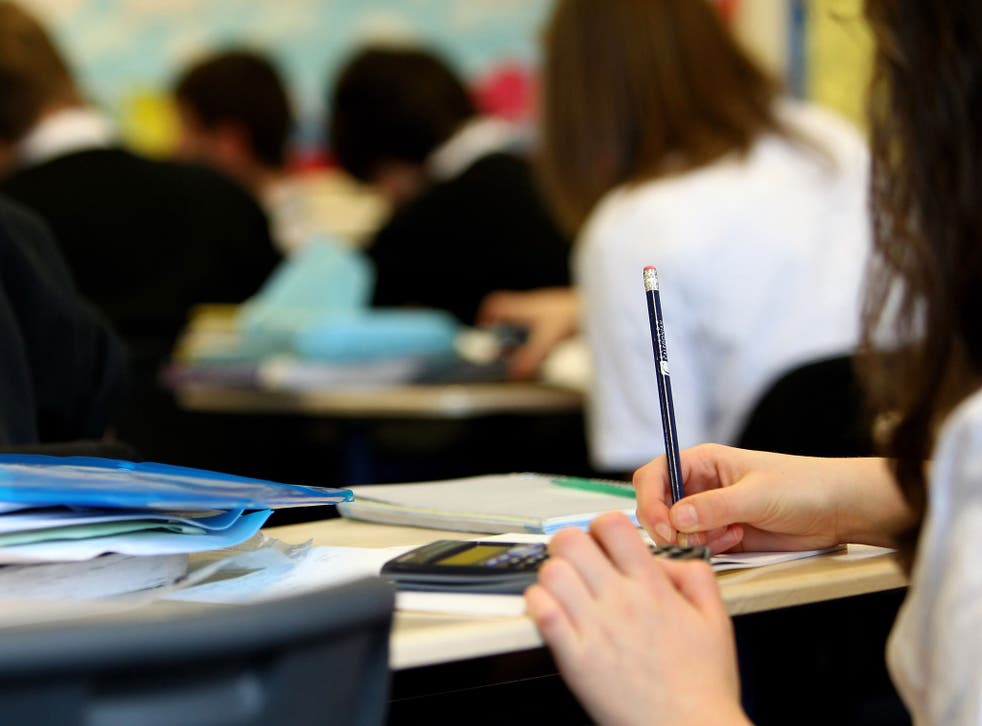 England's top state secondary schools are fast becoming the preserve of the middle classes who can afford to move to good catchment areas, researchers have warned, as thousands of children across the country wait to receive their secondary school places for September.
New research, published on National Offer Day, shows young people from the poorest families are much less likely to win places at the one of the country's top 500 comprehensive schools for GCSE results.
These secondary schools are significantly more "socially selective" that the average state school, taking around half the population of disadvantaged pupils than the average state school, analysis by the Sutton Trust concludes.
Faith schools were found to be the most socially selective group of top schools – more than three times more selective as non-faith schools - making up a third of the top 500 group.
The social mobility charity has called on the Government to introduce the use of ballots - where a proportion of places is allocated randomly - or banding across abilities to achieve a more balanced intake in each catchment area.
Hundreds of thousands of children across the country expect to receive notice of their allocation secondary school on Wednesday evening, with thousands expected to miss out on their first choice.
While the findings suggest a slight improvement within the past couple of years – the average proportion of poorer pupils placed in the best schools at 9.4 per cent up from 7.6 per cent in 2013 - Government data suggests parents in many areas of England are finding it more difficult to get their child into their preferred secondary school than they were a year ago.
The most expensive schools in the world

Show all 10
Since this time last year, more than half of towns and counties have seen a fall in the numbers of 11-year-olds winning a place at their first choice school, with two-thirds of local authorities experiencing a drop overall.
According to the report, top performing schools admit around 9.4 per cent of pupils eligible for Free School Meals (FSM) - a key measure of poverty - compared to 17.2 per cent attending the average state school.
Around half of this gap is down to schools having catchment areas that have lower numbers of disadvantaged pupils, but social selection is also to blame, researchers argue.
Some 85 per cent of the top 500 schools were found to be taking on fewer disadvantaged pupils than they should do, given the numbers living in their catchment area.
The Government has discussed lifting the restrictions on the proportion of pupils new faith schools can select on the basis of religious faith (currently 50 per cent) in a bid to improve social mobility.
Theresa May's awkward school visit
But Sutton Trust researchers warn that lifting the restriction is likely to make faith schools "even more unrepresentative of their local areas, reducing the number of good school places available to pupils across the socio-economic spectrum".
The study also highlights evidence of a house price premium marked at around 20 per cent attached to living in the right area for a top comprehensive school.
A typical house in one of these catchment areas costs around £45,700 more than the average property in the same local authority.
Many families are paying up to hundreds of thousands of pounds more for their homes in order to get their children into the country's very best state schools, it was revealed last year.
This means that pupils whose families can afford to buy in these coveted areas are more likely to get a place at one of the top secondary schools, effectively pricing poorer families out, experts warn.
Researchers also looked at the Government's new Progress 8 measure - which looks at the progress and achievement of a pupil over eight subjects and found that the schools with the best results on this measure had a higher proportion of FSM children, at 15.2.
Sutton trust chairman Sir Peter Lampl, said: "Getting a place at a high attaining school is key to getting on in life. Yet the bottom line is your chances of doing that depends on your parents' income and whether they can afford the extra £45,700 house premium to live in the catchment area.
"This is why we want to see more use of ballots - where a proportion of places is allocated randomly. Ballots would ensure that a wider mix of pupils would get into the best schools."
Commenting on the report, Selective Comprehensives 2017, Kevin Courtney, General Secretary of the NUT, said the teaching union disagreed with the idea that a school's quality could be judged solely by GCSE or Progress 8 scores.
"Most schools work extremely hard to provide pupils with a broad and balanced curriculum that includes a wide, interesting and challenging set of subjects, many of which are not included in these measures," he said.
He added that the report did raise a number of "disturbing issues", however, including information that 80 per cent of all secondary schools are now their own admission authorities.
"As the report reveals, there is evidence of covert social selection taking place in many schools," he said, "with the 500 so-called 'top performing' schools having a proportion of children eligible for free school meals that is scarcely more than half the national average.
"This is not a situation that can be allowed to continue. Yet if the Government presses ahead with its stated aim of seeing all schools become academies by 2022, it is one that can only get worse with more schools becoming responsible for their own admission arrangements.
"The only solution is to return the role of admission authority for all schools in a local area to the local authority. That way parents can be assured that the system for admission to school is fair and transparent and not influenced by the social status of their family."
A Department for Education spokesperson said: "Selection by house price is simply unfair which is why we've already set in motion plans to tackle it. We plan to create more good school places in more parts of the country by scrapping the ban on new grammar schools, as well as harnessing the expertise and resources of our universities, and our independent and faith schools.
"This will build on the work of the last six years that has seen the number of children being taught in schools that are rated good or outstanding rise by almost 1.8m – but we want to go further. We have announced twelve Opportunity Areas across England, backed with £72 million investment, where we are working to break down the barriers to social mobility that too many still face."
Join our new commenting forum
Join thought-provoking conversations, follow other Independent readers and see their replies