Elite UK universities found to be second-rate in new Government rankings
More than half of Russell Group institutions – traditionally considered to be the best in the country – did not score top marks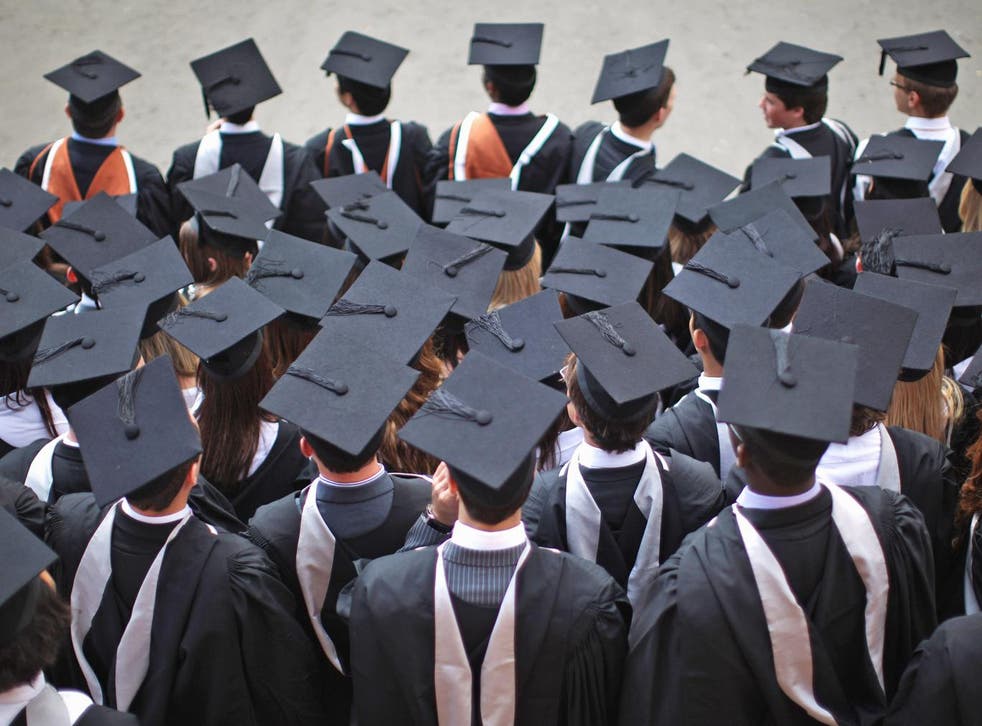 Britain's elite universities are failing to achieve teaching excellence, official rankings have revealed, as the Government publishes its first major assessment of teaching standards in higher education.
More than half of Russell Group institutions – traditionally considered to be the best in the country – did not score a gold rating after entering the new Teaching Excellence Framework (TEF).
Instead, a number of newer universities, including former polytechnics, have been awarded the highest standard in terms of teaching, learning and potential employment outcomes for students.
The University of Portsmouth, Coventry, De Montfort University and Bangor are among those awarded gold status, despite sitting further down in traditional university league tables.
Professor Dominic Shellard, vice chancellor of De Montfort, said the results illustrated "a real watershed moment for British universities".
"To me, the TEF really demonstrates the passing of the old guard and the ushering in of a new hierarchy," he told The Independent.
Overall, 295 universities, colleges and alternative education providers took part in the new ranking system, with 26 per cent gaining a gold award, 50 per cent rated silver and 24 per cent achieving bronze.
These figures exclude institutions that received a provisional award because there was not enough data for a full assessment.
Of the 21 Russell Group universities that took part, just eight (38 per cent) were given a gold rating, including Oxford and Cambridge; 10 (48 per cent) were awarded silver and three (14 per cent) achieved a bronze.
The Russell Group said it does not believe the TEF measures "absolute quality", however, and that would-be students need clear guidance about what the results mean and how they should be used.
The TEF was introduced by the last government in a bid to gain more evidence about teaching and learning in UK universities, with proposals to link quality to tuition fee increases.
Universities that choose to enter are assessed on a range of measures, including student satisfaction, drop-out rates and whether students go on to employment or further study after graduating.
Differences between institutions, such as entry qualifications and subjects studied, were taken into account by an independent panel, which decided the final awards.
QS World University Rankings: top 10 UK institutions

Show all 10
De Montfort University is one of 59 institutions to score gold under the new system.
The arts-based university ranks in 82nd place according to The Complete University Guide tables, and 70th place in the Times Higher Education Rankings for 2017.
"We've been rewarded for engaging with students more extensively," said Professor Shellard.
"For a long time, league tables have assessed universities on their longevity and social standing, but I think the big thing about the TEF – which is what the Russell Group don't like – is it takes into account the diversity of your applicants."
"I think a lot of the top dogs will have to rethink their approach."
A number of highly regarded universities have been criticised for their lack of diversity within undergraduate applications in recent years.
Last year, the former Prime Minister David Cameron accused Oxford University of "not doing enough to attract talent from across our country", noting that the institution had accepted just 27 black British students in a single year.
Professor Shellard said the TEF awarding body had praised his university for having "outstanding support for students", including a high ratio of student councillors and mental health support, as well as a high teaching standard.
"It's quite clever of the Government to do this – they've recognised that people will really judge institutions on whether it's worth them spending the tuition fees."
The Queen's Speech - what is it?
A gold award means that a university is of the highest quality found in the UK, providing "consistently outstanding teaching, learning and outcomes for its students", while the silver award was given for consistently exceeding "rigorous national quality requirements for UK higher education" and bronze was given to those that meet these national requirements.
Those awarded a bronze or higher – all institutions that took part besides those rated provisional – are now set to be able to raise tuition fees, which currently stand at around £9,000, in line with inflation in 2018/19.
Nick Hillman, Director of the Higher Education Policy Institute (Hepi), said the fact that some of the results seemed "suprising" suggests the TEF is working.
"The TEF would have comprehensively failed if it had simply replicated existing hierarchies," he said. "It was always designed to do something different to other league tables and rankings – namely, to show where there are pockets of excellence that have been ignored and to encourage improvements elsewhere.
"I visit around 50 universities a year so know the gold ratings have been hard won by committed staff and students and are very well deserved."
Of those institutions scoring gold, a small number are recognised for achieving top marks across all six assessment categories, including the University of Buckingham, which has been awarded with a "double positive" rating.
Sir Anthony Seldon, its vice chancellor, said: "For Buckingham, one of the country's smallest universities, to come top in the country in the first ever TEF exercise is exceptional."
"The TEF is an excellent and overdue exercise which will have a dramatic impact on improving the quality of teaching.
UK news in pictures

Show all 50
"But I think it is far from perfect and I think hard work needs to be done to improve the quality of the exercise so that it is a true and fair measure of teaching quality."
Many reputable universities will be disappointed with their results, he added, since the framework is an "incredibly important tool" used by potential applicants overseas.
"The TEF is far from a perfect assessment of teaching and learning," Mr Hillman added. "While it tells us a lot of useful things, none of them accurately reflects precisely what goes on in lecture halls.
"I hope university applicants will use the results in their decision making but they should do so with caution, not least because the ratings are for whole universities rather than individual courses."
Madeleine Atkins, chief executive of the Higher Education Funding Council for England (HEFCE), which published the results, said: "Students currently invest significant amounts of time, and indeed money and incurring debt in their higher education. They are quite right to expect a high quality academic experience."
The assessment "measures the things that students themselves say they really care about", she said.
The three Russell Group universities to be handed a bronze award were the London School of Economics and Political Science (LSE), the University of Liverpool and the University of Southampton .
The acting director of the Russell Group, Dr Tim Bradshaw, said: "Our members provide an outstanding student experience where teaching is enhanced by access to world-class research and facilities.
"This is a trial year. We need to recognise that developing a robust TEF that is truly reflective of the UK's excellent higher education sector will take time.
"TEF does not measure absolute quality and we have raised concerns that the current approach to flags and benchmarking could have a significant unintended impact.
"Applicants need clear guidance about what TEF results mean and how they should be interpreted to aid decision-making."
Universities Minister Jo Johnson said: "The Teaching Excellence Framework is refocusing the sector's attention on teaching – putting in place incentives that will raise standards across the sector and giving teaching the same status as research."
Join our new commenting forum
Join thought-provoking conversations, follow other Independent readers and see their replies