Tories' top teacher Katherine Birbalsingh to open free school in Brent after long battle
Katherine Birbalsingh set for return after speech at Conservative Party Conference cost her a previous job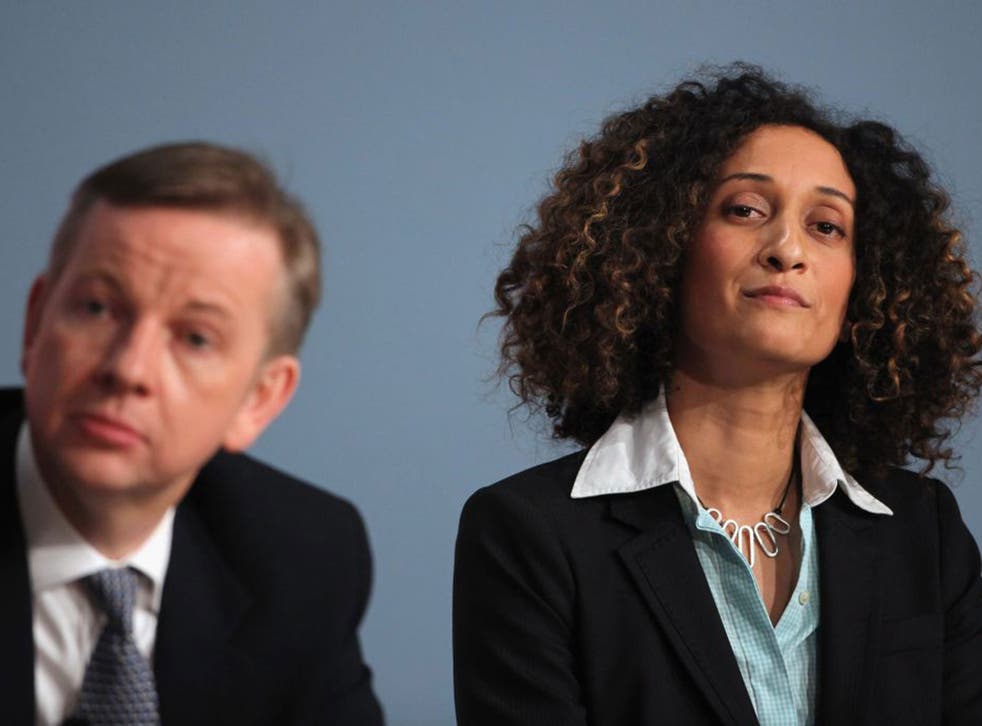 A teacher who lost her job after giving a speech to the Conservative Party conference in which she condemned the standard of state education is to open her own free school following a three-year battle.
Katherine Birbalsingh had previously tried to open the Michaela Community School (MCS) in Wandsworth, London, in February last year, but now the school is set to launch in Wembley Park, Brent, in September 2014. Ms Birbalsingh left her job as deputy head at St Michael and All Angels Academy in Camberwell, south-east London, after her appearance at the Tory conference in 2010.
She received a standing ovation for describing the education system as broken and containing a "culture of excuses", but later resigned after being censured by the academy's sponsor, the Diocese of Southwark, due to the risk that her colleagues could be "insulted".
She also used pictures of children from the academy in her speech and referred to them by name without seeking permission from either the children or the school.
MCS will be a mixed school open to ages from 11 to 18, and will be "academically rigorous", according to Ms Birbalsingh. It will also "bring the values and advantages of a private school education", she writes on the MCS website. Subjects such as Chinese will be on the curriculum, and the school will initially offer places to 120 pupils, although that number is expected to eventually rise to 800.
But teaching union representatives are against MCS, citing the potential costs as well as the fact that the area is already well covered for secondary school places.
"The key thing we need is more primary places and Brent Council is doing their absolute best to provide those places," said Jean Roberts, Association of Teachers and Lecturers (ATL) executive member for London and the joint National Union of Teachers (NUT) secretary for Brent.
"We have spare places at secondary schools, so it is an unnecessary expense." Ms Roberts says that a private school-type ethos is "not what Brent needs" and that there are also concerns about the curriculum.
"We are also very concerned about how the school will be run along these very strict lines of very traditional subjects, potentially missing subjects such as ICT."
Stating that "all the education unions" are against the move and free schools in general due to the fact that "they are not part of the planned school provision in boroughs", Ms Roberts said the unions are also concerned by the number of parents attending open evening events for the school who are from outside the borough.
"Quite clearly they are going to be attracting people from around London and it is not necessarily sure that the majority of the pupils will be Brent pupils."
MCS has previously stated that children who live within a five-mile radius of the school have an equal chance of gaining a place as their admissions policy includes random allocation.
A Freedom of Information request to the Department of Education revealed in August that up until the deferment of the opening in February 2012, the department had spent £168,339.64 to cover pre-opening costs.
The department said in its response that it was "unreasonable to say that this money had been wasted" as it was similar to funding put forward to new local authority-maintained schools and new sponsored academies.
It added that the department provides "the full cost of every free school project shortly after the school opens" and would do the same for MCS.
Ms Birbalsingh and the Michaela Community School could not be reached for comment.
Join our new commenting forum
Join thought-provoking conversations, follow other Independent readers and see their replies