Trojan Horse, outside the school gates: 'When I go to college people are going to say: Is he carrying a bomb?'
The view from outside the gates is one of surprise and annoyance that their schools are being tarnished
Oliver Wright
Tuesday 10 June 2014 06:40 Comments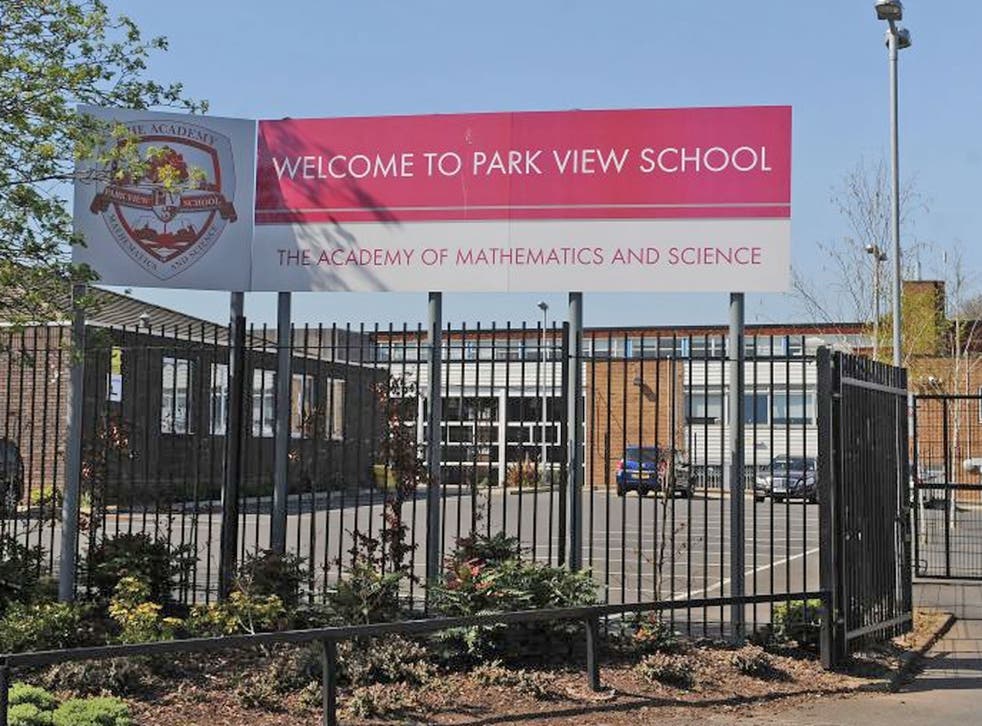 The sixteen-year-olds loping around outside Park View School on Monday lunchtime didn't sound much like teenagers unprepared, in the words of Ofsted, for life in a "multi-cultural and diverse society".
"We want cannabis legalised," joked one boy as his friends egged him on. "Write that down."
But teenage banter aside, the Park View final years pupils I met yesterday were a thoughtful, articulate and worldly bunch.
What worries them about the Trojan Horse furore is that their teachers have been more preoccupied by Ofsted than their on-going GCSE exams – and even more importantly, that they will have been unfairly tarred by having been educated at Park View – which until a few months ago they had been rather proud of.
"It's all complete madness. It's lies," said 16-year-old Sadaq Ali. "There is no segregation. They don't force us to pray. They encourage music – piano, guitars, violins – and drama. Me, I'm a beat boxer. There is honestly no extremism whatsoever – everyone is treated the same."
His friend Kasim Shah – who had just come out of a GCSE Maths exam – said they had been told by staff not to get involved and speak to the journalists who had congregated outside the school gates – but he disagreed with them.
"We just want to express our view and say that its wrong – what they're saying about us." Sadaq added: "The reputation of the school has got so low that when I go to college people are going to say: 'He used to go to Park View. Is he a terrorist? Is he carrying a bomb?'."
The sad truth is that the Park View teenagers are collateral damage in a bitter political row that has been blown out of proportion. It began as a legitimate – if sensitive – debate about the extent to which state schools with predominantly Muslim school rolls should cater to the religious sensitivities of parents and pupils.
But that debate has now morphed – via the leaked and as it later turned out fabricated Trojan Horse document – into a much more divisive and ill-informed row.
It is a dispute where extremism is often confused with conservatism and where a number of isolated but connected issues have been portrayed as a sinister plot to Islamify education in Birmingham by stealth.
The truth, as a group of Birmingham headteachers at a hastily arranged press conference made clear, was rather less dramatic.
Yes, they had experienced pressure by a small minority of parents and governors in their schools to adopt a more conservative educational approach but this did not amount to extremism.
"I don't think extremism is wanting a good Islamic education within the maintained sector," said Christine Mitchell, head of Clifton Primary School.
"We fully understand that parents want their children to be brought up as good Muslims but we can't accommodate that [in state-run primary schools]."
The heads said they had had to deal with situations of parents complaining about segregated changing areas for PE, mixed swimming, and a few who were unhappy with the teaching of art and drama.
But – while they criticised the lack of support and backup they received from Birmingham City Council – they said the problems were longstanding and rejected any suggestion of a recent, organised plot to take over schools.
The trouble is that the very public and divisive nature of the Trojan Horse debate has now got a momentum of its own – a momentum that was only too apparent at Oldknow Academy where parents were picking up their children. Some parents were on Monday wearing rather sinister T-shirts with what looked like a bloodied hand-print and the slogan 'hands off our school'. Posters decrying the Education Secretary Michael Gove had been attached to school railings. One mother said she had found her eleven-year-old daughter looking up the word 'extremist' on the internet while others insisted they were being unfairly victimised simply for being Muslim.
However another white mother said she was going to take her daughter out of the school because of what Ofsted's most recent inspection of Oldknow had found.
The febrile situation deeply concerns the city council – who will still have to deal with the aftermath of Trojan Horse long after the public attention has moved on.
"What worries me is long-term damage that this has done," said one councillor. "We saved the children's social care budget last year but had to slash the education budget to do it. We don't have support staff for schools any longer and governors support is abysmal. These are real longstanding problems that have to be solved and Trojan Horse hasn't made it any easier."
Register for free to continue reading
Registration is a free and easy way to support our truly independent journalism
By registering, you will also enjoy limited access to Premium articles, exclusive newsletters, commenting, and virtual events with our leading journalists
Already have an account? sign in
Join our new commenting forum
Join thought-provoking conversations, follow other Independent readers and see their replies