Trojan Horse schools: Teachers to be barred for not 'protecting British values'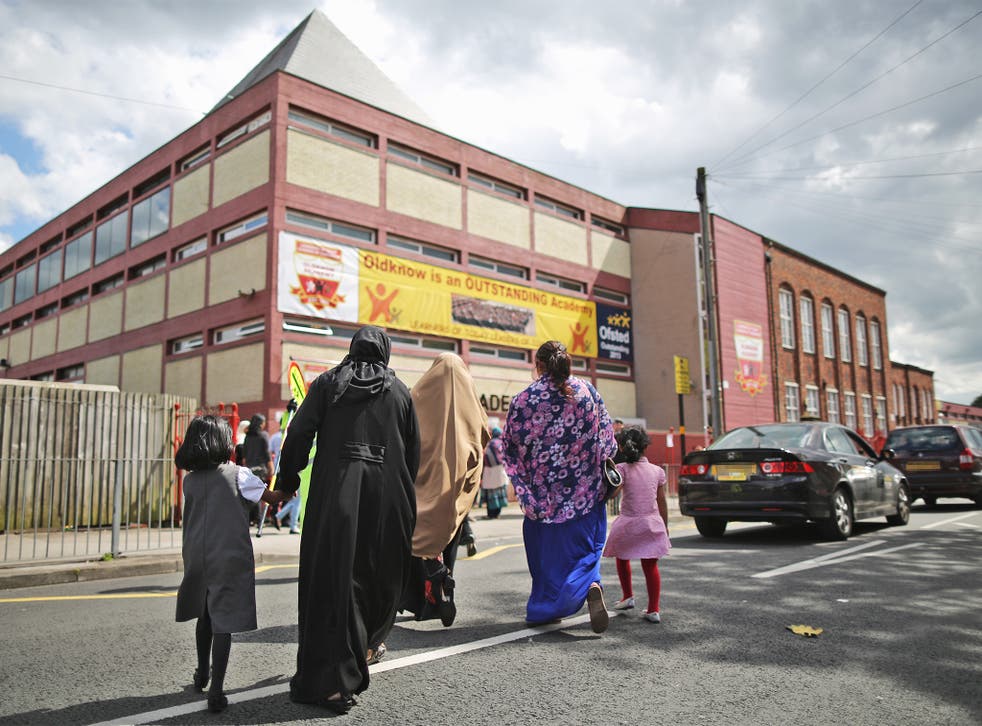 Teachers face being barred from the profession if they fail to protect British values in their schools, new Education Secretary Nicky Morgan declared today.
She made the comments as a Government-ordered investigation found proof of a plot by Islamic hardliners to take over schools in Birmingham, outlined in a now-notorious "Trojan Horse" letter sent to city council chiefs.
The report, by former Metropolitan Police anti-terrorism head Peter Clarke, also warned that academies, set up in their thousands by former Education Secretary Michael Gove, were "vulnerable to those without good intentions" seeking to control schools.
In his report, Mr Clarke concluded: "I found clear evidence that there are a number of people, associated with each other and in positions of influence in schools and governing bodies [in Birmingham] who espouse, endorse or fail to challenge extremist views.
"There has been coordinated, deliberate and sustained action, carried out by a number of associated individuals, to introduce an intolerant and aggressive Islamic ethos into a few schools in Birmingham.
"The effect has been to limit the life chances of the young people in their care and to render them more vulnerable to pernicious influences in the future."
Evidence collated by the investigation showed bullying and intimidation of senior staff, the hounding out of head teachers, segregation of pupils for lessons and invites to extremist outside speakers to address pupils. One head teacher was subjected to the circulation of rumours she was "sexually promiscuous".
At one of the schools, Park View, students said they had been "quite shocked" by a speech by an outside speaker who told them they were being "oppressed" in this country.
In his report, Mr Clarke pointed out that "many of the inappropriate behaviours identified in Birmingham took place in a number of academies".
"The autonomy granted to those who run academies is generally a welcome development yet can make those institutions vulnerable to those without good intentions.
"I would not want to generalise about the governance of academies but this enquiry has highlighted that there are potentially serious problems in some academies."
He said the Government's monitoring system needed to be "more sensitive to detecting changes in governance and more effective in responding to warning signs".
In a Commons statement on the report, Ms Morgan said Mr Clarke's findings were "disturbing".
She said she had ordered the disciplinary panel of the National Council for Teaching and Leadership to determine whether any teachers identified in the report had been guilty of misconduct and should be barred from teaching. She stressed any actions that undermine "fundamental British values should be viewed as misconduct".

In addition, she made it clear exposing pupils to extremist speakers in future "should be regarded as a failure to protect pupils and British values" and punished by immediate suspension and prohibited without recourse to review if misconduct was found.
She said one school, Oldknow, would have its funding agreement cancelled, effectively closing it. Its head teacher was asked to take "gardening leave" after being relentlessly pursued by governors to remove senior members of her leadership team despite the fact it was rated "outstanding" by inspectors, the report said.
At Park View, where a "Park View Brotherhood" in which staff could email their thoughts was uncovered, senior members of the governing body had now resigned, she added. Messages included describing homosexuals as "animals" with "satanic ways" and a suggestion that the murder of soldier Lee Rigby was a stage-managed hoax.
At another school, a Muslim parent told staff after a white pupil had been enrolled they should "get a white chair and a white desk and put the white kid in the corner with a white teacher and keep him away from the others. If that fails, get rid of the white kid. It's what the community want you to do."
Ms Morgan said she would be drawing up measures to improve school governance in the autumn.
However, Tristram Hunt, Labour's Shadow Education Secretary. said: "We have seen no change in course in response to the dangerous lack of local oversight in our school system. Labour will introduce directors of school standards in every local area to hold all schools to account, respond to early warning signs and support all schools to improve."
Register for free to continue reading
Registration is a free and easy way to support our truly independent journalism
By registering, you will also enjoy limited access to Premium articles, exclusive newsletters, commenting, and virtual events with our leading journalists
Already have an account? sign in
Register for free to continue reading
Registration is a free and easy way to support our truly independent journalism
By registering, you will also enjoy limited access to Premium articles, exclusive newsletters, commenting, and virtual events with our leading journalists
Already have an account? sign in
Join our new commenting forum
Join thought-provoking conversations, follow other Independent readers and see their replies