Majority of school leavers receive university offer with an incentive, research suggests
Scramble to put 'bums on seats' is 'damaging' students, school leaders warn
Eleanor Busby
Education Correspondent
Tuesday 17 December 2019 07:24 Comments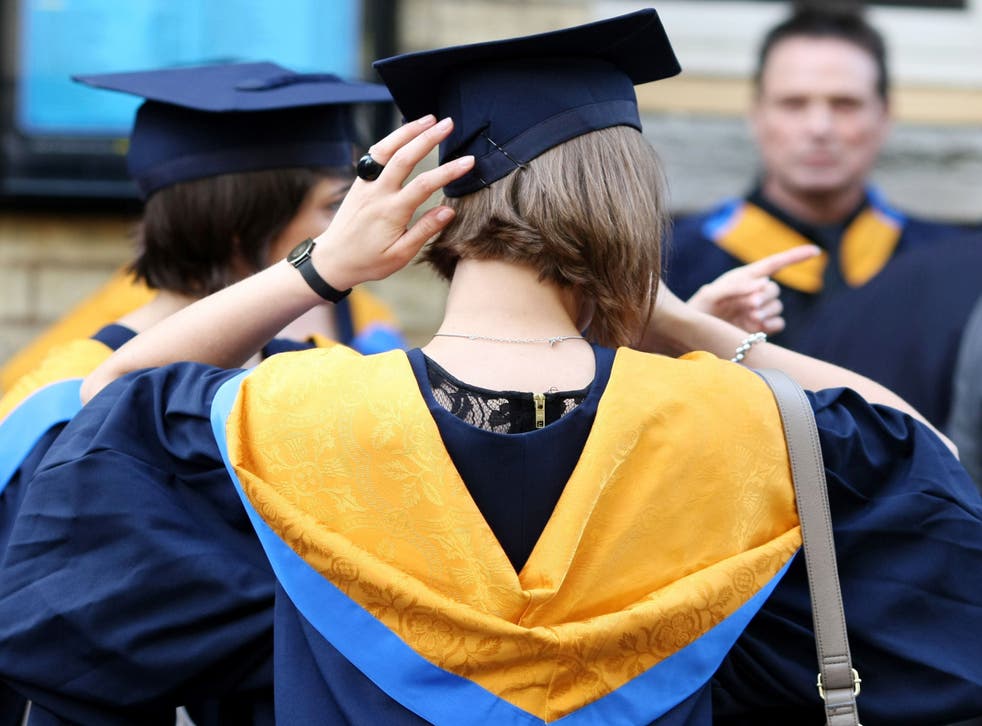 More than half of school leavers say they have received a university offer with an incentive – such as cash payments, bursaries and scholarships – to make them select it as their first choice, research suggests.
Universities are increasingly offering students a place on a degree regardless of their exam grades – or they are promising to lower entry requirements – if they select the institution as their firm choice, data by the university admissions service Ucas shows.
The rise in incentivised offers comes despite warnings from ministers and school leaders that the tactics could lead to sixth-formers becoming demotivated and receiving worse grades.
The majority (54 per cent) of 18-year-old university applicants reported receiving an offer with an incentive to select the institution as their first choice, according to a Ucas survey of more than 30,000 students.
Of these students offered incentives, 56 per cent were told the university would change the conditional offer to unconditional and 30 per cent were promised a guaranteed place in university halls.
UK news in pictures

Show all 50
And nearly a fifth (17 per cent) of students reported receiving an offer that would include a scholarship, bursary or cash payment as an incentive for selecting the university as their first choice.
The proportion of students who have been promised a lower grade offer or entry requirement as an incentive has risen to more than a third (36 per cent) this year from 23 per cent last year.
The new figures from Ucas show more than one in four (25.1 per cent) 18-year-old university applicants were given a "conditional unconditional" offer – where a university tells students they are guaranteed a place but only if they make it their first choice – this year despite a government crackdown.
This is up 4.2 percentage points from 20.9 per cent in 2018. Meanwhile, five years ago, in 2014, just 3.1 per cent of applicants received such an offer.
Applicants holding an unconditional firm choice are more likely to miss their predicted grades, analysis from Ucas shows. In 2019, 57 per cent of these applicants failed to meet their predicted A-level results by three or more grades, compared to 43 per cent of those holding a conditional firm offer.
The Association of School and College Leaders (ASCL) believes "conditional unconditional offers" have more to do with the "frenetic scramble to put 'bums on seats'" than the best interests of students.
Geoff Barton, general secretary of ASCL, said: "It is infuriating that universities have apparently responded to calls to end the use of certain types of unconditional offers by making more of them.
"There are circumstances in which unconditional offers are appropriate, but not when the offer is made on condition that the student makes the university their firm choice.
"This practice has more to do with the frenetic scramble to put 'bums on seats' than the best interests of students.
"It results in many young people taking their foot off the pedal in their A-levels, doing less well than they should, and potentially damaging their future employment prospects."
While more of these offers are being made, fewer students are opting to take one up. Among applicants holding five offers of places from universities, including one "conditional unconditional" offer, just 20.6 per cent chose to accept the "conditional unconditional" place, compared to 25.6 per cent in 2014.
Clare Marchant, chief executive of Ucas, said: "Students are considering their offers more carefully than ever, with the type of offer they receive having less of an impact than before."
She added: "Unconditional offers remain a complex issue and our new insight will further inform the dialogue, forming a crucial contribution to the current admissions practice reviews.
"Their impact on attainment needs to be highlighted, though this must be seen alongside their role in widening participation activities and benefits to students' mental health."
Alistair Jarvis, chief executive of Universities UK (UUK), said: "While there are clear benefits in universities being able to use a variety of offer making practices to reflect an individual student's circumstances, potential and the context of their application, it is important they are used appropriately and proportionately.
"An important principle of the UK system is that universities decide independently which students they accept; but with this comes a responsibility to ensure that the admissions system continues to work in the best interests of students."
He added that the evidence and views of applicants towards predicted grades, unconditional offers and post-qualification admissions will be looked at as part of the admissions review by UUK.
Register for free to continue reading
Registration is a free and easy way to support our truly independent journalism
By registering, you will also enjoy limited access to Premium articles, exclusive newsletters, commenting, and virtual events with our leading journalists
Already have an account? sign in
Join our new commenting forum
Join thought-provoking conversations, follow other Independent readers and see their replies