More than half of schools forced to increase class sizes as a result of underfunding
School leaders said cuts had forced them to up the numbers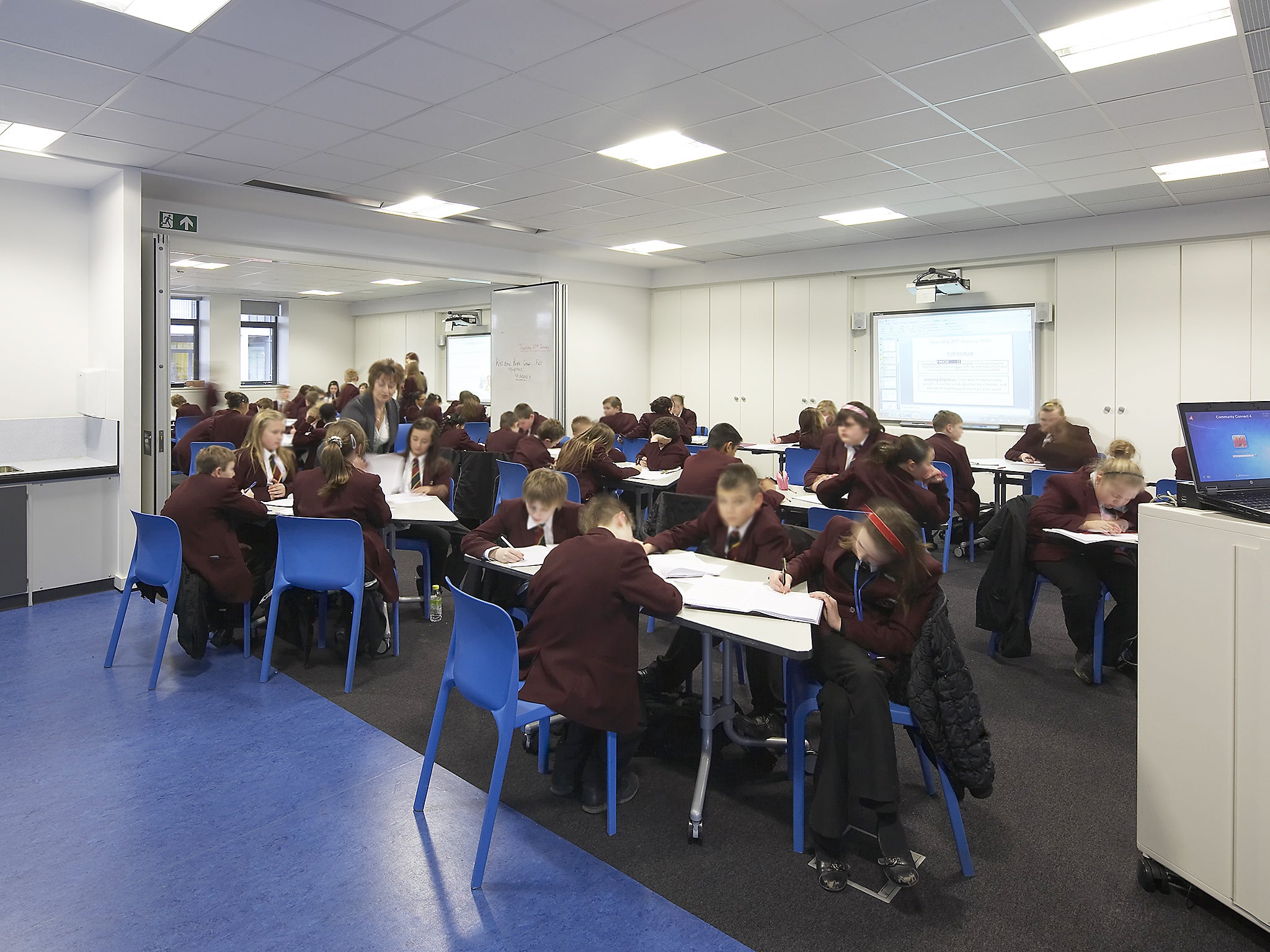 Class sizes are surging in thousands of schools across the country as headteachers struggle to cope with the toughest school spending cuts in decades, new figures suggest.
Preliminary data from a survey led by the Association of Teachers and Lecturers finds more than half of teachers have seen a significant rise in class sizes since this time last year, The Independent can reveal.
The figures follow fresh warnings from the House of Commons Public Accounts Committee that children's futures are being put "at risk" by falling standards and "soaring class sizes", as schools face the most extreme spending squeeze since the 1990s.
In its report into school standards, the Committee said the Department for Education "does not seem to understand the pressures that schools are already under" and is not well-placed to act swiftly if efficiency measures threaten the quality of education and its outcomes.Funding per pupil is reducing in real terms, it added, with mainstream schools in England needing to make efficiency savings rising from £1.1 billion in 2016-17 to £3 billion by 2019-20 in order to manage within the available funds.
When asked by the ATL union what significant changes had taken place within their school classrooms over the past 12 months, more than half of school leaders cited increasing class sizes as one of their specific concerns.
The survey of over 1,000 respondents found a growing number of teachers had been forced to push classroom boundaries to the limit due to lack of resources, the union told The Independent.
In many cases, there was a teacher to pupil ratio of 35 pupils or more, with the difference particularly noticeable within secondary education.
The survey's full findings, which are due to be published later this month, build on a study run by the Association of School and College Leaders (ASCL), which also flagged concerns about increasing class sizes, as well as the cancellation of school trips and schools dropping certain subjects as teachers cope with budget cuts.
There is currently no limit on primary or secondary school class sizes.
Infant classes are subject to a maximum of 30 pupils per class, but there are still a few circumstances in which additional children can be included as "exceptions".
According to Department for Education data, the number and proportion of infants in large classes fell between 2015 and 2016.
The average primary school class had 27 pupils in it last year, and the average secondary school class had 20.4.
Industry leaders say there is evidence to suggest "worrying" class size increases, however, with secondary schools being putting under particular pressure as school-age populations are predicted to grow.
Sixth form colleges are also being affected, with a report published by the DfE last week highlighting stark differences between AS and A-level classes between schools and further education colleges.
"At one end of the spectrum an FE college was delivering average classes of 24 students across all of its A level provision," the report said.
Jeremy Corbyn confronts Theresa May about breaking manifesto pledge over education funding
One secondary school teacher told The Independent she had been forced to take on many more pupils in her history A-level class, with the total number of students doubling.
"I think it happens more than teachers like to admit," she said, "because they don't want people to think they can't cope."
While evidence of how class size may affect attainment rates has been mixed, union leaders warn that forced increases put teachers under extra pressure, resulting in higher workloads and "unfair" amounts of stress.
"The more children you have in a classroom the less attention and help each can receive," an ATL spokesperson said. "Teachers are saying this is leading to a decline in pupils' behaviour and it's putting extra stress on teachers with all the extra marking, writing reports and having to see more parents at parents' evenings."
Of the respondents to the ASCL survey, most of whom work in secondary schools, 82 per cent said they had increased class sizes within their school, and 20 per cent of those said the increase was between six and 10 pupils per class.
Some 129 head teachers said their largest class had 35 or more pupils, and nine reported having at least one class with 40 or more.
Many respondents expressed particular concern over the impact on the provision for vulnerable students – 58 per cent said special needs support has been affected, and half said mental health support had been affected.
"Reduced budgets mean fewer teachers and support staff are available to provide support in these areas, and there is less capacity for counselling and educational psychologists," the union said.
Malcolm Trobe, the union's interim general secretary, said schools face "impossible choices" as a result of real terms cuts to spending per pupil.
"Reduced budgets means fewer staff and, with fewer staff, class sizes have to increase," he said. "Schools cannot sustain the level of support they provide to pupils, or the range of subject options and enrichment activities."
A DfE spokesperson said: "We want young people to have access to a wide range of high-quality options at post-16, to ensure they gain the knowledge and skills they need to succeed in the future.
"We have no plans to introduce a cap on class sizes and trust schools and colleges to tailor their post 16 provision according to the needs of their community."
Join our commenting forum
Join thought-provoking conversations, follow other Independent readers and see their replies