Four-year-olds suffering panic attacks, eating disorders, anxiety and depression, report says
Children as young as four are suffering from mental health problems, teachers warn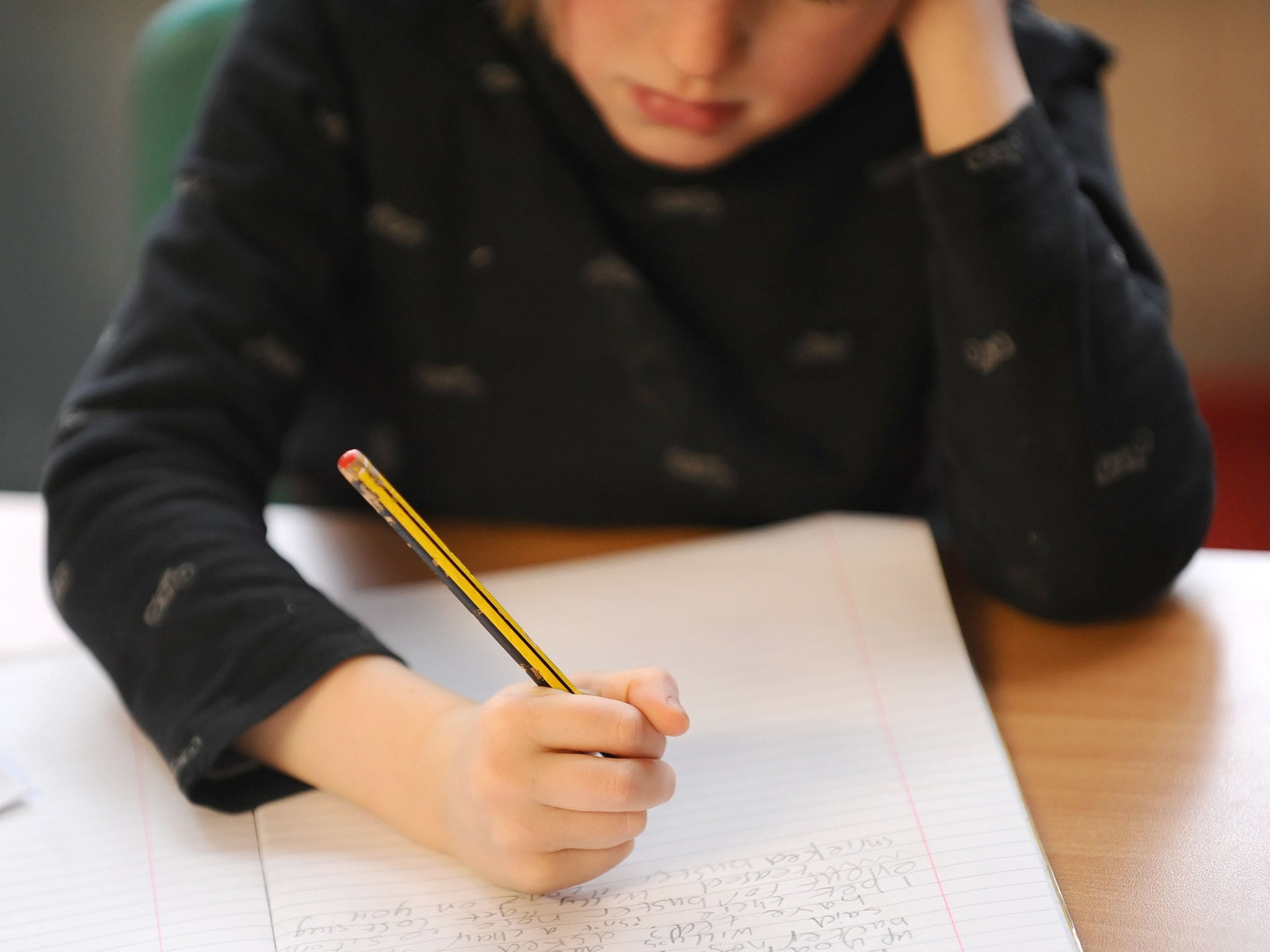 Schools are struggling to access support to deal with a surge in the number of children and young people suffering from mental health issues.
Evidence given from teachers across the country suggests children as young as four are suffering from mental health problems such as panic attacks, eating disorders, anxiety and depression.
Responding to a survey for the NASUWT union, almost all teachers and school leaders (98 per cent) said they had come into contact with pupils who are experiencing mental health issues.
In spite of this, almost half said they had never received any training to help or recognise the signs in children who might be suffering from these problems.
Pupils affected were most likely to be teenagers, with 58 per cent of teachers saying they had seen problems in 15- to 16-year-olds and 55 per cent in 13- and 14-year-olds.
But nearly a fifth (18 per cent) of those polled said they had been in contact with four to seven-year-olds showing mental health issues, and over a third (35 per cent) had seen problems in children aged seven to 11.
The findings echo that of a separate study undertaken recently by the National Association of Head Teachers, in which more than half of school leaders said they had found it difficult to find a service or professional to help a child in need.
They survey, published by the National Association of HeadTeachers (NAHT) and Place2Be, a children's mental health charity, found some 22 per cent of those who had sought mental health support for a pupil had been unsuccessful.
Common barriers towards getting help were a lack of capacity in services, no local services available and budget constraints, teachers found.
Barnardo's children's charity has called on the Government to commit to better training for teachers.
Commenting on the latest figures, Chief Executive Javed Khan said: "It's vital that teachers get more support to help with their pupils' mental health as it is one of the biggest issues our country is facing today.
"Barnardo's wants the Government to commit to training all new and existing teachers to gain the skills to help children build resilience and promote good mental health.
"Evidence shows that vulnerable children and young people such as those leaving care, or victims of sexual exploitation are more likely to need mental health care than other children. They would stand a better chance of going on to live happy and healthy lives if they are given effective mental health education starting at primary school.
NASUWT general secretary Chris Keates warned of growing concern among teachers about a gap in the availability of experts and counselling to help children with mental health needs.
Nine in 10 teachers said they had experienced a pupil of any age suffering from anxiety and panic attacks, while 79 per cent were aware of a pupil suffering from depression and 64 per cent knew of a child who was self-harming.
Around half (49 per cent) were aware of children with eating disorders, and a similar proportion (47 per cent) knew about a pupil with obsessive compulsive disorder.
When asked about the impact of mental health issues on pupil behaviour, some 89 per cent of teachers agreed that it led to an inability to concentrate in class.
Some 77 per cent agreed that it led to a pupil being isolated from other students or problems in making friends.
Over four-fifths (84 per cent) said the pressure of exams and testing was contributing to mental health issues, 71 per cent said pressure to be good academically was having an impact, and 36 per cent said bullying played a part.
In addition, 91 per cent said family problems such as ill health or a break-up had an impact on mental health, while 72 per cent said social media played a part.
Ms Keates said: "It is clear that teachers and school leaders are seeing many more children and young people who are exhibiting the signs of serious mental distress.
"Teachers and school leaders take very seriously their duty of care to their students and it is clear there is a great deal of concern in the profession about the gulf in the availability of expert physiological support and counselling for pupils with mental health needs."
She added: "The Prime Minister earlier this year pledged to improve mental health support for pupils. However, schools cannot address this issue alone and cuts to budgets and services in local authorities, health and education have all taken a heavy toll on the support available."
Last month, YoungMinds urged the Government to tackle a "mental health crisis in our classrooms".
In an open letter to Theresa May, the charity said pupils' wellbeing should be considered as important as academic achievement, and called for full funding of wellbeing initiatives, better recognition for schools that do good work on the issue, and specific mental health training for teachers.
A Department for Education spokesperson said: "No child should suffer from mental health issues and we are investing a record £1.4bn to ensure all children get the help and support they need.
"We are strengthening the links between schools and NHS mental health staff and later this year will publish proposals for further improving services and preventative work.
A new green paper on children and young people's mental health is due to be published later in the year.
Join our commenting forum
Join thought-provoking conversations, follow other Independent readers and see their replies