UK schools the 'most socially segregated' in the world
The vast majority of children from immigrant backgrounds are crammed into disadvantaged schools with high proportions of fellow migrants.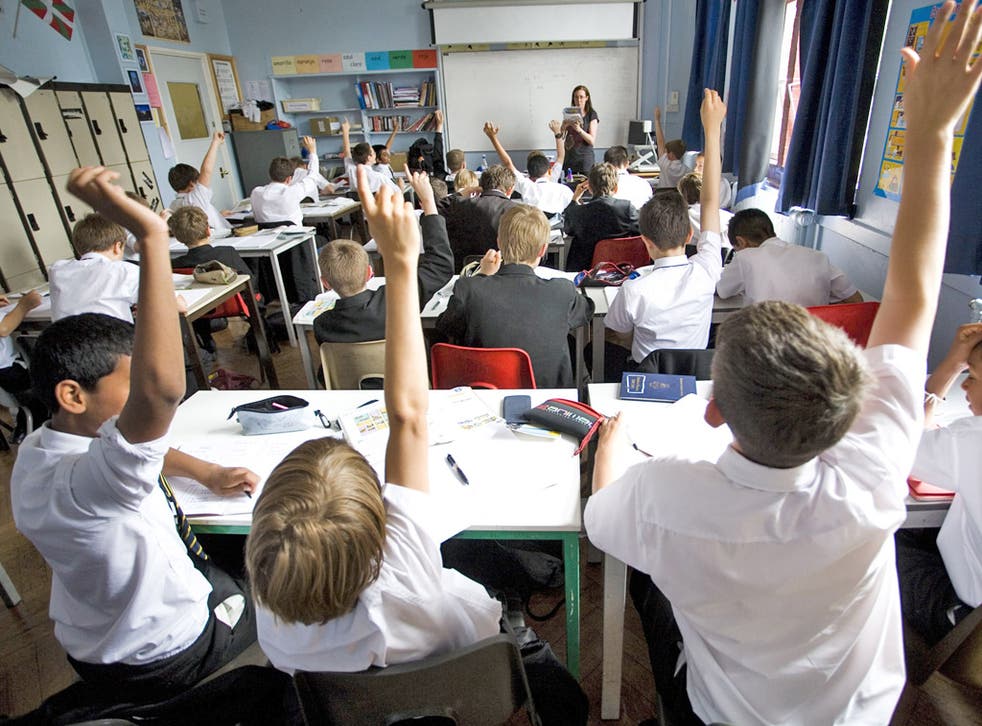 Schools in the UK are amongst the most socially segregated in the world, an international study revealed today.
The vast majority of children from immigrant backgrounds are crammed into disadvantaged schools with high proportions of fellow migrants.
Figures in the annual review of international education standards published by the Organisation for Economic Co-operation and Development show 80 per cent of migrants' children are clustered in disadvantaged schools with fellow migrant pupils. Only three of the 34 countries in the OECD have a worse record - Mexico, Estonia and Finland.
The UK's ranking is even worse when it comes to the education of migrant children whose mothers are highly educated - 42.5 per cent of all children in this category are taught in disadvantaged, the highest figure for any OECD country. With the children of poorly educated mothers, the figure rises to 80 per cent - again the worst record..
The findings have prompted the OECD to call for a radical rethink of UK housing policy to try and produce a "more balanced social mix in schools at an early age".
In addition, teachers' leaders have urged Education Secretary Michael Gove to abandon policies such as the introduction of free schools which, they argue, will lead to increased segregation.
Andreas Schleicher, head of education at the OECD, said the findings showed there were "significant challenges" for UK education policy.
"When social disadvantages open, they prove very, very hard to close," he added.
No other country had as high of proportion of immigrant children from well educated families taught in disadvantaged schools, he added.
In addition, some 75 per cent of immigrant students attended schools with large numbers of children who spoke a different language to English at home - compared to the OECD average of 56.5 per cent.
"These findings are important because PISA (international test) results show that, in any given school, the higher the proportion of students whose mothers have low levels of education, the poorer the reading performance of children in that school," the report concluded.
Christine Blower, general secretary of the National Union of Teachers, urged Mr Gove to take heed of the report's warnings "and start to evaluate his education policies on the basis of the extent to which they address or exacerbate educational inequalities".
In Sweden, she said, which had pioneered the free school movement - where schools are run by charities, parents and faith groups, segregation had increases segregation and the policy had "a disastrous effect in terms of exacerbating inequalities in education".
Sir Peter Lampl, chairman of the Sutton Trust education charity, added: "The best schools, including the best comprehensives, have less than six per cent of their pupils drawn from the poorest families against a national average nearly three times greater.
"They are effectively closed to many poorer pupils because of the admissions rules that limit their intakes to local neighbourhood or faith group.
"As the OECD notes, such segregation can make it harder for poorer pupils to achieve their potential."
Today's report also revealed a "growing divide" between the better and less well educated students in the UK.
Employment prospects amongst graduates had actually risen during the economic crisis by 0.1 percentage points whereas those who failed to get five top grade A* to C grade passes at GCSE had seen "a marked drop" in their employment prospects - by 3.3 percentage points to 56 per cent, greater than the average world-wide drop of 2.5 percentage points.
Meanwhile, spending on education in the UK had risen dramatically in the decade since 2000 - by 50 per cent - with a 68 per cent rise in the amount spent on individual pupils.
However, results from international tests showed there had been no improvement in standards to go with the rise.
"I'm not saying that money has been wasted but at the very same time you have significant increases in spending on the part of government the increase in performance becomes flat," he added.
On higher education funding, the report revealed the UK was one of only three countries in the world to receive 70 per cent of funding for universities from private sources, i.e student fees. The findings come before their fees hike to £9,000 a year from this September.
However, Dr Schleicher revealed that there was no indication that students were being "frightened" off higher education by fees.
"We don't find any relationship between the provision of of private resources for education and education mobility," he added.
Indeed, the figures showed that the UK had a better than average record on social mobility that the rest of the OECD with 41 per cent of students getting higher qualifications than their parents - compared with a 37 per cent average.
A spokeswoman for the Department for Education said: "We are determined to tackle the appalling gap in attainment and opportunity between the richest and poorest pupils."
The introduction of a pupil premium for schools who take on disadvantaged pupils was one method of doing this. The DfE also argued that its free schools and academies programmes were creating more good schools and offering parents more choice.
Register for free to continue reading
Registration is a free and easy way to support our truly independent journalism
By registering, you will also enjoy limited access to Premium articles, exclusive newsletters, commenting, and virtual events with our leading journalists
Already have an account? sign in
Register for free to continue reading
Registration is a free and easy way to support our truly independent journalism
By registering, you will also enjoy limited access to Premium articles, exclusive newsletters, commenting, and virtual events with our leading journalists
Already have an account? sign in
Join our new commenting forum
Join thought-provoking conversations, follow other Independent readers and see their replies