UK university applications rise for first time in three years amid Brexit uncertainty
'Getting a degree is an insurance policy against future problems amid Brexit uncertainty'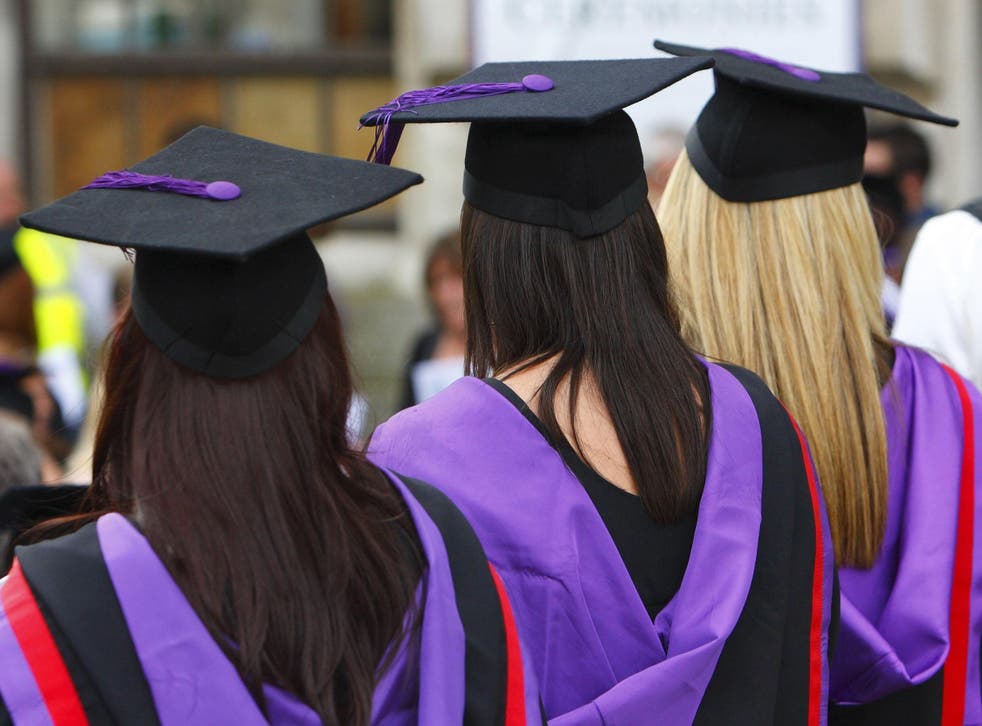 The number of students applying to study at UK universities has increased for the first time in three years – and Brexit uncertainty and the weaker pound may be behind the rise.
A total of 561,420 people have applied to start a course at a British university in September 2019, the latest Ucas figures show, which is up for the first time since 2016 when the number was 539,720,
The numbers have been boosted by a record number of applicants from outside the European Union (EU) – a total of 63,690 students – which is an increase of 9 per cent compared to last year.
Applicantions from EU students have also risen by 1 per cent, the figures show, despite industry-wide fears that the Brexit vote would make it less appealing.
Experts say a weaker pound is likely to have helped fuel the rise in applications from international and EU students, as it makes Britain a cheaper place to study.
Student news in pictures

Show all 34
And the prospect of an uncertain jobs market post-Brexit may also be boosting the number of school-leavers in the UK opting to study in higher education.
In England, 38.8 per cent of the 18-year-old population applied to UK universities by the January 15 deadline. This was a 1.4 percentage point increase on the application rate in 2018.
It comes despite a 1.8 per cent fall in the overall number of 18-year-olds in England.
Sarah Stevens, head of policy at the Russell Group, said: "I expect the confirmation of home fee status next year could have helped the numbers, although so could the weak pound as it makes life in the UK cheaper for both EU and non-EU students."
The number of applicants from China increased by a third this year - rising to 15,880, which brings Chinese applicant numbers to almost the same level as those from Wales and Northern Ireland.
On the rise of applications from 18-year-olds, Ms Stevens added: "These figures show there remains a strong appetite for university study. Time spent at university opens-up lifelong opportunities for students and prepares them for an uncertain and competitive job market."
Nick Hillman, director of the Higher Education Policy Institute (HEPI) think tank, told The Independent: "There is so much uncertainty at the moment with Brexit but getting a degree is almost an insurance policy against future problems."
He added: "We know that the people that are most worried about Brexit are young people. They are the ones who think, rightly or wrongly, that the future has been made more difficult for them.
"The more highly skilled you are, the better your life chances. It is a very rational thing that young people are doing."
James Seymour, director of admissions at the University of Buckingham, said: "Although there's lots of uncertainty around Brexit there's a feeling of certainty when it comes to doing a degree in the UK.
"There's a feeling of 'it's my choice' regardless of what is going on with Brexit. There have been some question marks over apprenticeships but people feel they can trust a degree."
Clare Marchant, chief executive of Ucas, said: "In this time of uncertainty, it's welcome news to see more EU and international students wanting to come and study in the UK.
"Alongside this, demand from UK 18-year-old students remains strong, despite the falling numbers of this age group in the population.
"The unexpected rise in the application rate from English 18-year-olds, against the population trend, signals they still recognise the challenge and rewards of full-time undergraduate study."
Support free-thinking journalism and attend Independent events
Alistair Jarvis, chief executive of Universities UK, said: "It's excellent to see that 18-year-olds in England increasingly value a university education, with a record rate of applications.
"We are also pleased to see a record high in the percentage of young people from disadvantaged areas applying to university.
"However, we need to be more ambitious. To retain a competitive advantage on the global stage post-Brexit we must encourage and support more of the population through higher level study."
Register for free to continue reading
Registration is a free and easy way to support our truly independent journalism
By registering, you will also enjoy limited access to Premium articles, exclusive newsletters, commenting, and virtual events with our leading journalists
Already have an account? sign in
Register for free to continue reading
Registration is a free and easy way to support our truly independent journalism
By registering, you will also enjoy limited access to Premium articles, exclusive newsletters, commenting, and virtual events with our leading journalists
Already have an account? sign in
Join our new commenting forum
Join thought-provoking conversations, follow other Independent readers and see their replies