Record number of university students graduate with first-class degrees
Number of women enrolling at university reaches an all-time high, while concerns are raised over declining international candidates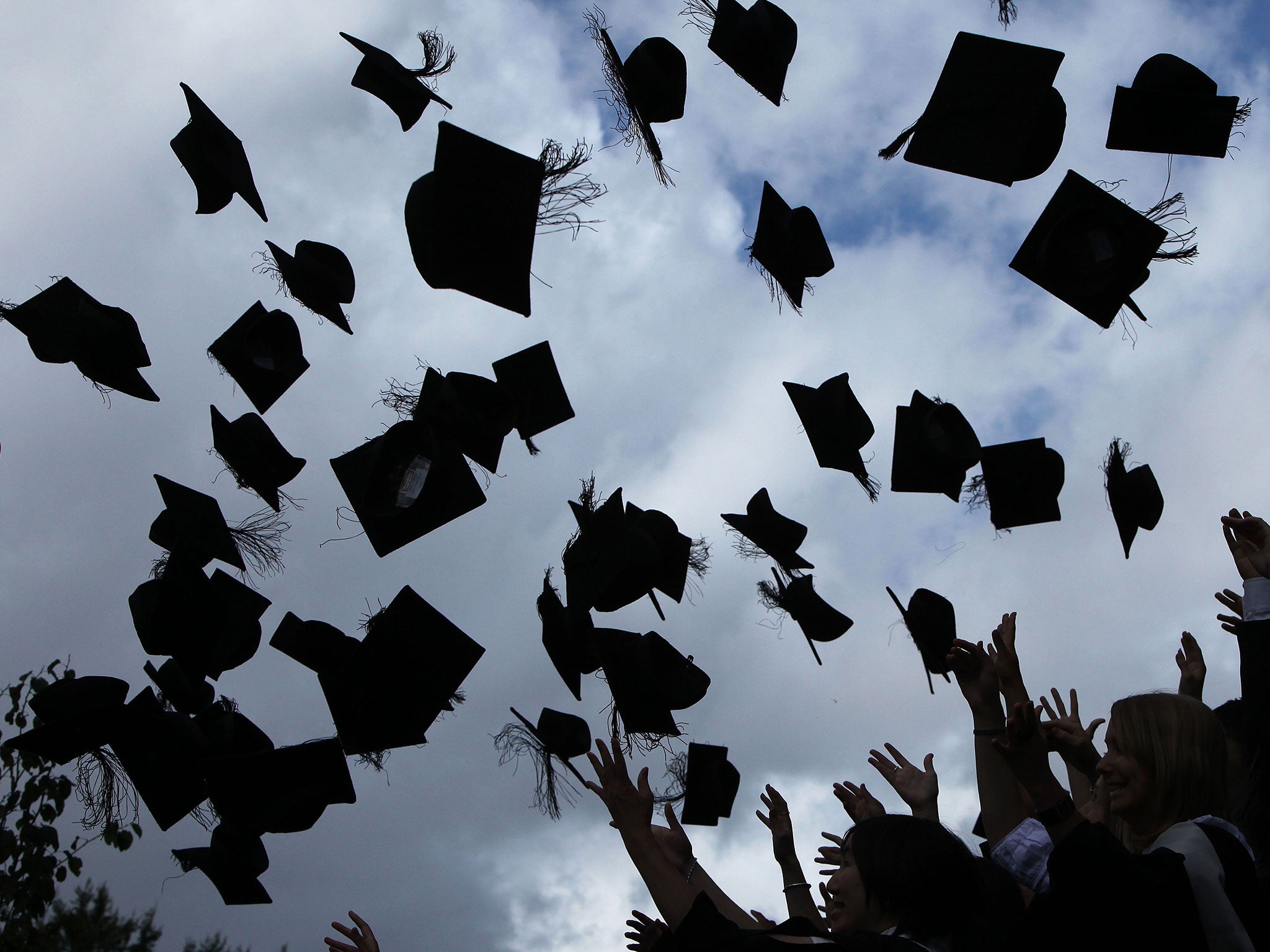 The proportion of students graduating with top degrees has soared in the past five years, with a quarter of last year's candidates leaving university with a first.
New figures detailing student enrolment and qualifications show a quarter of students at UK universities now graduate with a first-class degree - a dramatic increase from just 17 per cent in 2012.
Last year almost three quarters of students achieved a 2:1 or higher, compared with just two-thirds five years ago.
The rise comes amid concerns over suspected grade inflation as universities face increasing pressure to act competitively to fill places.
In the early 1990s, the proportion of students graduating with a first was far lower - at around eight per cent.
With the majority of graduates now having top grades to show on their CV, employers have claimed it is increasingly difficult to differentiate between job candidates and pick out the brightest students.
The concerns have prompted many universities to introduce additional character reports alongside degree classifications, giving a more detailed breakdown of students' academic performance and extra-curricular awards and activities.
The figures, published by the Higher Education Statistics Agency on Thursday, reveal a record number of female students enrolled on higher education courses last year, making up 57 per cent of the total.
Upon graduating, more women achieved a 2:1 or higher, but equal numbers of men and women gained first-class degrees.
Responding the the report, university leaders said the overall growth in student numbers was "good news", highlighting a continuing demand for British degrees.
No increase in the number of international candidates along with a decline in part-time students was seen as a cause for concern, however.
Nicola Dandridge, Chief Executive of Universities UK said: "While the total number of international students in the UK showed no growth during this period, we saw a further decline (-1%) in the number of new international students enrolling. This continues a worrying decline in the number of new international enrolments over recent years."
Students coming to the UK to study from countries such as India and Nigeria have fallen significantly in the past five years, with increasing numbers of Indian students choosing to enroll in the US.
The data supports widespread concern across the higher education sector that the UK could lose thousands of EU students post-Brexit, at a cost of £2bn to the economy.
Ms Dandridge said: "The UK could be doing much better than this. The UK has the potential to be one of the world's fastest growing destinations for international students, building on its current status as the second most popular destination for international students [after the US]. The UK benefits enormously, economically and academically, from international students.
"If the UK wants to remain a top destination for international students and academics, it needs a new approach to immigration that is proportionate and welcoming for talented people from across the world. This will be even more important as the UK looks to enhance its place in the world post-Brexit."
Commenting on the figures, Study Group - which works with UK universities to recruit international students - highlighted that the largest declines in international student numbers occurred in cities that are "under economic pressure".
Some of the most dramatic changes were seen at Teeside University, which experienced a 62 per cent fall in the number of international students over the past five years.
The University of Derby, University of Bradford and the University of Hull also saw dramatic declines.
James Pitman, Managing Director of Higher Education at Study Group said: "It is our vulnerable communities that are hurt the most. Hesa data shows that cities with the weakest economies are the ones that are seeing the largest decline in student numbers.
"This undermines universities, but also damages local businesses which serve international students. This cannot be what the Government intends."
Universities Minister Jo Johnson said the statistics were "further evidence of a healthy and diverse higher education system".
He said: "This government continues to make it possible for more students to attend higher education than ever before including more young people from disadvantaged backgrounds.
"However, they also show that the sector needs to do more to ensure that high standards are maintained and that grade inflation is tackled.
"To support this, we have asked HEFCE to commission work to improve external examiner training, and will be introducing the Teaching Excellence Framework which will recognise universities which are stretching and delivering excellent outcomes for their students."
Join our commenting forum
Join thought-provoking conversations, follow other Independent readers and see their replies