UK university strikes: Fresh walkouts loom as staff 'left £240k worse off' amid pension changes
'Universities must recognise anger and frustration members feel,' UCU leader says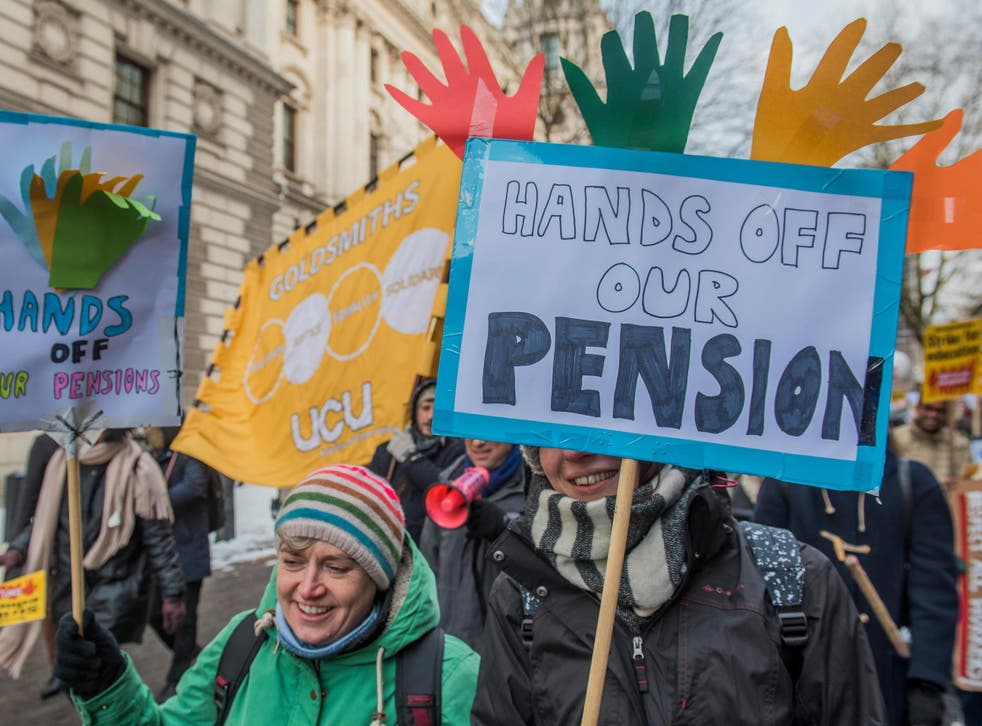 Strikes that saw students receive refunds from universities for lost teaching time could return as a union claims lecturers and other staff will be left £240,000 worse off amid pension changes.
Universities across the UK could face fresh walkouts this year as the University and College Union (UCU) prepares to ballot its members at 69 universities in an ongoing dispute over pensions.
University staff will pay around £40,000 more into their pension – but they will receive nearly £200,000 less in retirement following reforms to the pension scheme since 2011, the UCU says.
Increased contributions and other changes to the universities superannuation scheme (USS) mean that many people are suffering substantial losses, the union has warned.
An analysis from the UCU suggests that a typical USS member, who joined the scheme in 2011 when earning almost £41,000, could end up almost a quarter of a million pounds worse off.
UK news in pictures

Show all 50
Universities were brought to a standstill by unprecedented strikes last year and some institutions were forced to pay compensation to students after 14 days of teaching were lost.
Earlier this year, the higher education ombudsman revealed that a number of universities were ordered to give tuition fee refunds worth hundreds of pounds to individual affected students.
The strikes in the spring of 2018 resulted in an expert group being set up to look again at the scheme. While the group has reported back, the union says the issues have still not been resolved.
It warns that members are "frustrated by a lack of progress in the dispute".
The UCU analysis compares a real-life person who joined the USS in 2011 and is affected by the reforms with a hypothetical person who joined at the same time but whose pension stayed the same.
It shows that a typical university worker who joined the USS in 2011 earning £40,792, moving up to £59,828, will be £239,200 worse off amid a rise in pension contributions and a loss of benefits.
On the figures from the analysis, Jo Grady, general secretary of the UCU, said: "It is no wonder they have had enough and ballots for strike action open on Monday."
She added: "Universities have to recognise the anger and frustration that members feel about the recent changes, how the scheme has been valued and how it has been run.
"It is not good enough to come back time and again with proposals that force members to pay more for reduced benefits."
A Universities UK (UUK) spokesperson said: "Since 2011, the cost of providing defined benefit pensions has risen because people are living longer, and the economic environment has fundamentally changed.
"Scheme members will realise that winding the clock back to 2011 and freezing the scheme in time is just not credible.
"Compared with 2011, employers are now paying more than £400m extra per annum into USS – having increased their contributions from 16 per cent to 21.1 per cent of salary from October 2019. This is far more than most other private pension schemes."
Support free-thinking journalism and attend Independent events
The spokesperson added: "Crucially, members will keep their current benefits, which in monetary terms are more valuable than ever given the increased cost of providing pension promises.
"Two weeks ago UCU negotiators rejected an offer of lower member contributions. There is still time for the unions to consult their members on it."
A USS spokesperson said: "Despite a strong historic investment performance, USS faces lower expected returns in future from all investments – as do all similar pension funds – which means the cost of future pension promises must increase.
"We acknowledge the challenges in levying higher contributions, and have worked hard to accommodate the views of employer and member representatives – but we are in no doubt they are required to meet our legal and regulatory obligations to fund pension promises properly."
Join our new commenting forum
Join thought-provoking conversations, follow other Independent readers and see their replies