Under-fives need more time to play, say carers as they warn of 'schoolification' of children's early years
Emily Dugan
Tuesday 09 July 2013 02:50 Comments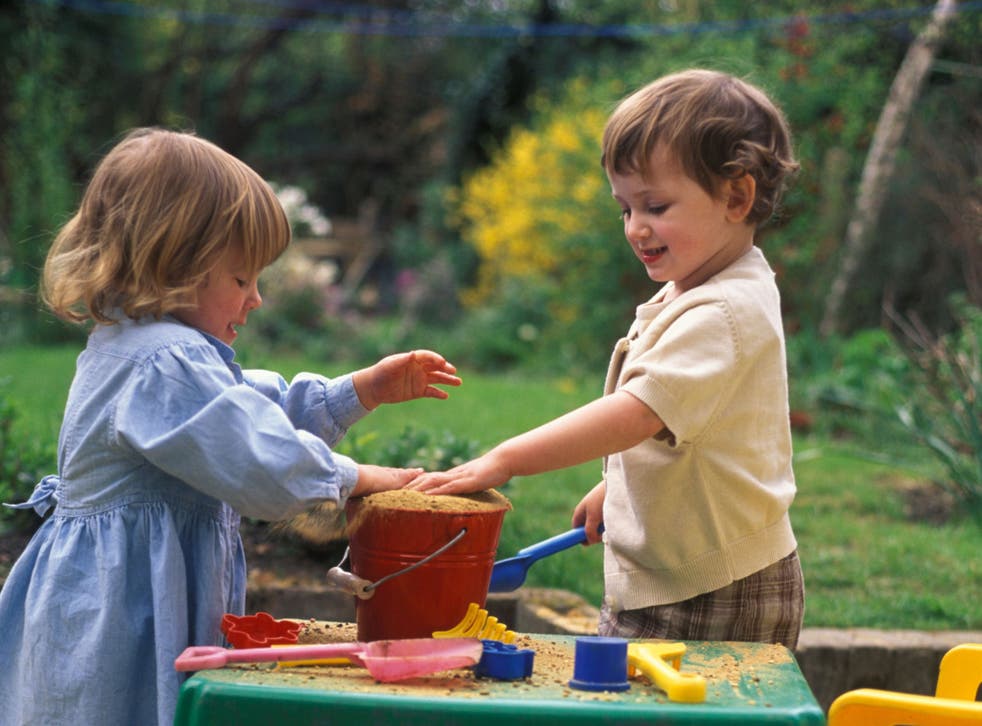 The "schoolification" of early years education is leaving under-fives without enough time to play, those who care for children have warned.
Almost half of all childminders, nannies and nursery workers believe young children need more play, a survey by the Professional Association of Childcare and Early Years (Pacey) has found. The association is concerned that government proposals to focus on higher-level qualifications for nursery workers and childminders will only make the situation worse.
Liz Bayram, chief executive of Pacey, told The Independent: "We're concerned there's a 'schoolification' of early years, which should be about play and development opportunities. Liz Truss [the childcare minister] says she admires the French system and that over here kids run about with no purpose, but when you're two or three do you really need a purpose, or should you be having fun?"
According to the survey of 500 childcare workers, only a third felt that children were made "school-ready" by being taught more formal lessons in basic reading, writing and arithmetic. Fewer than one in 20 said the curriculum would benefit from more academic elements, suggesting that most believe there is already enough formal education at an early age.
The shadow Education minister for children and families, Sharon Hodgson, said: "Ministers have demonstrated time and again that they don't have a credible plan on childcare.
"Instead of forcing through further changes that nobody believes will improve the availability of good quality, affordable childcare, the Government needs to listen to parents, professionals and experts, to ensure that it is tackling the real issues."
Last month, Ofsted's Chief Inspector, Sir Michael Wilshaw, called for a "major change" in the way early years assessment is approached and called for earlier testing. In a speech he suggested that testing should be done before pupils even reach the reception class, because "children may have lost a vital year of learning by then".
A Department for Education spokeswoman said: "A third of children start school without basic language and communication skills. In poorer areas, this rises to more than a half. There's no contradiction between teaching children and play – the best nurseries do both. It is important for parents to have a choice of approaches so they can choose what works best for their child."
'They must learn play first': Fiona Crosland, 44, is a childminder from Huddersfield
I look after six children (not all at the same time) who are between 18 months and four-and-a-half. Kids at that age are too young to be in a formal, structured environment. They have to know how to play with each other before they are made to sit down and read books. One of them was at nursery before he came to me but his mother didn't want him to be in a big group setting and knew he'd get to do more fun things during the day if was with me."
Register for free to continue reading
Registration is a free and easy way to support our truly independent journalism
By registering, you will also enjoy limited access to Premium articles, exclusive newsletters, commenting, and virtual events with our leading journalists
Already have an account? sign in
Join our new commenting forum
Join thought-provoking conversations, follow other Independent readers and see their replies