'Unfeminine' school sports leave girls on the sidelines
Aggressive games and body image fears mean just 12 per cent of girls reach fitness standards by 14
Richard Garner
Tuesday 01 May 2012 23:33 Comments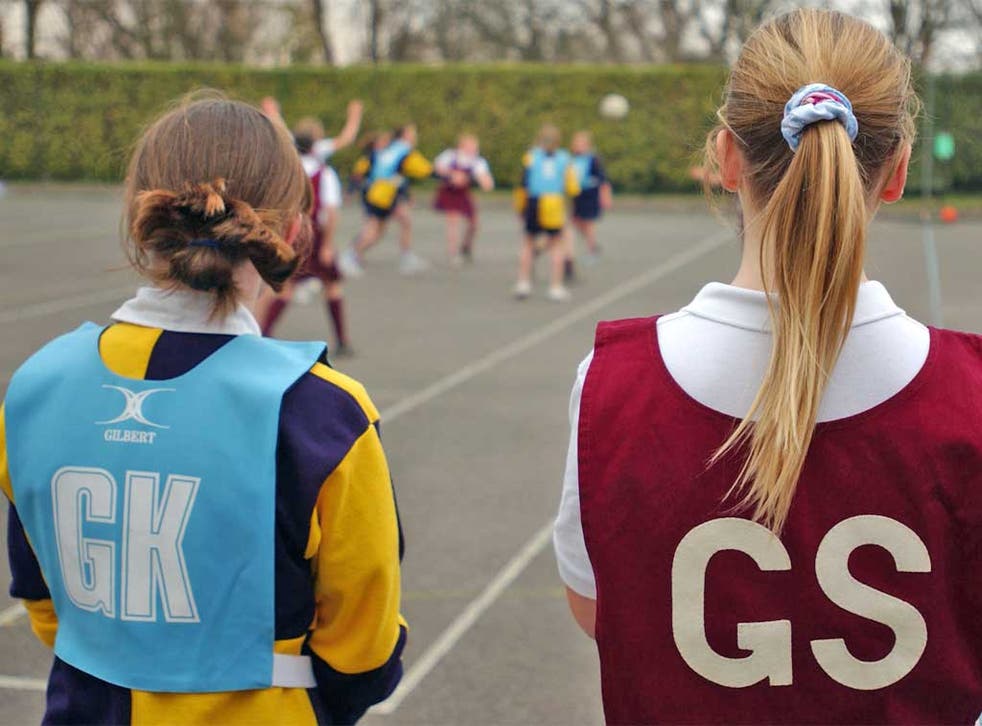 The health of Britain's girls is suffering because they shun school sports, rejecting them as overly competitive and un-feminine, according to a report out today.
A survey of just over 1,500 school pupils revealed that only 12 per cent of girls are reaching the standard level of fitness by age 14 – half the rate for boys, which is itself alarmingly low at 24 per cent.
More than half (51 per cent) of the girls said they had been put off exercise at school because of negative experiences of sport and PE lessons.
The majority admit they are not as physically active as they would like to be – but want a wider range of activities, such as dance and martial arts, to be put on the timetable to encourage them to participate.
One 12-year-old told researchers: "I think sport is better for boys – they can go out and play football. If girls go out and play, they think they are tomboys. I think also girls get sweaty and don't like it."
A 14-year-old added: "We wanted to go out and have a fun game with friends but all we get is shouted at and being forced to do it. They try to make it very competitive."
In the survey, carried out by the Institute of Sport at Loughborough University for the Women's Sport and Fitness Foundation (WSFF), 45 per cent of girls said sport at school was "too competitive" and 48 per cent said being sweaty was "not feminine". A third of the boys interviewed by researchers said girls who were sporty were not very feminine.
In addition, 43 per cent of the girls said they did not think there were enough role models for girls to fix upon.
The report shows that the gender gap in physical activity emerges after the age of eight or nine. At that stage both sexes are doing similar amounts of physical activity. By age 10 and 11, girls are doing considerably less activity than boys.
The report highlights the importance of physical activity in combating obesity – pointing out that research shows British women are the most obese in Europe and the UK falls behind the OECD average for physical activity among 11 to 15-year-olds.
Sue Tibballs, chief executive of WSFF, said: "Our research shows that school sport and PE is actually putting the majority of girls off being active, even though three-quarters of girls are keen to do more exercise."
Baroness Sue Campbell, who chairs the Youth Sport Trust, added: "When it comes to PE there are many barriers that can make girls fearful of PE – everything from lacking the confidence to take part to being extremely body-conscious.
"Schools that deliver PE well recognise these challenges, offer a wider variety of sports and physical activity that make girls feel included and encourages them to get involved. We would like to see all schools take this approach."
The report recommends that girls should be offered single-sex sporting opportunities and that schools should set themselves the target of 100 per cent participation in physical activities.
It adds that programmes like dance and martial arts would attract more girls to participate.
Register for free to continue reading
Registration is a free and easy way to support our truly independent journalism
By registering, you will also enjoy limited access to Premium articles, exclusive newsletters, commenting, and virtual events with our leading journalists
Already have an account? sign in
Join our new commenting forum
Join thought-provoking conversations, follow other Independent readers and see their replies