Universities urged to target white men as gender admissions gap widens
Call comes from Ucas chief executive as figures show entry rate for women has increased twice as fast as for men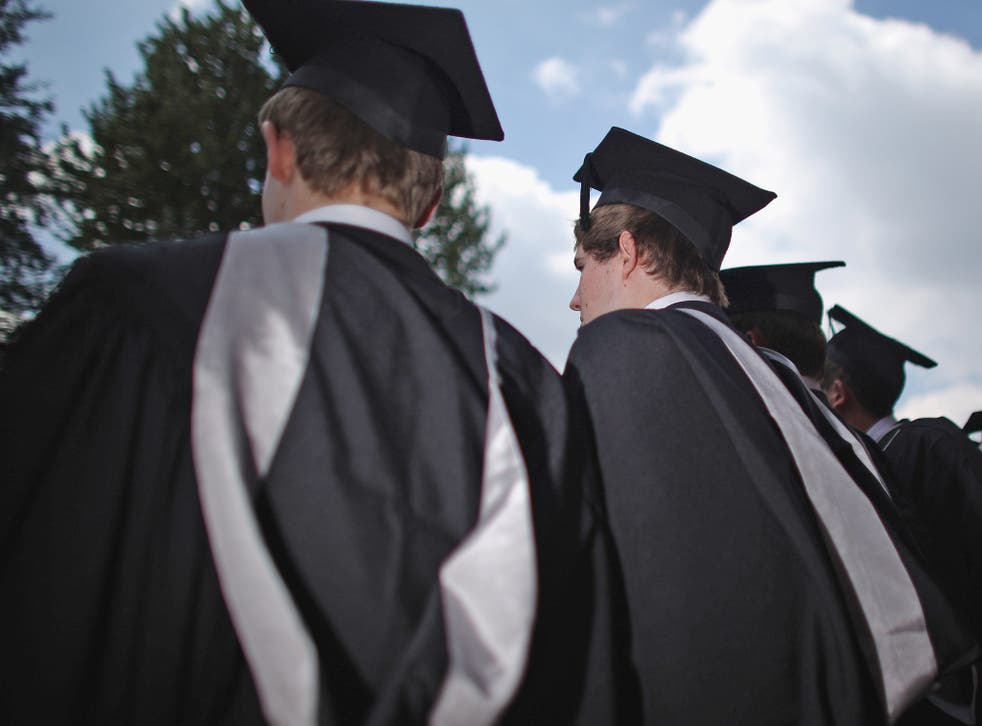 Universities are being urged today to target white men in their recruitment drives as new figures show the gap between men and women being accepted onto university courses is increasing.
The call comes from Mary Curnock Cook, chief executive of Ucas, the university admissions service, as final figures for this autumn's intake show the entry rate for women has increased twice as fast as for men.
This means that women are 35 per cent more likely to go to university than men, and that 36,000 men are "missing" from universities this year – in other words, if universities were to recruit equal numbers of both sexes, they would have to take in 36,000 more men.
The gap is even more stark when it comes to disadvantaged areas, where women are 50 per cent more likely than men to opt for higher education.
The analysis of this year's intake also shows that the white ethnic group was the one least likely to enter university, with only 28 per cent obtaining places compared with 58 per cent for Chinese, 41 per cent for Asians, 37 per cent for black students and 32 per cent of those from a mixed race.
The increase in the entry rate for white students was just 0.6 per cent - "smaller than for any other ethnic group and thus widening the gap between them", the Ucas report said.
"With further increases in the gap between men and women entering higher education, we can now see clearly that concentrating outreach efforts on young men, particularly white men, would make a significant contribution to closing the rich-poor gap," said Ms Cook.
In a foreword to the report, she said: "This year shows that young men, and especially white young men, falling even further behind."
She said the report "signalled that the widening gap between men and women is acting to stall progress in reducing inequality overall".
Women are ahead in the recruitment stakes in all categories of universities, although the figure is slightly lower for the country's most selective universities.
However, even here, the gap has increased, with women 18 per cent more likely to enter a higher-tariff university in 2006, but 28 per cent more likely this year.
Overall, the figures show record numbers were being recruited to UK universities this autumn, with 532,300 acceptances – an increase of 3.1 per cent (16,100) on the previous year, also a record.
Join our new commenting forum
Join thought-provoking conversations, follow other Independent readers and see their replies