The Independent's journalism is supported by our readers. When you purchase through links on our site, we may earn commission.
Students should declare eating disorders and self-harm under reformed Ucas forms, university boss says
'Our job is to encourage students with poor mental health to disclose it before university'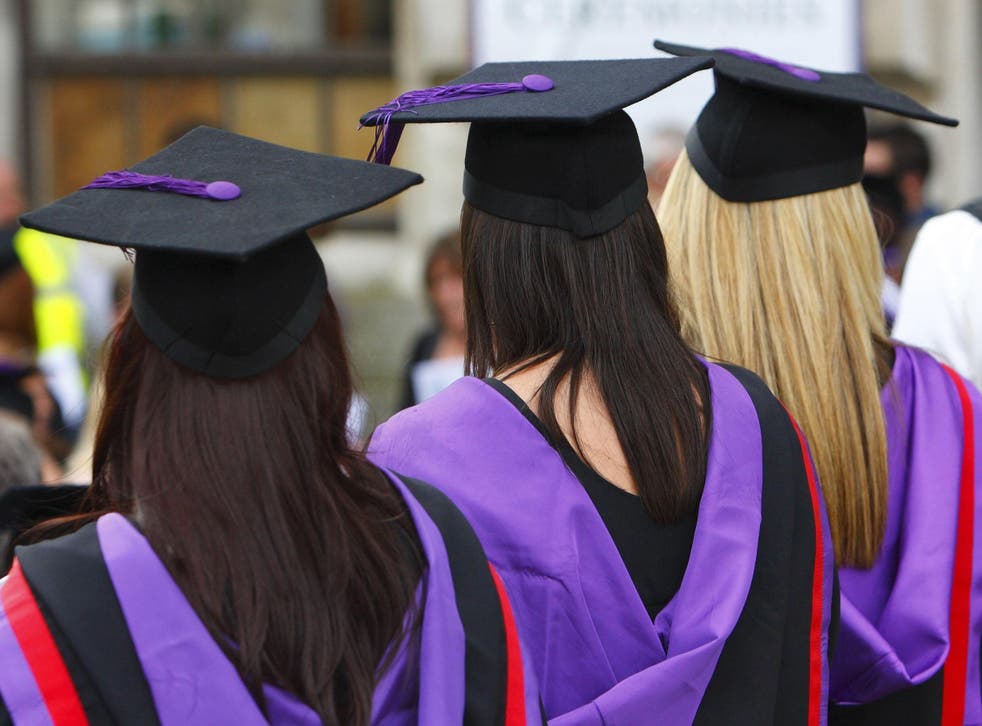 Prospective students should declare eating disorders and any history of self-harm under a new section on Ucas application forms, the head of mental health for Universities UK (UUK) has urged.
The university admissions process must be changed to encourage more students to tell institutions about their mental health before they arrive for Freshers' Week, according to Steve West, vice chancellor of the University of West England (UWE).
Students are put off from disclosing a mental health issue through Ucas as they have to classify it as a "disability" which does not help with the "stigma" attached, Professor West told The Independent.
His comments come amid concern about how universities address a rising number of students with mental health problems. Ministers have warned that institutions risk "failing an entire generation".
Ten students from the University of Bristol and two from UWE, also in Bristol, have died in the past two years – including three deaths over three weeks this summer. A number have been confirmed as suicides.
Speaking ahead of thousands of students starting university this month, Professor West, who chairs the UUK mental health group, said: "Any big transition is a time when mental health is going to be tested.
"So our job is to encourage students that have a history of poor mental health to disclose it, to declare it, to tell us before they even arrive at the university. That will allow us to put in mechanisms that will help them through that transition period."
He told The Independent: "I want Ucas forms to be changed so that students do not have to declare it as a disability – which is the space on the form – and to be very open with us.
"To say, 'Look I have had a history of poor mental health. I have self-harmed. I have an eating disorder' or whatever it is because we can then make sure that we're working with the student when they arrive."
At least 95 university students took their own lives in the last academic year – and UUK said this week in new guidance on understanding and preventing student suicides that there is no room for complacency.
The guide – which comes ahead of World Suicide Prevention Day on Monday – calls for university staff to receive training to help detect potential problems and for university bosses to take a lead on the issue.
At the UUK conference in Sheffield, James Murray, whose son Ben Murray took his own life at Bristol University in May, said there was "too little information-sharing" between universities and families.
Sitting on a panel with the vice chancellor of his late son's university, Mr Murray said: "If we had had more information maybe would have intervened, maybe things would have been different."
Speaking to The Independent, Hugh Brady, vice-chancellor of the University of Bristol, said: "I was encouraged by the discussion we had on the sharing of information and especially during the transition – is there an easier, better, more effective way of sharing information. That is something that UUK is looking at."
This month the University of Bristol will host a special freshers fair on mental health and wellbeing for the first time during Welcome Week following a spate of student suicides at the city.
The university is now encouraging students to provide designated contacts for parents at registration.
On the suggestion that students should be encouraged to disclose mental health problems through Ucas, Professor Brady said: "The more disclosure of information in whatever way, certainly for me, the better."
But he added: "Students would need to be reassured, they would need to be confident, that it would not in anyway compromise their application. And I know our university certainly wouldn't."
Mr Murray told The Independent: "Students are not likely to come forward and write in the section on disability if they think it will prejudice their application.
"I think a lot of work could be done by Ucas to highlight that declaring a mental health problem will not harm their application. I do not believe students fully appreciate that or believe that.
"I think Ucas – along with schools and important charities like Student Minds – have a challenge to destigmatise openness."
He added that the reference that a school writes to a university could include recent bereavements, false starts, learning difficulties and medical incidents.
Helen Thorne, director of external relations at Ucas, said: "Ucas is keen to ensure that the circumstances of all learners are understood as part of the application process.
"Learners can already declare any mental health conditions when submitting their Ucas application. In the section marked 'Disability/Special Needs', an applicant can select the option 'mental health condition', and then enter any particular needs related to their mental health difficulty.
"This information is passed on to their chosen course-providers as part of the application form, so universities and colleges can begin to think about what support can be provided."
UK news in pictures

Show all 50
They added: "There is also the opportunity for students to disclose any mental health conditions in their written personal statement or reference.
"Any personal information disclosed is protected under the Data Protection Act, ensuring it is processed appropriately and sensitively.
"We are constantly looking at ways to improve the applicant experience, including how we support students with mental health conditions as part of the application process."
For confidential support call the Samaritans on 116 123.
Register for free to continue reading
Registration is a free and easy way to support our truly independent journalism
By registering, you will also enjoy limited access to Premium articles, exclusive newsletters, commenting, and virtual events with our leading journalists
Already have an account? sign in
Register for free to continue reading
Registration is a free and easy way to support our truly independent journalism
By registering, you will also enjoy limited access to Premium articles, exclusive newsletters, commenting, and virtual events with our leading journalists
Already have an account? sign in
Join our new commenting forum
Join thought-provoking conversations, follow other Independent readers and see their replies