40 per cent of students 'seriously considered' dropping out of university during pandemic, poll suggests
Exclusive: Hillary Gyebi-Ababio from the National Union of Students calls findings 'heart-breaking'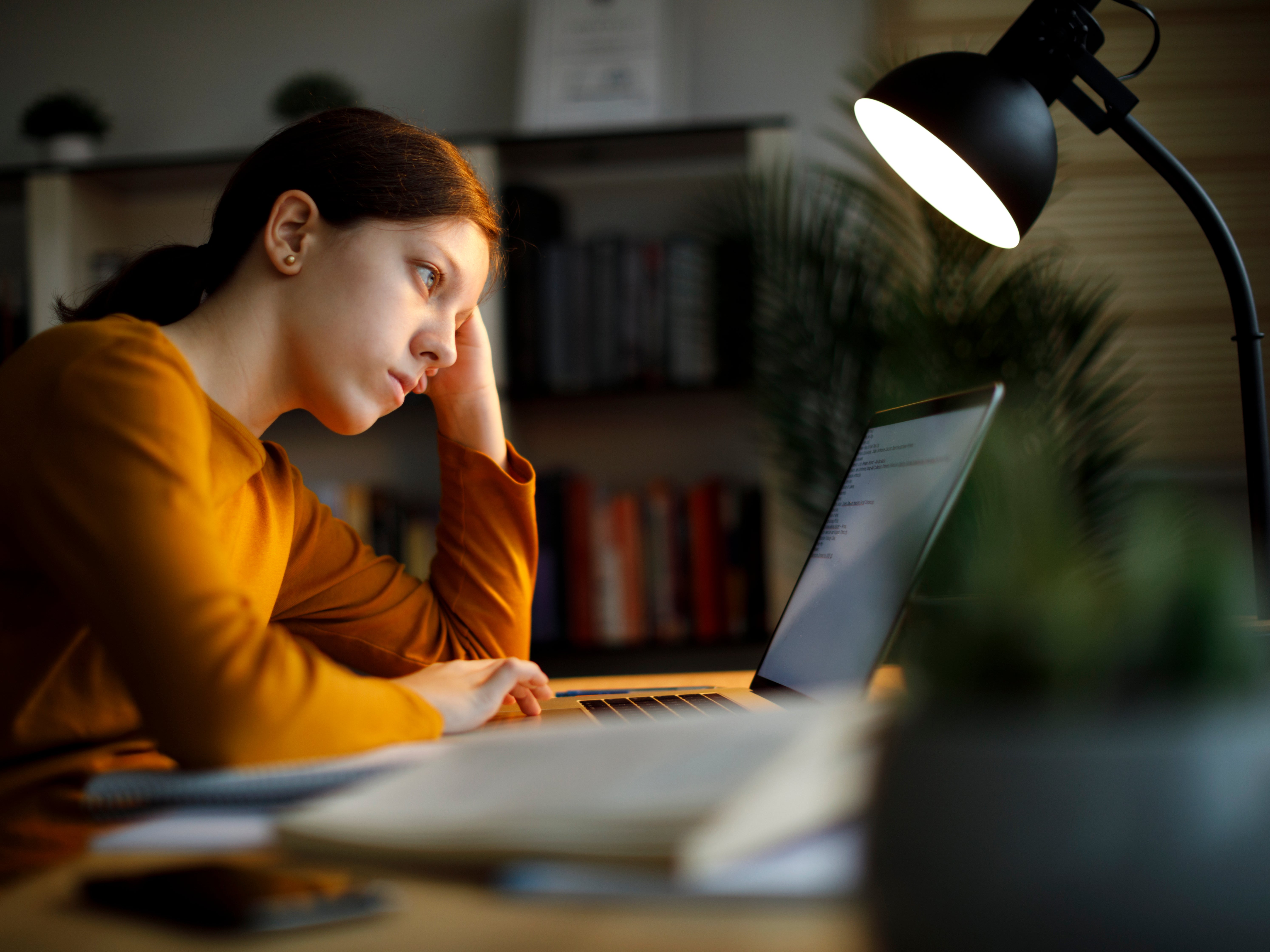 Around 40 per cent of students have seriously considered dropping out of university during the coronavirus pandemic, according to a new survey.
More than 80 per cent of those polled said the pandemic had impacted their education in a negative way, with most citing less time on campus, less face-to-face contact with lecturers and more online learning as reasons, according to the findings by student support service Studiosity and Red Brick Research, shared exclusively with The Independent.
The new survey of more than 2,000 students found 15 per cent "strongly" agreed with a statement saying they have "seriously considered" quitting university during the coronavirus pandemic.
Meanwhile, 25 per cent said they "tend to agree" that they have had serious thoughts about dropping out. A report on the findings said the 40 per cent of respondents saying they have considered quitting university was a "higher proportion" than Red Brick usually see in their work across the sector.
"It is heartbreaking that such a high proportion of students have considered leaving education this year, but with the enormous challenges they've faced it is sadly unsurprising," Hillary Gyebi-Ababio, the National Union of Students' vice president for higher education, told The Independent.
She added: "The barriers posed by remote learning and digital poverty, constantly changing guidance and the extreme financial pressures that students have been forced to endure must be recognised by this government along with a commitment to support students to stay in education."
Students have seen a different university experience during the pandemic, with many of their classes pushed online and different restrictions on socialising, sports and society events.
Some are still waiting to be allowed back onto campus and for in-person classes and lectures to resume, after face-to-face teaching was limited to certain courses throughout the spring term.
The poll, which took place shortly after most courses were pushed online for England's lockdown, found two-thirds of the respondents who said they have considered dropping out had spoken to friends and family about this.
Fifteen per cent had turned to university support services, and 13 per cent a lecturer or teacher, the survey – which took place between 5 and 22 January this year – found.
On Monday, when England's lockdown eased further, Ms Gyebi-Ababio called for "clarity" and said students "deserve better" amid ongoing uncertainty over plans for the summer term.
The government is yet to announce when all students will be allowed back on campus, after most students were told to stay put as their courses moved online, while many were still at home for the Christmas holidays.
From 8 March, all students on practical courses were allowed to join others on courses such as medicine and dentistry back on campus for in-person teaching, while others were still not allowed to travel back to university.
In guidance over higher education in the spring term, the government said it will review options for the timing of the return for remaining students by the end of the Easter holidays.
Last month, Universities UK, which represents 140 institutions, warned the government not to take the "resilience" of students for granted and called for a full return to university from the 12 April stage of lockdown easing.
But University and College Union (UCU) said on Monday the decision not to lift restrictions on face-to-face teaching in step was the right move, with general secretary Jo Grady reiterating a call for England's universities to teach online until the new academic year.
UUK said universities understand the coronavirus pandemic "has been an extremely difficult time for students, especially those that have had to study online since December and are not yet able to return".
The body said universities have "invested significantly" in hardship funding, have worked to provide digital learning platforms and "enhanced wellbeing and mental health support".
"These efforts will continue while restrictions remain in place, and we hope to be able to welcome students back to Covid-secure environments as soon as possible," UUK said in a statement.
The Department for Education (DfE) has said the government is committed to getting all university students back to campus as soon as the public health situation makes this possible.
The DfE has been approached for comment on the survey findings.
Join our commenting forum
Join thought-provoking conversations, follow other Independent readers and see their replies