Poorer students now even more likely to drop out of university than richer peers
Institutions need to prioritise all-round support for students rather than 'bums on seats', experts say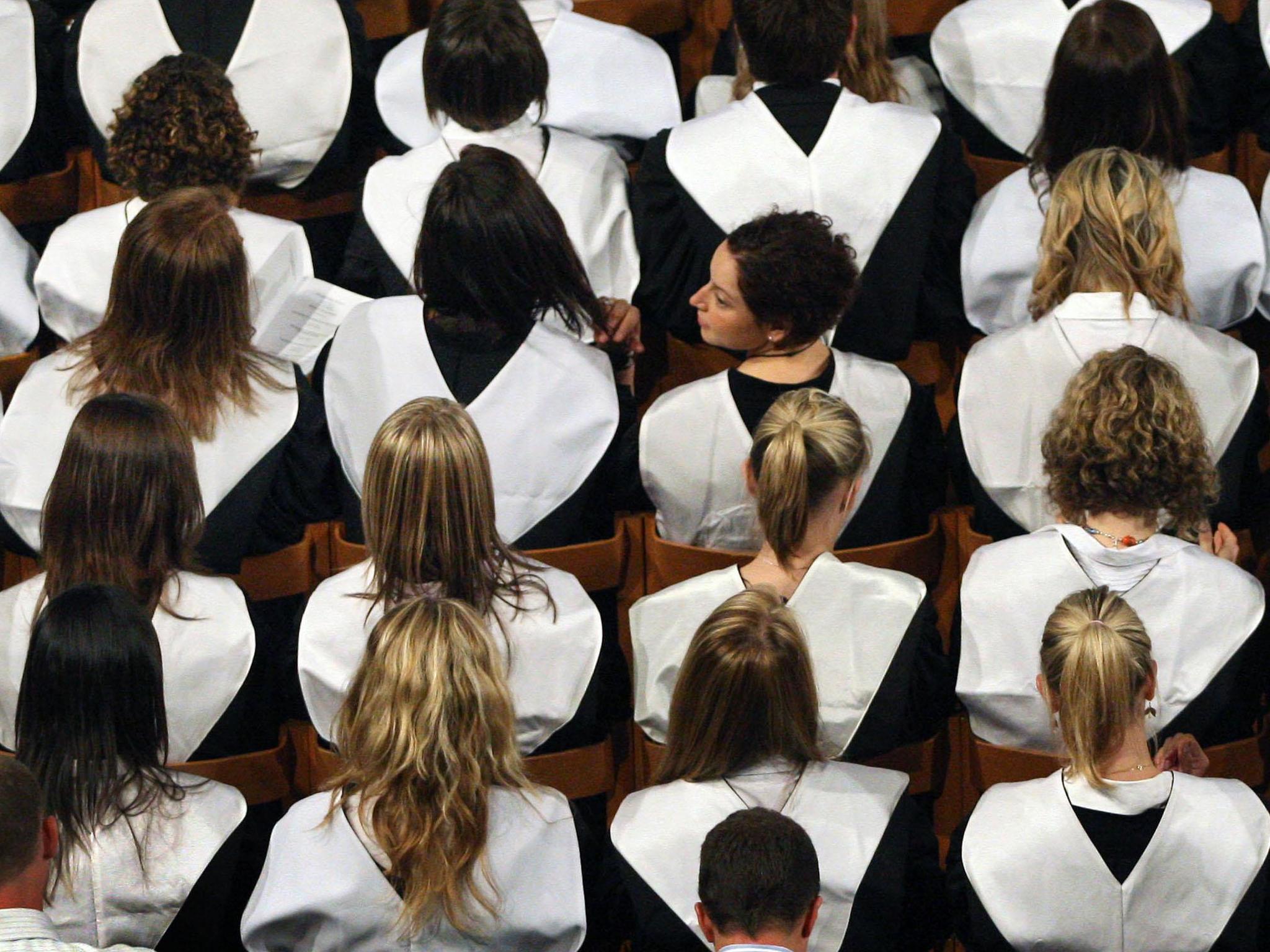 Students from disadvantaged backgrounds are even more likely to give up their university courses within 12 months than their more advantaged peers, official statistics suggest.
The gap in drop-out rates between rich and poor students under 21 in UK universities has widened in the space of a year, figures released by the Higher Education Statistics Agency (HESA) show.
In some universities, more than a fifth of young students from the most disadvantaged social backgrounds dropped out in their first year, the statistics for 2016-17 show.
Education secretary Damian Hinds said the figures suggest that some institutions are only interested in "bums on seats", rather than offering all-round support for students.
Meanwhile, experts suggested that the removal of the cap on student numbers has increased competition between universities and it has created a more diverse student population that needs more support.
Student news in pictures
Show all 34
The new data reveals 8.8 per cent of disadvantaged students in 2017 did not appear as second year students in the autumn, compared to 6 per cent of students from more advantaged backgrounds.
The gap has widened by 0.3 percentage points since 2016 where 8.6 per cent of poorer students dropped out of university in their first year compared to 6.1 per cent of their better-off peers.
The University of Bolton saw the highest proportion of disadvantaged students drop out in their first year, with 21.3 per cent quitting.
A total of 13.3 per cent students from affluent backgrounds dropped out.
Nationally, 6.3 per cent of full-time students under the age of 21 taking their first degree did not continue their studies after their first year, down 0.1 percentage points on last year.
For all students, London Metropolitan University had the highest drop-out rate at 18.6 per cent.
The figures come as the government launched a new task force to help universities support students with the challenges of starting higher education – including mental health problems.
Mr Hinds has called on universities to do more to cut "damaging" drop-out rates.
He said: "We have made huge progress in ensuring universities are open to all, with record rates of disadvantaged and underrepresented groups in higher education, but every step we make on access is undermined if a larger number of students then drop out of their courses. No student starts university thinking they are going to drop out and, whilst in individual circumstances that may be the right thing, it is important that all students feel supported to do their best – both academically and in a pastoral sense."
Rachel Hewitt, director of policy and advocacy at think tank Higher Education Policy Institute, said the widening gap "could be down to some universities recruiting students at a rate which leaves them not able to offer them the levels of support required for all students".
She added: "More students from diverse backgrounds starting at university should be welcome, but they are likely to need higher levels of support during their studies, and universities must ensure they are equipped to provide this level of support as part of their work in widening participation."
Support free-thinking journalism and attend Independent events
The Office for Students (OfS), the higher education regulator, has the power to challenge institutions that do not offer support needed to help all students complete and succeed in their studies.
Chris Millward, director for fair access and participation at the OfS, said: "Despite the expansion of higher education in England, our continuation rates remain high relative to other countries. We should not, though, let a positive national picture mask the situation at some universities and other higher education providers where non-continuation rates are higher than students deserve."
A Universities UK spokesperson said: "Universities are committed to widening access to higher education and ensuring students from all backgrounds can succeed and progress. This includes supporting students to achieve meaningful positive outcomes beyond just getting into university. It is welcome to see this commitment being reflected in the fact non-continuation rates of young full-time degree entrants has fallen slightly. However we know this is still an issue and institutions must continue to focus on this as part of their access and participation targets."
Join our commenting forum
Join thought-provoking conversations, follow other Independent readers and see their replies