University funding body admits 'disturbing blunder' over state- vs private-educated pupils' degree performance
A HEFCE report this summer mixed up the degree attainment figures for students from state and private schools
Richard Garner
Education Editor
Tuesday 03 November 2015 02:26 Comments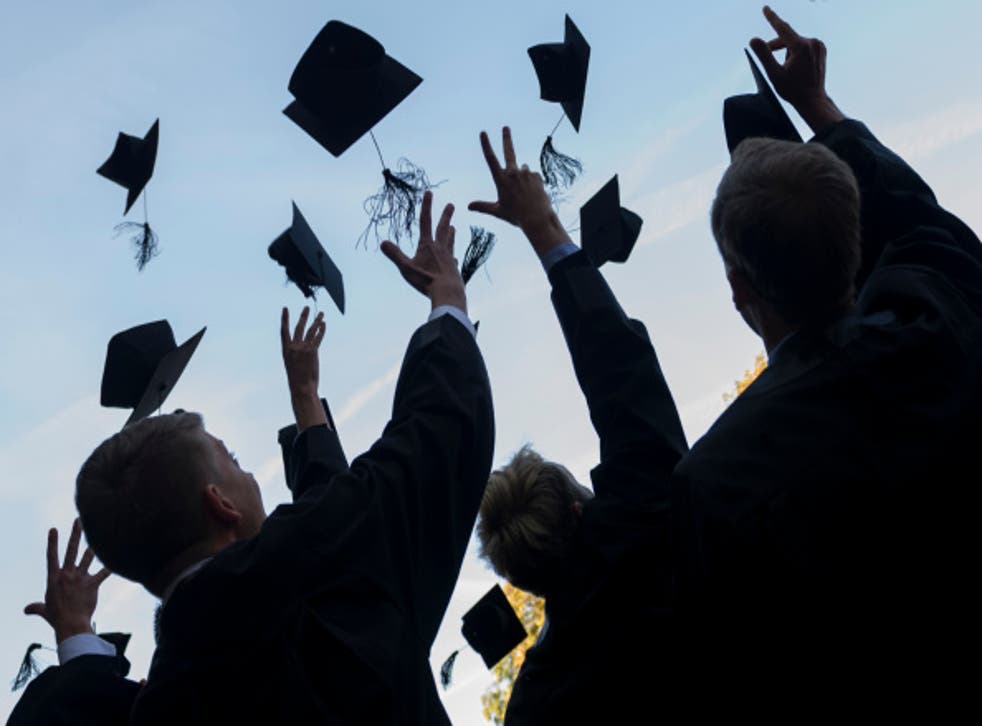 The body responsible for university funding has been accused of committing a "disturbing blunder" by claiming that graduates from state schools were more likely to get top degree passes than those from independent schools.
The Higher Education Funding Council for England (HEFCE) said in a report this summer that 82 per cent of graduates from state schools achieved a first or upper second degree compared with 73 per cent of those from private schools.
The statistic was seized upon by campaigners calling for universities to do more to improve access for state school pupils – such as by setting them lower entry grades.
But, in fact, the figures in the HEFCE report should have been the other way round.
The error was spotted by Professor Alan Smithers, from the Centre for Education and Employment Research (CEER) at Buckingham University. He claims that HEFCE altered the figures in the report when he alerted them to the error – but failed to issue a public correction.
In an account of the fiasco published, Professor Smithers says: "It is extraordinary that an influential body like HEFCE should have got its figures wrong and failed to publicly rectify them after being alerted to the error.
"So long as these figures are out there uncorrected, they will continue to influence both perceptions of schools and how universities are expected to go about recruiting students.
"I call on HEFCE to set the record straight so that everyone understands the true picture."
HEFCE's mistake has angered private school headteachers with both the Headmasters' and Headmistresses' Conference - which represents 270 of the country's leading private schools - and the Girls' School Association.
"This is a significant and disturbing mistake and we hope HEFCE will do more to put the record straight," said Chris Ramsey, joint chairman of the GSA/HMC universities committee and headmaster of King's School, Chester.
"We all want every pupil to reach their full potential but this will only happen if society takes the right actions based on true facts. Pretending that most state school pupils do better at university won't help them actually do better."
Hilary French, headmistress of Newcastle High School for Girls, added: "It is time to stop this unhelpful focus on 'school type' as a proxy measure in research such as this. The HEFCE report contained a regrettable error in the headline statistics but the issue is broader than that. The state sector educates many clever children from well off backgrounds and the independent sector educates many able children on bursaries."
In a statement, Professor Smithers' CEER said that HEFCE had conceded its figures were incorrect in an email sent on dated October 8 2015. Although the figures have now been changed in the report, it still contains the statement that state school pupils are four percentage points ahead rather than nine per cent behind.
The CEER's analysis concluded: "It will be hard to change the preconceptions of those who want to believe that state schools do better, But the evidence is that they are only ahead at some A-level grades and this is often where there are few independent school students in the comparison."
A spokeswoman for HEFCE said: "We made a transposition error in our latest report on degree outcomes which we've corrected on our website and in social media. "
However, she added that the error did not affect their main conclusion that "for all but those with the very highest A-level grades, state school graduates tend to have higher degree outcomes than independent school graduates with the same prior educational attainment".
She added that the stronger degree results of independent school pupils "is explained by the different distribution of A-level achievement between state and independent school graduates - independent school students on average achieve better A-levels than state school students."
Register for free to continue reading
Registration is a free and easy way to support our truly independent journalism
By registering, you will also enjoy limited access to Premium articles, exclusive newsletters, commenting, and virtual events with our leading journalists
Already have an account? sign in
Join our new commenting forum
Join thought-provoking conversations, follow other Independent readers and see their replies