Government must reconsider 'punitive' student loan interest rates, MPs say
The Treasury Committee is 'unconvinced' by argument that high interest rates on student loans are progressive, report says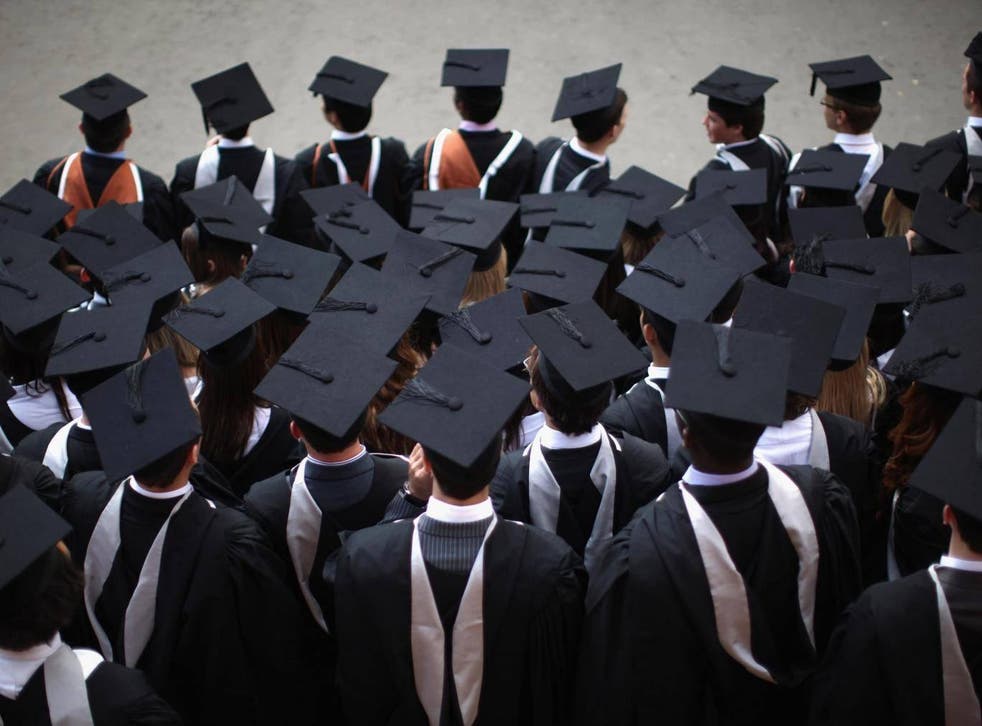 The Government must reconsider "punitive" high interest rates on student loans and look at bringing back maintenance grants for poorer students, an influential Commons committee has said.
Cross-party MPs on the Treasury Committee said that the Government should re-examine the student loan system which allows "high-flying lawyers" to pay less back than teachers.
The report comes as the Government prepares to announce the details of its long-awaited review of tuition fees and university funding tomorrow.
It is likely that the review, due to be announced by the prime minister in a speech, will consider whether tuition fees - which currently cost up to £9,250 a year up for students in England - could be cut or frozen.
And a proposal to lower interest rates on student loan repayments – which currently stand at up to 6.1 per cent – could be included in the review following criticism.
In a new report, the Treasury Committee has added its voice to the debate, arguing that "the punitive measure" of charging high interest rates on tuition fee loans should be reconsidered.
It said: "The Government has justified the existing level and structure of interest rates on student loans on the grounds that it is progressive. In reality, the student loan system has complex redistributive effects that are not strictly progressive."
For example, high-flying lawyers will generally pay less back than teachers. MPs say this "anomaly" should be addressed to ensure the highest earning graduates make the highest contribution.
The report also calls on the Government to explain why the £9,250 tuition fees are "desirable", adding that ministers had "naively assumed" that most universities would opt for £7,500 when setting their fees following the reforms in 2012.
And the Government should consider the case for reintroducing maintenance grants to help remove barriers for poorer students.
Conservative chair Nicky Morgan said: "The Government has said that maintenance loans aren't intended to fully cover a student's living costs. If a student can't access additional sources of income, they may be priced out of university."
The MP, who was education secretary under David Cameron from 2014 to 2016, added: "The use of high interest rates on student loans is questionable.
"The Government has justified it on progressive grounds, but the Committee remains unconvinced as high-flying graduates may pay less than graduates on more modest earnings.
"No other persuasive explanation has been provided for why student loan interest rates should exceed those prevailing in the market, the Government's own cost of borrowing, and the rate of inflation.
"The Government must reconsider the use of high interest rates on student loans as part of its review."
Theresa May announced a review of university finance at the Conservative Party conference last autumn, pledging to "look again" at the system.
The prime minister also announced plans to freeze tuition fees at the current level, rather than allow them to increase with inflation.
The debate was sparked in part by a high-profile Labour Party general election pledge to scrap tuition fees for all future students.Sally Hunt, general secretary of the University and College Union, has called for any review of student funding to be "radical".
She said: "If this review is to serve any purpose then it needs to be radical and explore genuine alternatives to the current system, not just tinker at the edges of the current failed system.
"Too often recent reviews have simply resulted in finding new ways to saddle students with record levels of debt."
On the Treasury Committee's report, Alistair Jarvis, chief executive of Universities UK, said: "The system needs to be better understood and to feel fairer to students.
"More should be done to address students' concerns about living costs so that no one is deterred from benefiting from a university education.
He added: "New investment to re-introduce maintenance grants for the poorest students would be a positive step."
Student news in pictures

Show all 34
A Department for Education spokesperson said: "Our student finance system has many strengths. We have removed upfront barriers to entry and are seeing record numbers of 18-year-olds from disadvantaged backgrounds now going to university.
"Furthermore, graduates do not pay back anything until they are earning over £21,000 – rising to £25,000 from April.
"We will shortly be conducting a major review of post-18 education to build on the action we've already taken and ensure a joined-up system that works for everyone.
"We welcome this report from the Treasury Select Committee, which will be considered as part of the evidence base for the review."
Register for free to continue reading
Registration is a free and easy way to support our truly independent journalism
By registering, you will also enjoy limited access to Premium articles, exclusive newsletters, commenting, and virtual events with our leading journalists
Already have an account? sign in
Register for free to continue reading
Registration is a free and easy way to support our truly independent journalism
By registering, you will also enjoy limited access to Premium articles, exclusive newsletters, commenting, and virtual events with our leading journalists
Already have an account? sign in
Join our new commenting forum
Join thought-provoking conversations, follow other Independent readers and see their replies