University open days: When are they, how can I book tickets and what are the best questions to ask?
Everything you need to know as the deadline approaches
Matilda Martin
Friday 14 July 2017 11:18 Comments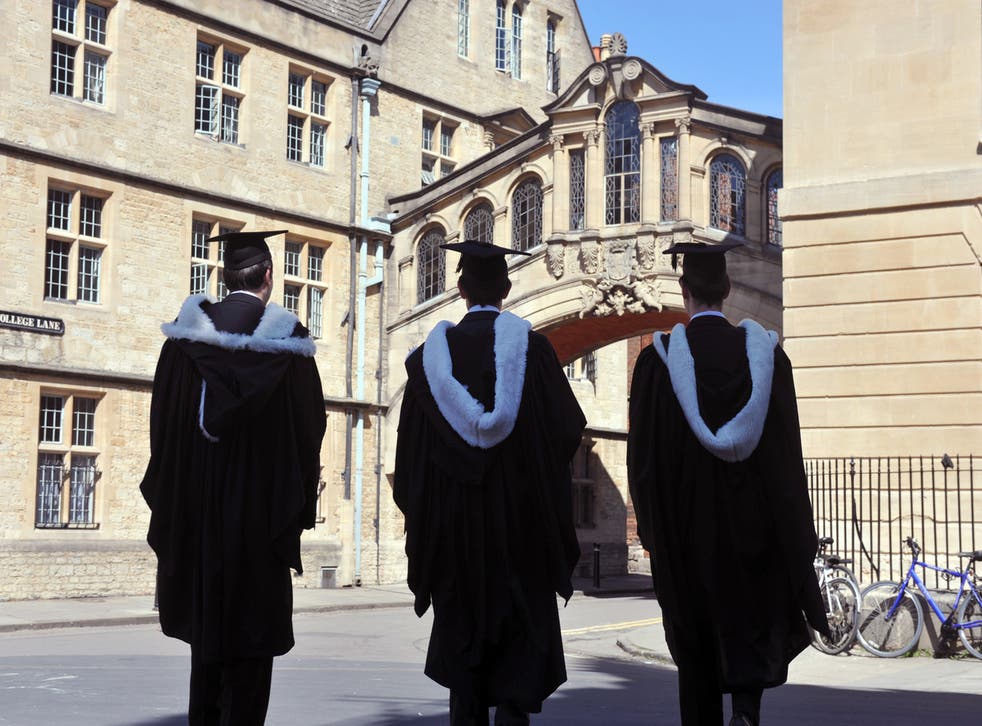 It's that time of year again. You've finished your GCSEs and now you're panicking about what universities to apply for as you enter your penultimate year of school. It's daunting, but one of the best things you can do to prepare is actually visit the universities and go to their open days. Attending open days can help you make an informed decision about where and what to study.
How to prepare?
Ask friends, family and your school about which universities they would suggest for you. That way, you can start deciding in which direction to head. You want to have some idea of what type of university experience you're looking for so that you can choose the open days you want to experience most.
Considerations may include:
Location: whether you want to be in a city or a small campus university  
Degree: which universities offer the best degrees for your area of interest 
Entry requirements: decide if your predicted grades are likely to meet the university standards 
QS World University Rankings: top 10 UK institutions

Show all 10
What should you be looking to get out of an open day?
Open days give you the opportunity to check out university accommodation, visit the student union, take a tour of the library (which will become your second home – sorry), explore the sports facilities, meet prospective students, and talk with current students and staff about courses and university life. Most importantly, it also allows you to get a feel for the university. You will then be better equipped to refine your top picks when the Ucas application process starts.
What to expect:
Advisers and talks will be available throughout the day to answer any queries you might have about topics such as:
Which degrees are available
Student finance – i.e. scholarships and bursaries
Admissions
Student life
Support for disabled students
Careers post-university
Study abroad opportunities
What questions should you ask?
Open days also give you the chance to ask any burning questions you might have. Don't shy away – the professors and students are there to help and are happy to tell you what you want to know.
Top questions to ask:
What degrees are available for the subjects you are interested in?
How many contact hours a week do you have with professors and tutors? 
What size are tutorial groups and how regularly do you have tutorials?
What is the mode of assessment for the course (i.e. continual, end of year exam, in class tests, coursework essays)? 
What sport facilities are available to the students?
Are work placements or study abroad schemes on offer? Where are they, what are the requirements to apply, are they paid, how do they affect tuition fees, do they prolong your degree?
What are the pros and cons of taking a joint or combined course in subjects you are interested in? 
How to book tickets
The vast majority of university open days are free, but require you to book a ticket. Check out their websites so you can book your ticket(s) online. Be quick, as some have impending deadlines.
What do you need to do to prepare for an open day?
When it gets to the actual open day, plan your day in advance to get the most from the time available. Make sure you have considered some of the questions above – and any others you might have – so that you know who and what to ask. It is worth printing out the list of questions so that you can have them to hand and are less likely to forget to ask them.
Student news in pictures

Show all 34
What should you do about travel and accommodation?
It is important to consider looking at your travel and accommodation options well in advance. If you are travelling far to get to the university, it is worth staying one or two nights so that you can acquaint yourself with both the campus (on the open day) and the village/town/city where the university is situated the next day. Having this extra time to explore will undeniably give you more of a feel for where you will be studying.
Below is a list of the UK's top 10 universities that you can search through. Be sure to make a note of clashes and locations so you can plan well in advance which university open days to attend. Additionally, if the universities are in close proximity to one another, you may be able to do two in one day.
Times Higher Education Top 10:
University – Open Day Date(s) (2017)
University of Oxford – 15 September
University of Cambridge – see website for specific college open days
Imperial College London – 16 September
University College London (UCL) – 9 September
London School of Economics and Political Science – No further open days
University of Edinburgh – 23 September, 7 October
Kings College London – 9 September
University of Manchester – 30 September, 14 October
University of Bristol – 9 September
University of Warwick – 23 September, 21 October
The rest:
University of Glasgow – 30 August, 21 October
Durham University – 23 September
University of Sheffield – 9 September, 21 October
University of St Andrews – 27 September, 4/18/25 October, 1 November
Queen Mary University of London – 7 October
University of Southampton – 9/ 10 September, 14 October
University of Exeter – 2 September, 25 October
University of York – 16/17 September
University of Birmingham – 9 September, 14 October
University of Leeds – 9 September, 7 October
Lancaster University – 2 September
University of Nottingham – 15/16 September
University of Sussex – 9 September, 7 October
University of Liverpool – 23 September, 21 October
University of East Anglia – 9 September, 21 October
University of Leicester – 16 September, 21 October
Royal Holloway, University of London – 30 September, 14 October
University of Dundee – 28 August, 23 September
Cardiff University – 16 September, 21 October
University of Aberdeen – 26 August, 21 October
Newcastle University – 16 September
University of Reading – 30 September, 7 October
University of Bath – 16 September
Goldsmiths, University of London – 7 October, 8 November
Loughborough University – 22/23 September
Oxford Brookes University – 7/21 October 4 November
University of Portsmouth – 7 October, 4 November, 2 December
University of Strathclyde – 5 September, 7 October
University of Hertfordshire – 20 September, 15 October, 18 November
University of Hull – 7/21 October, 18 November
Liverpool John Moores University – 7/21 October, 8 November
Middlesex University – 7 October, 25 November
Ulster University –
Jordanstown: 5 September
Coleraine: 23 September
Magee: 30 September
University of Bedfordshire –
Luton campus: 20 September
Bedford campus: 14 October
Milton Keynes: 18 October
Bournemouth University – 13 September
University of Bradford – 7 October
University of Central Lancashire – 8 October, 18 November
Coventry University – 7/28 October, 25 November
De Montfort University – 16 September, 14 October, 11 November
Edinburgh Napier University – 14 October
Glasgow Caledonian University – 1 September, 7 October
University of Greenwich – 7 October
Kingston University – 7 October, 4/15 November
Leeds Beckett University – 7,28 October, 25 November
University of Lincoln – 23 September, 7/21 October, 11/25 November, 13 December
London Metropolitan University – 19/24 August, 2 September, 14 October, 25 November
Manchester Metropolitan University – 14/21 October
Northumbria University – 30 September, 28 October, 25 November
University of Roehampton – 7 October, 18 November
University of Salford – 7/28 October
Teesside University – 11/21 October, 18 November
University of West England (UWE)–
Bristol Campuses and Glouchester Campus: 30 September, 4 November
City Campus including Bower Ashton, Spike Island, and Arnolfini: 18 November
Glenside Campus: 18 November
University of West Scotland –
Ayr: 30 September, 4 October
Dumfries: 6 September, 4 November
Hamilton: 20 September, 28 October
Paisley: 27 September, 7 October
University of Westminster – 14 October, 8 November, 6 December
Robert Gordon University – 2 September, 11 October
Sheffield Hallam University – 1/22 October
Register for free to continue reading
Registration is a free and easy way to support our truly independent journalism
By registering, you will also enjoy limited access to Premium articles, exclusive newsletters, commenting, and virtual events with our leading journalists
Already have an account? sign in
Join our new commenting forum
Join thought-provoking conversations, follow other Independent readers and see their replies