300,000 more university places needed to keep up with demand for degrees, study says
'It is difficult to see how the policy of uncapped student recruitment can continue under the current finance model'
Eleanor Busby
Education Correspondent
Thursday 15 March 2018 01:15 Comments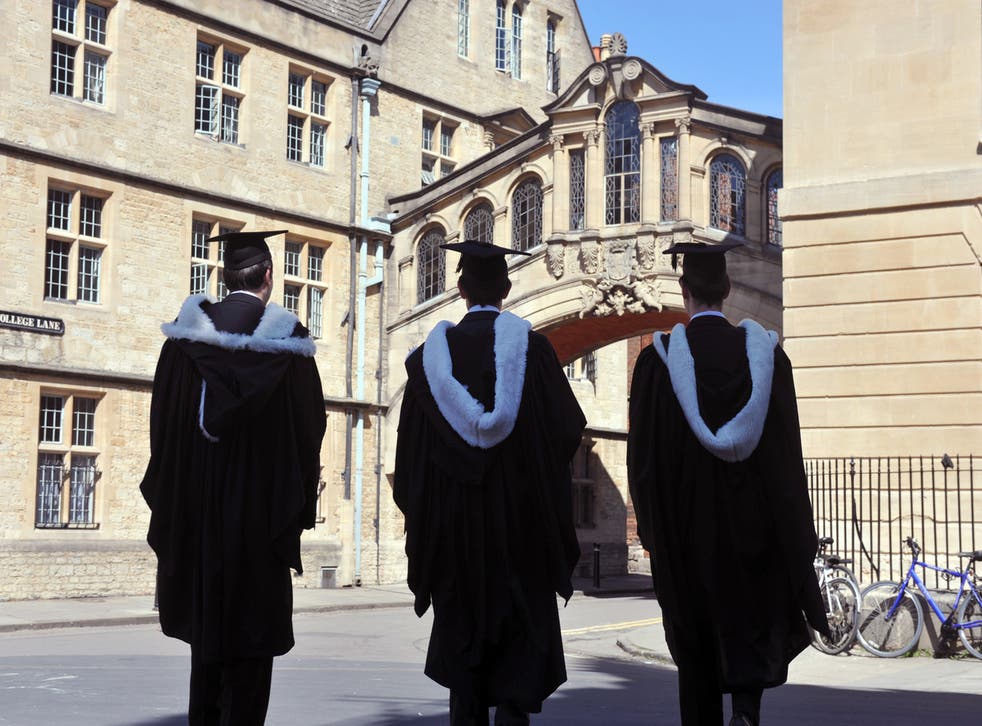 Hundreds of thousands more university places will be needed by 2030 to keep up with a growing demand, a new study has predicted.
A cap on student numbers may need to be introduced if demand continues to rise and more pressure is placed on funding, the report from the Higher Education Policy Institute (HEPI) think tank said.
At least 300,000 more places will be needed at English universities due to a boom in the number of young people and a continuing rise in students going into higher education, the research suggested.
Between 2010 and 2016 there was a 5.5 per cent increase in undergraduate numbers despite a decline in the number of 18-year-olds, the study said.
This decline in the population is due to halt next year, and over the next decade, as the 18-year-old population in England is set to rise by nearly 23 per cent.
If this was the only factor, demand for degree courses would rise by around 50,000 places by 2030, the study says. But the participation rate - the numbers of young people aged 20 and under going into higher education - has increased by nearly 25 per cent since 2006.
The study calculated that if participation also increases over the next 12 years at the same rate as the average of the last 15 years, then 350,000 more full-time places will be needed by 2030.
It said that the main factor that could have a negative impact on demand is Brexit, which could mean that numbers reduce by around 56,000.
Student news in pictures

Show all 34
The report concluded that the most likely outcome is that by 2030, a net increase of around 300,000 full-time places will be needed.
"This analysis has serious implications for higher education policy," the report warned, adding: "Present arrangements imply an open-ended government cheque book since recruitment is unconstrained, and each student recruited is entitled to a loan that is subsidised (and, since the Prime Minister's intervention in October 2017 more heavily subsidised) by taxpayers.
It said: "A driver of the review of post-18 education that has recently been established is concern over the high cost to graduates of loan repayments. It is difficult to see how that will be addressed without additional government expenditure.
"Some form of control over student numbers is likely to be required, especially if the subsidy for those who do participate in higher education is to be maintained, let alone increased."
Bahram Bekhradnia, HEPI president, said: "Given the fact that each new student recruited (with few exceptions) represents increased demand for government-subsidised student loans, it is difficult to see - under the current finance model - how the policy of uncapped student recruitment can continue.
"This is particularly pertinent given the constraints on public expenditure and the absence of any suggestion from the Treasury that more money will be available for higher education in the future."
Under the current system, home and EU students going to English universities pay up to £9,250 a year in tuition fees, and can get government loans to cover the cost.
Students pay back the loan once they are earning £21,000 a year, with an interest rate of up to around 6 per cent.
Theresa May announced last autumn that in future, graduates will not begin repayments until they are earning at least £25,000, and launched a review of higher education last month.
A Department for Education spokesperson said: "We have a world-class higher education system and more people are going to university than ever before – including record numbers of 18-year olds from disadvantaged backgrounds entering full-time.
"We want anyone with the talent and potential to have opportunity to go to university, which is why we lifted the cap on student numbers and reduced barriers that people face. We are conducting a major review of post-18 education to ensure that the system provides genuine choice for young people, and students and taxpayers are getting value for money."
With additional reporting by PA
Register for free to continue reading
Registration is a free and easy way to support our truly independent journalism
By registering, you will also enjoy limited access to Premium articles, exclusive newsletters, commenting, and virtual events with our leading journalists
Already have an account? sign in
Join our new commenting forum
Join thought-provoking conversations, follow other Independent readers and see their replies