Gap between rich and poor students at university reaches widest point for a decade
School leaders' union calls figures 'worrying' and urges more action after years of funding cuts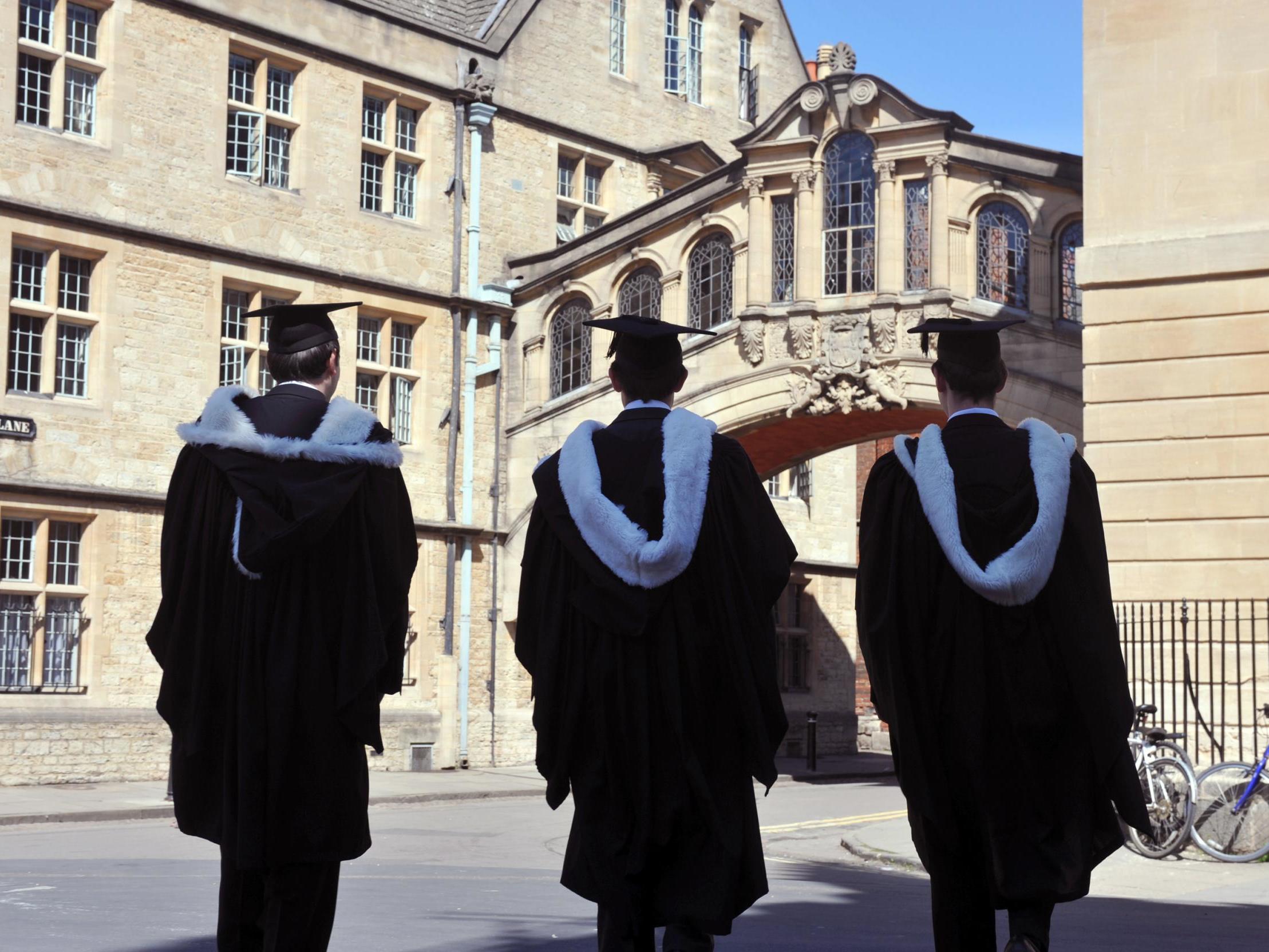 The gap between poor students and their more affluent peers going to university is at its widest point for more than a decade despite government pressure to boost campus diversity, figures reveal.
The proportion of black pupils entering higher education in Britain has also stagnated, Department for Education statistics show, with just a 0.1-percentage-point increase in the last year.
It comes as elite universities, including Oxford and Cambridge, are in the spotlight for failing to admit sufficient numbers of students from ethnic minorities and poorer backgrounds.
Ministers have criticised universities for not making enough progress and the Office for Students (OfS) has threatened to levy fines of up to £500,000 – or 2 per cent of a university's income – if an institution fails to admit more disadvantaged students.
But the latest figures show better-off students are still significantly more likely to go to university than their poorer peers and the access gap has widened to its largest point since 2006-07.
The statistics show 26.3 per cent of pupils eligible for free school meals went to university in 2017-18, compared with 44.9 per cent of those who did not receive free meals.
The proportion of poorer pupils entering university has stagnated – with just a 0.1-percentage-point rise in the past year – while the proportion of better-off pupils has risen by 1 percentage point.
The gap between these two groups has increased to 18.6 percentage points in 2017-18, from 17.7 percentage points the year before, which is the largest gap for more than a decade, the data reveals.
Geoff Barton, general secretary of the Association of School and College Leaders (ASCL), said it was "worrying" to see that the university access gap has widened.
He said: "There is no single answer to this issue. The most pressing priorities are more investment in crucial early years education where gaps first start to emerge, and in 16-to-19 education which has undergone severe cuts over the past decade.
"Universities must continue to build on approaches such as the use of contextual admissions which take into account the background of students. And we need a greater focus on the funding and provision of high-quality, independent careers information and advice."
Chris Millward, director for fair access and participation at the OfS, said "slow progress" in previous years is why the watchdog has set bold new targets for universities to eliminate gaps since taking over in 2018.
He added: "We are working closely with the Department for Education and Ucas to improve access to the data – such as free school meal status – that universities need if they are to work in a joined-up way with schools to tackle disadvantage."
Universities UK (UUK), which represents vice-chancellors, said institutions invest significantly to ensure students from all backgrounds achieve the best outcomes in getting into higher education.
"However, it is clear that a number of challenges and disparities remain and there is a shared will in the sector to see gaps narrow further," a UUK spokesperson said.
They added that universities would welcome support from the new government to provide "greater support for part-time learning and targeted maintenance grants for those most in need".
A Department for Education spokesperson said: "A university education should be available to everyone who has the potential and institutions must continue to take steps to level the playing field for those from disadvantaged backgrounds and other underrepresented groups.
"We want access and participation to improve across all ages, not just young people. We expect universities to be ambitious in narrowing the progression gap between different groups so there is equal opportunity for all to benefit from our world-leading higher education."
Join our commenting forum
Join thought-provoking conversations, follow other Independent readers and see their replies