University staff confirm two-day nationwide strike action over pay
The University and College Union said an offer of 1.1 per cent pay increase for its staff members was 'insulting'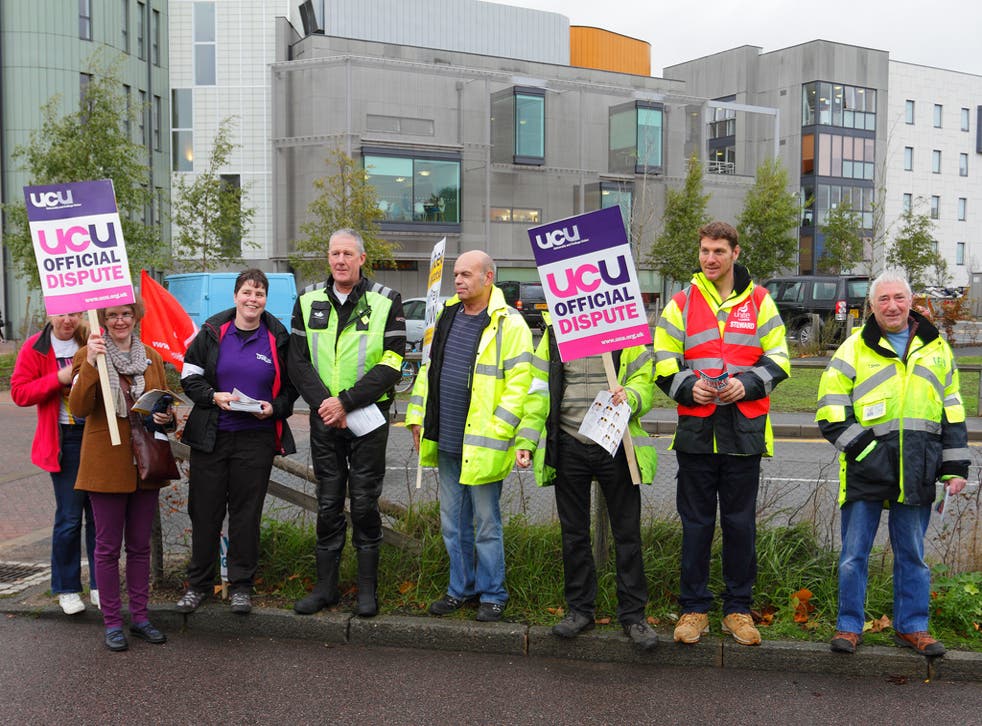 University staff across the country will stage two days of strike action this month as part of an on-going dispute over pay.
Members of the University and Colleges Union (UCU) in higher education have confirmed plans for the nationwide walk-out on Wednesday May 25 and Thursday May 26 after union representatives voted overwhelmingly in favour of industrial action last week.
The decision comes in response to an offer from the Universities and Colleges Employers Association (UCEA) of a 1.1 per cent pay rise – an increase of 0.1 per cent on their previous offer for higher education workers. The UCU said the offer was "insulting" and has called on the association to "urgently" review its approach.
In addition to the walk out, the UCU has urged its members to "begin working to contract" from May 25, meaning lecturers will refuse to work overtime, set additional work or undertake any voluntary duties such as covering timetabled classes for absent colleagues.
If no agreement is reached in the coming weeks, members have agreed to target further strike action in June, July and August.
The proposed action is unlikely to affect a large number of students, many of whom will be off for the summer break or on examination leave; however an August walk-out could interfere with the release of A-level results and therefore hinder the annual clearing and admissions process.
In pictures: Junior doctors first all-out strike

Show all 10
UCU general secretary, Sally Hunt, said members would "not tolerate a continued squeeze on their income".
She said: "Industrial action which impacts on students is never taken lightly, but staff feel that they have been left with no alternative."
"A 1.1 per cent offer is an insult to the hard work and dedication of higher education staff, particularly in light of the 3 per cent average pay rise enjoyed by vice-chancellors this year. The ball is now in UCEA's court, but the employers need to come back to the table with a much improved offer if they wish to avoid significant disruption to students in the coming months."
According to the union, the squeeze on staff salaries comes at a time when pay and benefits for university leaders have increased by an average of 3 per cent, with the average pay and pensions package for vice-chancellors standing at over £270,000.
Union representatives have argued that universities could afford to pay more and said the latest offer of a 1.1 per cent raise "does little" to address a real terms pay cut of 14.5 per cent.
The UCEA said the planned industrial action was "disappointing for Higher Education institutions" and that the UCU were on a path to "try and cause disruption".
A UCEA spokesperson said: "The vast majority of staff in HE institutions understand the reality of the current environment and do not support action that could harm both their institutions and their students."
"A strike, following a properly conducted ballot, is entirely lawful but withdrawing labour is a breach of contract leaving HE institutions with no choice but to deduct full pay from any member of staff taking strike action. UCEA and the HE institutions are dismayed that the UCU has targeted students from the very outset of pay discussions."
The employers group said they believed staff would be "perplexed by UCU's premature ballot". According to the UCU, however, almost two thirds (65.4 per cent) of higher education union members who voted in the ballot were in favour of the strike action
Higher Education members from across the country took part in one and two day strikes over pay negotiations in 2014. The dispute ended when a conditional offer of a 2 per cent pay rise was accepted by UCU members.
Join our new commenting forum
Join thought-provoking conversations, follow other Independent readers and see their replies