University strikes: Nearly 100,000 students sign petitions demanding compensation for classes lost due to absent lecturers
Over a million students will be affected and 575,000 teaching hours lost, union says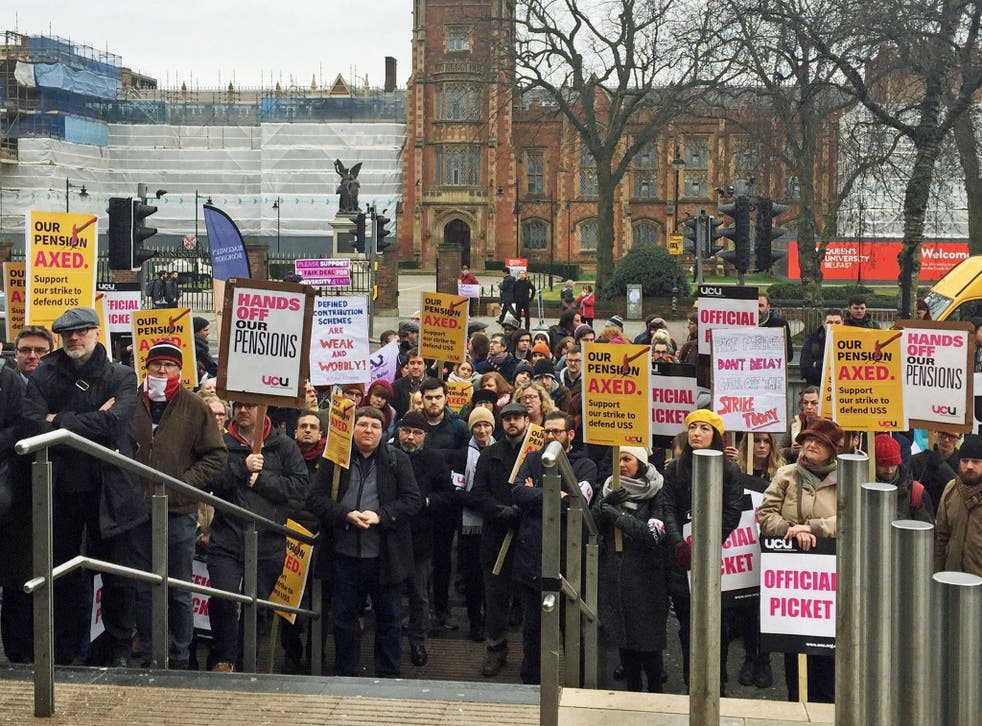 Nearly 100,000 students have signed petitions demanding compensation from universities for classes lost due to striking lecturers.
Tens of thousands of university workers are expected to take part in a wave of walkouts in an ongoing dispute over pensions.
Members of the University and College Union (UCU) at 64 UK institutions are staging the first in a series of strikes after voting in favour of industrial action.
The dispute centres on proposals put forward by Universities UK (UUK) for changes to the Universities Superannuation Scheme (USS).
Employers argue the pension scheme is billions of pounds in deficit, while the union says the proposals would leave a typical lecturer almost £10,000 a year worse off in retirement.
Around 93,000 students have signed petitions calling on universities to compensate them for disrupted lectures, Professor Chris Forde, who has been compiling data on the number of signatories, told The Independent.
The number of signatories is likely to hit 100,000 by the end of the day, Mr Forde, a UCU member at the University of Leeds who supports the industrial action, added.
Strikes will take place on Thursday and Friday, with more in the coming weeks if there is no resolution, building up to a five-day walkout in the week beginning 12 March.
Jeremy Corbyn sent his "solidarity and thanks" as staff began their walkouts.
The Labour leader said his party was "deeply concerned" about changes to the USS scheme as he urged employers to commit to negotiations.
Student news in pictures

Show all 34
UCU said it expected tens of thousands of its members to take part in the industrial action, with over a million students affected and 575,000 teaching hours lost.
Sally Hunt, the UCU general secretary, said: "The scale of these unprecedented strikes reflects just how destructive the proposals would be for staff pensions and their anger at university leaders to come back to the table to negotiate.
"Despite the fact that over a million students are going to be affected, university employers have been unwilling to reconsider their position and look at reasonable alternatives which would give staff security in retirement.
"Nobody is taking this action lightly, but the ball remains firmly in the employers' court. If further disruption is to be avoided, university leaders must put further pressure on their representatives to get back to the table for meaningful discussions with UCU."
UUK said the pension scheme has a deficit of more than £6bn that cannot be ignored, and there is a legal duty to put a credible plan in place by the summer to reduce the deficit.
Around 16 per cent of academic staff that are UCU members in the 64 institutions affected voted in favour of strike action, according to UUK.
In a video message, Mr Corbyn said: "On behalf of the Labour Party, I want to send solidarity and thanks for all the work you do in our universities and colleges. We are deeply concerned by the proposed changes to the USS that would leave our university staff up to £10,000 a year worse off in retirement.
"Downgrading the pension scheme will affect recruitment, retention, and ultimately our ability to offer world-class higher education.
"Everyone deserves the dignity and security in old age that comes from a decent pension."
He added: "It's been great to see strong support from students for striking staff, but for everyone's sake we need to find a solution which avoids further disruption.
"So I join staff and students in calling for the employers to commit now to meaningful negotiations, through Acas if necessary, to resolve this dispute."
On the eve of the action, the universities minister, Sam Gyimah, warned UUK and UCU they must resolve the "damaging and avoidable impasse".
In a tweet referencing an editorial in The Times, the minister said: "Times Editorial on Uni strikes is spot on. For the sake of students and the reputation of our Universities, UCU and UniversitiesUK need to find a way through this damaging and avoidable impasse ASAP."
UCU has warned that if the dispute is not resolved, then action could continue, including into the summer exams period.
Additional reporting by Press Association
Join our new commenting forum
Join thought-provoking conversations, follow other Independent readers and see their replies