'Teaching won't be on the timetable': Students frustrated by 17 May goal for university return
'The only thing happening after that is coursework deadlines,' one first-year says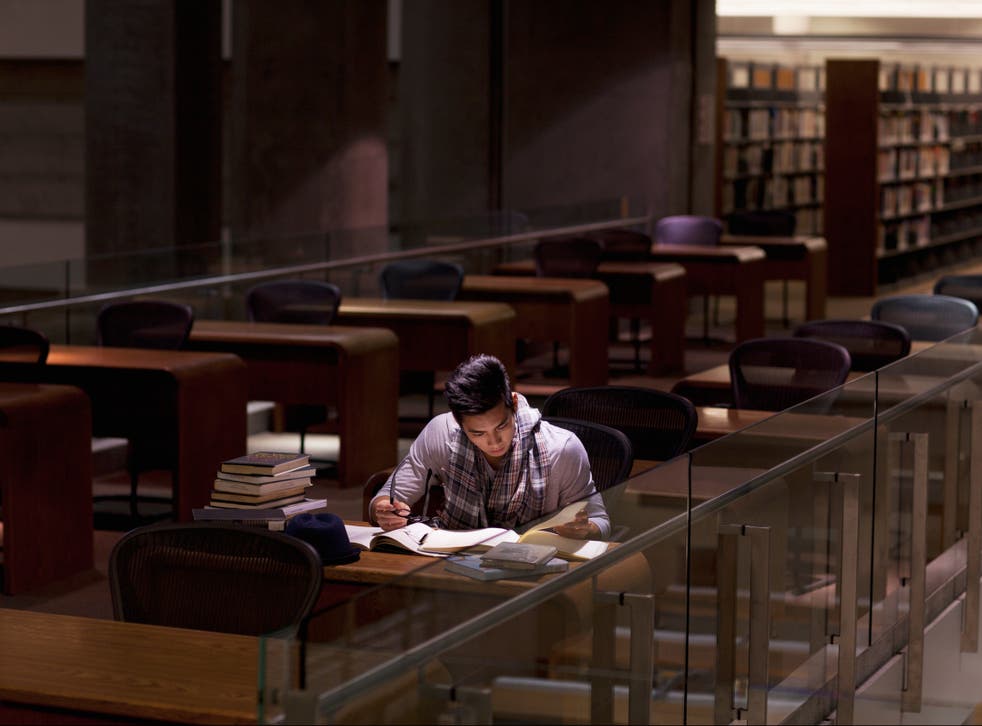 University students have been left "frustrated" after learning their face-to-face classes will not resume before the middle of next month, with some saying their teaching will have already finished by then.
The government has said a full return to campus and in-person teaching will happen no earlier than 17 May, amid restrictions due to the coronavirus pandemic.
But some students have toldThe Independent they do not expect to have any in-person teaching now before the academic year, following months of online classes.
"It's really annoying. My teaching is due to finish in early May," Natasha* from the University of Birmingham said.
"The only thing happening after that is coursework deadlines, so I doubt I'll actually get any in-person teaching for the rest of the year," the first-year student said.
Orion Hall-Turner, who is in her final year at Roehampton University, toldThe Independent her course is due to end more than a week before she can return to university under the government's timetable.
"I haven't had a normal schedule since February last year so I was definitely hoping I'd get some normality before I graduate," she said.
Bailey Mansfield, who is studying at Portsmouth University, toldThe Independent his term would be finished by the time all students are allowed to have face-to-face teaching again, with the time due to be spent on assignments and preparing for exams instead.
On Tuesday, the universities minister confirmed the full return to face-to-face teaching would happen alongside restrictions on social contact easing further and most indoor settings reopening.
Michelle Donelan said more people will have been vaccinated by this stage and the decision gives more time to boost testing.
Many courses moved online right before the Christmas holidays to allow students to migrate back home during a recommended travel period.
As England went into lockdown in early January, it was confirmed most courses would be taught virtually and these students told to stay put, while many were at home for the holidays.
From 8 March, all students on practical courses were allowed to join others on courses such as medicine and dentistry back on campus for in-person teaching.
It has now been confirmed all others - around one million students, according to Russell Group estimates - will be able to return to campus and face-to-face teaching on the 17 May date by the earliest.
But Kyle*, a first-year at the University of Sussex, said: "In-person teaching for me and almost everyone is over by then."
Eve* at the University of Warwick, who has not had a face-to-face seminar since November, said she is in the same "frustrating" situation.
"By that point in-person teaching - well all teaching really - won't be on the timetable, because everyone will be preparing for exams," she said.
The final-year student, who has been at home since December, said she is "probably not going to wait" until May to return to campus, as she wants to use the library and the "experience" of being at university before graduating.
University of Birmingham student Alex* said their teaching is scheduled to finish two weeks before 17 May and expects to have gone to a total of "four or five in-person seminars" by the end of the academic year, "which is really frustrating".
They are also planning on returning before the 17 May, despite their course still being virtual.
The government has told students to not travel back to their term-time if their learning is online, unless for reasons such as inadequate study space or mental health and wellbeing issues.
In her statement on Tuesday, Ms Donelan said: "The movement of students across the country poses a risk for the transmission of the virus – particularly because of the higher prevalence and rates of transmission of new variants."
While the government understands "how difficult and disruptive" the past year has been for students, she said the roadmap aims for a "cautious approach" to easing restrictions "to ensure that we can maintain progress towards full reopening".
But a student doing a PHD in music composition toldThe Independent it "annoys" him that the public can "grab a pint outside whilst shopping, followed by a trip to the zoo" while he cannot organise a music recital on campus.
Natasha, from the University of Birmingham, said: "It just feels a bit unfair with so many other things opening up that we can't sit socially distanced in a lecture hall."
Universities, unions and ministers are at loggerheads over when all students should resume face-to-face teaching, with the University and College Union claiming current plans make "no sense" considering course timetables.
Announcing the plans for the full return from mid-May at the earliest, the government said the timing "aims to limit potential public health risks associated with student populations moving across the country".
This week, Boris Johnson warned easing restrictions will "inevitably" lead to more infections and deaths, and said lockdown rules had done the "bulk of the work" in driving down Covid cases.
The Department for Education has been approached for comment.
*Students wished to remain anonymous
Join our new commenting forum
Join thought-provoking conversations, follow other Independent readers and see their replies