Law firm 'inundated' with calls from students unhappy with tuition fees amid Covid disruption
Exclusive: Lawyer receiving 'significant number' of calls and emails about refunds and reductions
Zoe Tidman
Saturday 28 November 2020 11:47 Comments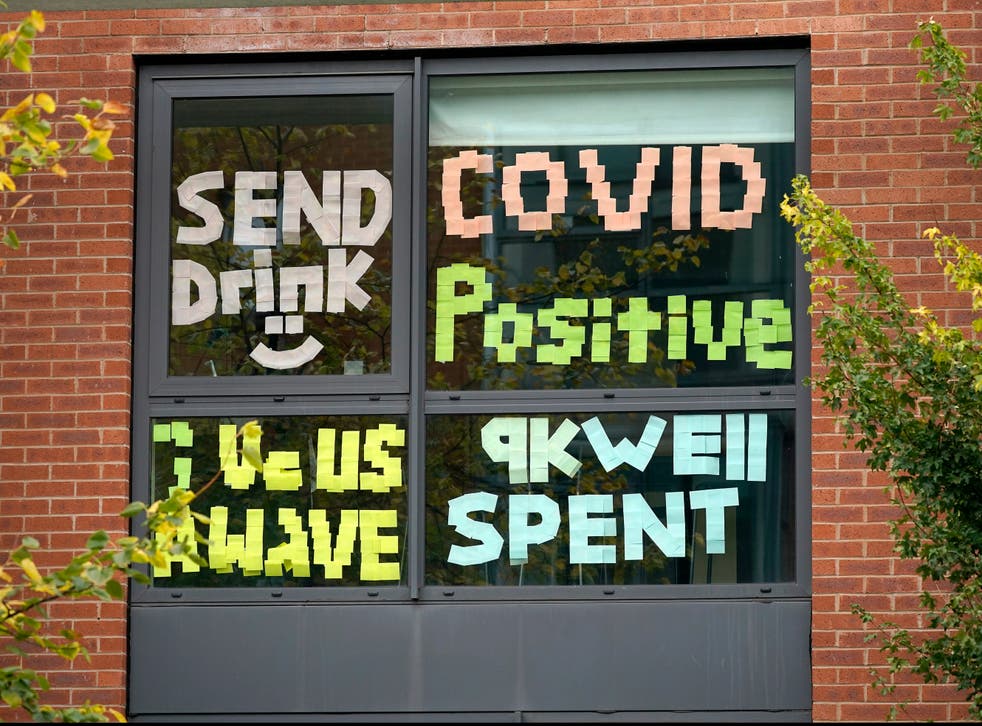 A law firm has been "inundated" with calls from students who are unhappy with their tuition fees this term.
Universities have had to adapt campuses and courses during the coronavirus pandemic, including moving more teaching than usual online.
Students have told The Independent they felt they should get money off their education this year, saying online learning was not the same as face-to-face teaching, and campus facilities and resources had been more difficult to access due to restrictions.
Rhys Palmer, a lawyer at HCB Solicitors, told The Independent he has been "inundated" with calls from students.
"I receive a significant number of calls and emails from students on a daily basis requesting a refund or reduction of their university fees," he said.
"Many students feel they are not receiving the standard of service, education or support they are paying for," said the solicitor, who specialises in education law and litigation.
"This is particularly relevant for students who rely on placements, group practice and practical work in order to demonstrate their competency in their field of study."
While many students have had a mix of online and face-to-face teaching this term, some saw even more classes pushed online during term time as universities including Liverpool, Sheffield and Manchester reacted to local coronavirus rates. 
Some campus outbreaks sent hundreds of students into self-isolation, such as at Manchester Metropolitan University, when two halls of residence went into lockdown.
Students have previously told The Independent they felt it would be fair to reduce how much they paid this year as their university experience had been fundamentally altered.
One student at the University of Cambridge said: "I'm lucky I have a few in-person things but most people are paying all this money, being miserable and sat staring at a computer screen all day."
Mr Palmer from HCB Solicitors said British and international students pay significant sums of money" not only for their education, but also for the full university experience.
"Restricted or limited access to the university campus as a response to Covid-19 may not only impact their access to education, but could also limit access to social groups, societies and networking opportunities which are essential for the wellbeing and professional progression of many students," he said.
"However, despite not being offered these opportunities and services, many universities still expect students to pay their course fees in full."
In response to a parliamentary petition on tuition fee refunds, the government said: "Higher education providers must deliver high-quality courses.
"If students are unhappy, they should first complain to their provider, or the Office of the Independent Adjudicator for Higher Education (OIA)."
Mr Palmer said many students were looking for help to make complaints through the internal complaint and appeals procedures at their university, and failing that, to go through the OIA. Others are "looking at the legal route" after exhausting all avenues.
A spokesperson for Universities UK (UUK) said: "No matter how university courses are delivered, the important thing is that students are supported to achieve the required learning outcomes.
"All universities are committed to providing a high quality and engaging educational experience for their students, while prioritising their physical and mental wellbeing, and have invested heavily in Covid-19 safety measures, enhanced digital learning platforms, and additional learning and wellbeing support."
The UUK spokesperson said universities have done their best to communicate changes to courses with students as soon as possible, but "the need to respond very quickly" to changes in official coronavirus rules "has at times affected the usual timescales for such information".
"Given the disruption caused by the pandemic it is understandable that some students may feel their experience of university has not been as they would have hoped," they added. "If students have a complaint, they should speak to their universities in the first instance."
A Department for Education spokesperson said: "Universities are responsible for their fees, but the government has been clear if universities want to continue charging the maximum amount permitted, they are expected to maintain quality and academic standards and the quantity of tuition should not drop."
They added: "The Office for Students monitors online teaching to ensure standards are met, and there is an established process in place for students with concerns about their education."
Register for free to continue reading
Registration is a free and easy way to support our truly independent journalism
By registering, you will also enjoy limited access to Premium articles, exclusive newsletters, commenting, and virtual events with our leading journalists
Already have an account? sign in
Join our new commenting forum
Join thought-provoking conversations, follow other Independent readers and see their replies