Schoolgirls wear shorts under uniform to protect themselves against 'upskirting', says teaching union leader
'It is amazing that in the 21st century that women and girls are having to cover themselves up so that they do not become prey to these practices,' Mary Bousted tells The Independent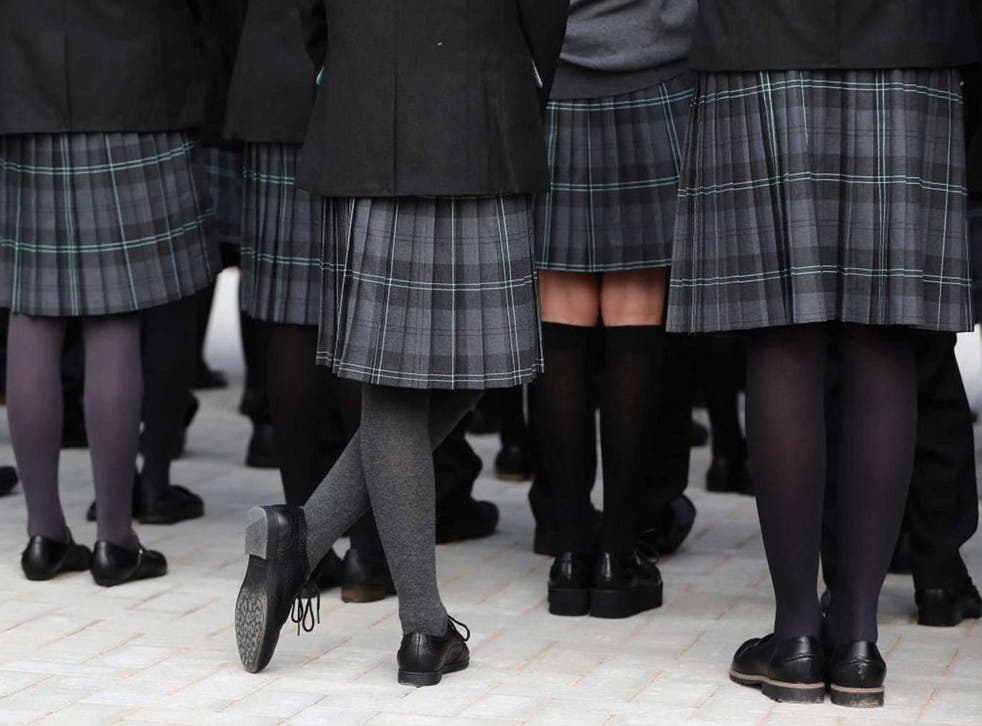 Girls are increasingly wearing shorts under their school skirts to prevent classmates from taking revealing photos of them and sharing them, a leader of Britain's largest teaching union said.
Mary Bousted, joint general secretary of the National Education Union (NEU), said girls no longer "feel safe" in school following a surge in sexual harassment and violence towards them.
Schoolgirls are choosing to put shorts on under their skirts to protect themselves against "upskirting" – where illicit photographs are taken under the victim's clothing, she said.
Speaking ahead of the Association of Teachers and Lecturers section of the union's conference – where members will consider a motion on sexual harassment in schools – Ms Bousted said society had gone "backwards".
She told The Independent that sexual harassment had "become normalised in schools as it has become normalised within adolescent culture."
She said: That makes schools, for many girls, not a safe space. Although girls enjoy school and do well at it, they do not feel safe in school. And that leads to girls not willing to go into public spaces in school and girls wearing shorts underneath their skirts so that if anyone puts a phone up their skirts they are not going to photograph anything."
A report, by the NEU and gender equality campaign group UK Feminista last year, found that nearly four in 10 female pupils have suffered sexual harassment at school.
And it is not only students that are being more cautious about "upskirting" – female teachers are also wary about the misuse of camera phones, Ms Bousted said.
"It is the age old thing that women have to cover up to protect themselves against men's excessive libidos. It is amazing that in the 21st century that women and girls are having to think 'I have to cover myself so that I don't become prey to these practices'," she added.
Asked about the impact of #MeToo campaign, Ms Bousted said: "It is not just restricted to glamorous Hollywood actresses – it is great that they have spoken out because they are role models– but it pervades every aspect of society and schools are not immune to it."
UK news in pictures

Show all 50
During the Easter holidays, members of the ATL section of the union will debate a motion on whether schools should be given more guidance and resources to tackle sexual harassment.
It says: "Conference is extremely concerned at the high numbers of students who report that they have experienced sexual harassment in schools.
"While some schools may address these issues, quietly on an individual basis, there is a lack of school policy and the government policy that address the issues of sexual harassment faced by students at schools."
Register for free to continue reading
Registration is a free and easy way to support our truly independent journalism
By registering, you will also enjoy limited access to Premium articles, exclusive newsletters, commenting, and virtual events with our leading journalists
Already have an account? sign in
Register for free to continue reading
Registration is a free and easy way to support our truly independent journalism
By registering, you will also enjoy limited access to Premium articles, exclusive newsletters, commenting, and virtual events with our leading journalists
Already have an account? sign in
Join our new commenting forum
Join thought-provoking conversations, follow other Independent readers and see their replies