We do inflate predicted A-level grades, teachers admit
Pushy parents are commonly blamed for putting pressure on school staff to inflate the assessments, teachers' leaders said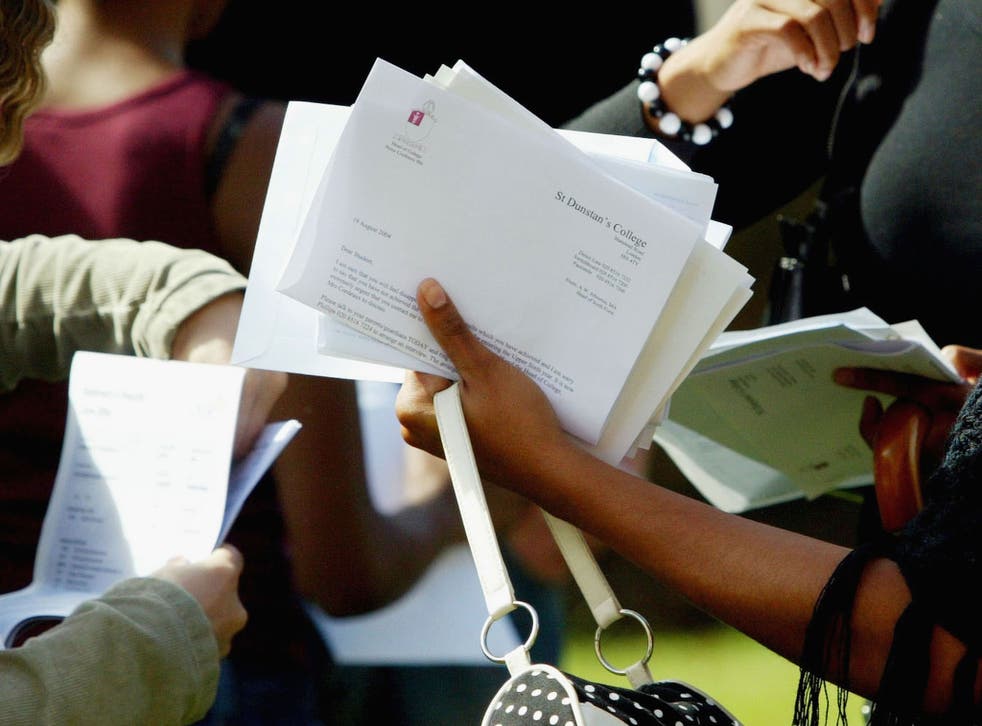 The boosting of predicted A-level grades to help pupils get degree course offers is widespread in sixth forms, teaching unions have admitted, amid warnings that universities will be forced to set their own entrance exams to deal with the problem.
Pushy parents are commonly blamed for putting pressure on school staff to inflate the assessments, teachers' leaders said.
The admission follows the assertion of Mary Curnock Cook, the chief executive of Ucas, the university admissions body, that more teachers are deliberately boosting students' predicted grades to get them into top universities.
Teachers told The Independent that they face huge pressure from students and their parents to up their A-level grade predictions to help secure offers at top universities that would otherwise not consider them.
Education expert Professor Alan Smithers warned that universities will introduce entrance exams to counter teachers' unreliable predictions. This week Cambridge University announced it would be reintroducing entrance exams for the first time in a generation to help it choose between candidates.
Malcolm Trobe, the interim general secretary of the Association of School and College Leaders, said there is "no dispute" that overly generous teacher predictions have become a trend.
"When they are setting predicted grades, teachers will be looking at two things: if students carry on at the same rate, what grade will they get? And if they really worked flat out, what could they achieve?
"Obviously, teachers will tend to go for the second option rather than the first. But, unfortunately, not every student works flat out so that is why there will be a gap between predicted grades and the grades they achieve.
"There is pressure from parents but teachers need to be completely professional. You do not want to do any student a disservice but at the same time you should not be predicting any grade which is not realistic. He added that he believes the situation "will get worse".
Dr Mary Bousted, the general secretary of the Association of Teachers and Lecturers, agreed. "It is going to be even more difficult when, with the decoupling of AS-levels from A-levels, teachers lose that crucial information – achieved AS grades – which have helped them to more accurately predict students' final grades," she said.
Professor Smithers, the director of Buckingham University's Centre for Education and Employment Research, warned: "Predicted grades have become more important as more universities make more unconditional offers. It is possible to get signed up for a course on the basis of your predicted grades and then fail to do as well as predicted but you already have your place.
"Universities are likely to develop their own exams in response to this which will increase the pressure on students. Although it's not ideal it is a much fairer solution than using unreliable predictions."
A former headteacher, who did not want to be named, told The Independent that his teachers were regularly pressured by parents to inflate their children's grades to unrealistic levels to get into "sought-after universities, particularly the Russell Group [the leading research universities]".
A state teacher added: "Performance-related pay and performance-related management, when you're judged on your results, play a part. It is why you have to be a little bit aspirational."
Register for free to continue reading
Registration is a free and easy way to support our truly independent journalism
By registering, you will also enjoy limited access to Premium articles, exclusive newsletters, commenting, and virtual events with our leading journalists
Already have an account? sign in
Register for free to continue reading
Registration is a free and easy way to support our truly independent journalism
By registering, you will also enjoy limited access to Premium articles, exclusive newsletters, commenting, and virtual events with our leading journalists
Already have an account? sign in
Join our new commenting forum
Join thought-provoking conversations, follow other Independent readers and see their replies