Willetts: unlimited university fees are 'unsustainable'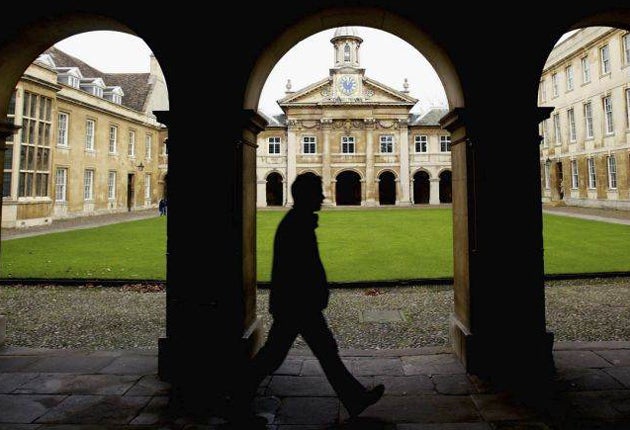 A free-for-all in student fees – one of the recommendations of a government inquiry into financing higher education – was effectively ruled out by the Universities Secretary David Willetts yesterday.
He told a conference in London that he did not think it was "sustainable or sensible to have an unlimited fee cap".
The former BP boss Lord Browne had urged lifting the current cap on fees of £3,290 – thus allowing universities to charge what they liked. Under the plan, it was widely anticipated that the country's most selective universities – such as Oxford and Cambridge – would charge up to £12,000 a year for courses.
However, Mr Willetts' comments yesterday appear to pave the way for a deal with his Liberal Democrat boss, the Business Secretary Vince Cable, to raise the cap to around £6,000 or £7,000 instead. The decision is likely to be announced within six weeks.
Mr Willetts made it clear he wanted to move to a vote in Parliament on the new fees structure before Christmas – thus allowing universities to bring in the new charges in September 2012.
The decision will disappoint members of the Russell Group, which represents 20 of the country's leading research institutions. It campaigned for a lifting of the cap to allow it to have enough funds to provide top quality teaching and retain its universities' abilities to attract world-class academics.
Wendy Piatt, its director general, said last night: "Rowing back from Browne and reimposing a cap would be a real waste of an opportunity to allow our leading universities to provide the high quality education that their students deserve."
Mr Willetts, speaking at the annual conference of the Higher Education Funding Council for England, the Government's university funding body, told an audience of vice-chancellors: "We will not necessary accept all of it [the Browne report] but many experts have already recognised its quality."
In his report, Lord Browne recommended that universities who wanted to charge above £7,000 would be charged a levy payable to the Government to help it meet the cost of providing loans. Mr Willetts warned that this could "drive their fees up even higher in order to reach a given level of income". However, he added: "If you didn't have a levy, however, there would be a need for some sort of upper cap."
Mr Willetts said a final decision had not yet been made but he described the current arrangement whereby universities had to charge a minimum fee of £1,310 and could charge a maximum of £3,290 a year as "an interesting feature within the current arrangements". As almost all universities charge the £3,290, this could become the new minimum, with £7,000 becoming the maximum. Most universities are thought likely to charge between £6,000 and £7,000.
Mr Willetts said that the Coalition Government was looking to improve upon the Browne package for disadvantaged youngsters, offering "a more generous package for students from poorer backgrounds".
"We are looking closely at the Browne recommendations for a more generous loans package," he added. He also dangled the prospect of an increase in the number of two-year degree courses. "We want to see innovation and a diverse range of choices for students – two-year courses, for instance and more vocational degrees."
The Browne package was attacked by the former higher education minister Baroness Blackstone, who said: "Why do you think it is justified to completely abandon a contribution by the taxpayer to undergraduate teaching?"
Under the Comprehensive Spending Review, only maths, science, technology and engineering teaching will receive funding from the state – and possibly some languages courses.
Join our commenting forum
Join thought-provoking conversations, follow other Independent readers and see their replies