Erasmus scheme: How students who are part of the EU cultural exchange programme are falling in love, left right and centre
A quarter of those who take part in the Erasmus programme meet their long-term amour while studying abroad
Gillian Orr
Thursday 25 September 2014 01:12 Comments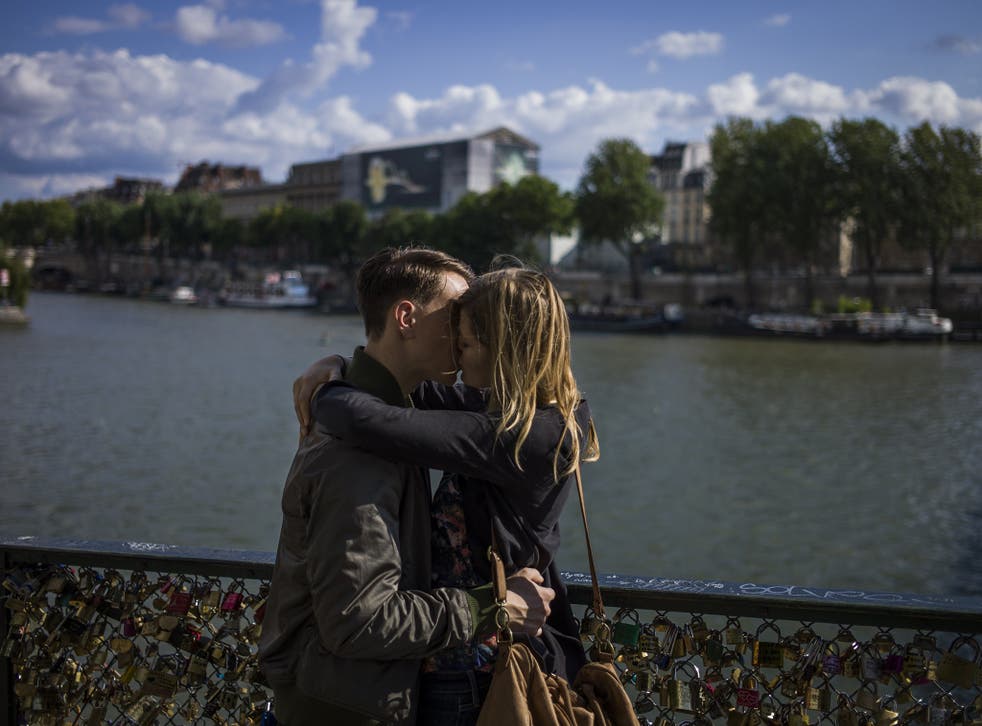 Three weeks before the end of her year-long stay in Paris, Simin Bilimoria met a fellow student whom she became quite taken with.
She was there as part of the Erasmus scheme, the cultural exchange programme for EU students, with the University of Warwick, where she was studying politics, and in her final days the pair were thrown together for a group project on the future of China.
Despite at first being put off by his Gallic arrogance, Bilimoria realised that they worked well together and warmed to him. She returned to England in 2005 and threw herself into her final year. But she never forgot the Frenchman. They continued to see each other and this year celebrated their fourth wedding anniversary in Paris, where the couple now live.
Such love stories are remarkably common, or so says the European Commission, which published a study this week suggesting that more than a quarter of those who take part in the Erasmus programme meet their long-term amour while studying abroad. And love is not just crossing borders, it's also producing Euro babies: apparently more than one million have been born as a result of the scheme. Umberto Eco, who spoke in 2011 of a "sexual revolution" sweeping Europe because of the programme, will be pleased.
"The year abroad really is such a fantastic experience," says Bilimoria. "I'm not surprised people fall in love. I suppose you're out of your comfort zone and away from your usual habits and you feel free and more inclined to move towards people that you wouldn't necessarily spend time with at home."
But it's not just lessons in love that students can expect from their 12 months away. The study also highlighted that those who took part in the Erasmus programme were instilled with an international outlook that would stay with them through the years, and 40 per cent of students would go on to live and work abroad.
Joanne Griffiths swapped studying at the University of Edinburgh for Rouen, France, in 2009. Despite doing a French degree, she found herself barely able to order a glass of wine when she first arrived. She left "a million times better". Now the 27-year-old finds herself in Brussels doing a traineeship with, as it happens, the European Commission. "It does make you realise that you can live abroad and it's not that hard," she says.
The best part of studying abroad, though, reckons Griffiths, is how it creates a European network thereafter. And those who do take part in the scheme are unlikely ever to have to pay for a hotel again. "I ended up with best friends from all over Europe: Finland, Germany, Spain. I can go pretty much anywhere in Europe and call somebody to stay with them," says Griffiths. "I made a Turkish friend on Erasmus and I'm going to her wedding in Istanbul soon. That's something I would never have experienced otherwise."
Spare a thought, however, for those still separated by the Channel. When Marisol Saona, a former Warwick Business School student, studied at the Pompeu Fabra University in Barcelona, the 22-year-old returned to England with superior Spanish skills – and a Catalan boyfriend. Having both graduated this year, they now travel to one another's country every other month to keep the long-distance relationship alive.
"I do have dark days when I wonder if it's going to work out, because he and I have really good jobs in our respective countries so it's a bit sad to think that, for at least another year, we can't even live in the same country," she says.
Still, it's not the most difficult part of their relationship. "Spanish families are so tight-knit. In the UK, young people are very independent; in Spain, they still live with their parents and are sent off each day with a packed lunch," says Saona. "I used to stay with the family when I visited; now I rent my own little place in town because I need space."
Well, the European Commission does stress that the scheme is a cultural exchange. Overbearing Spanish parents included.
Register for free to continue reading
Registration is a free and easy way to support our truly independent journalism
By registering, you will also enjoy limited access to Premium articles, exclusive newsletters, commenting, and virtual events with our leading journalists
Already have an account? sign in
Join our new commenting forum
Join thought-provoking conversations, follow other Independent readers and see their replies