GCSE results 2016: Grades fall dramatically across the board
Gender gap increases with girls outperforming boys once again, but grades fall across the board this year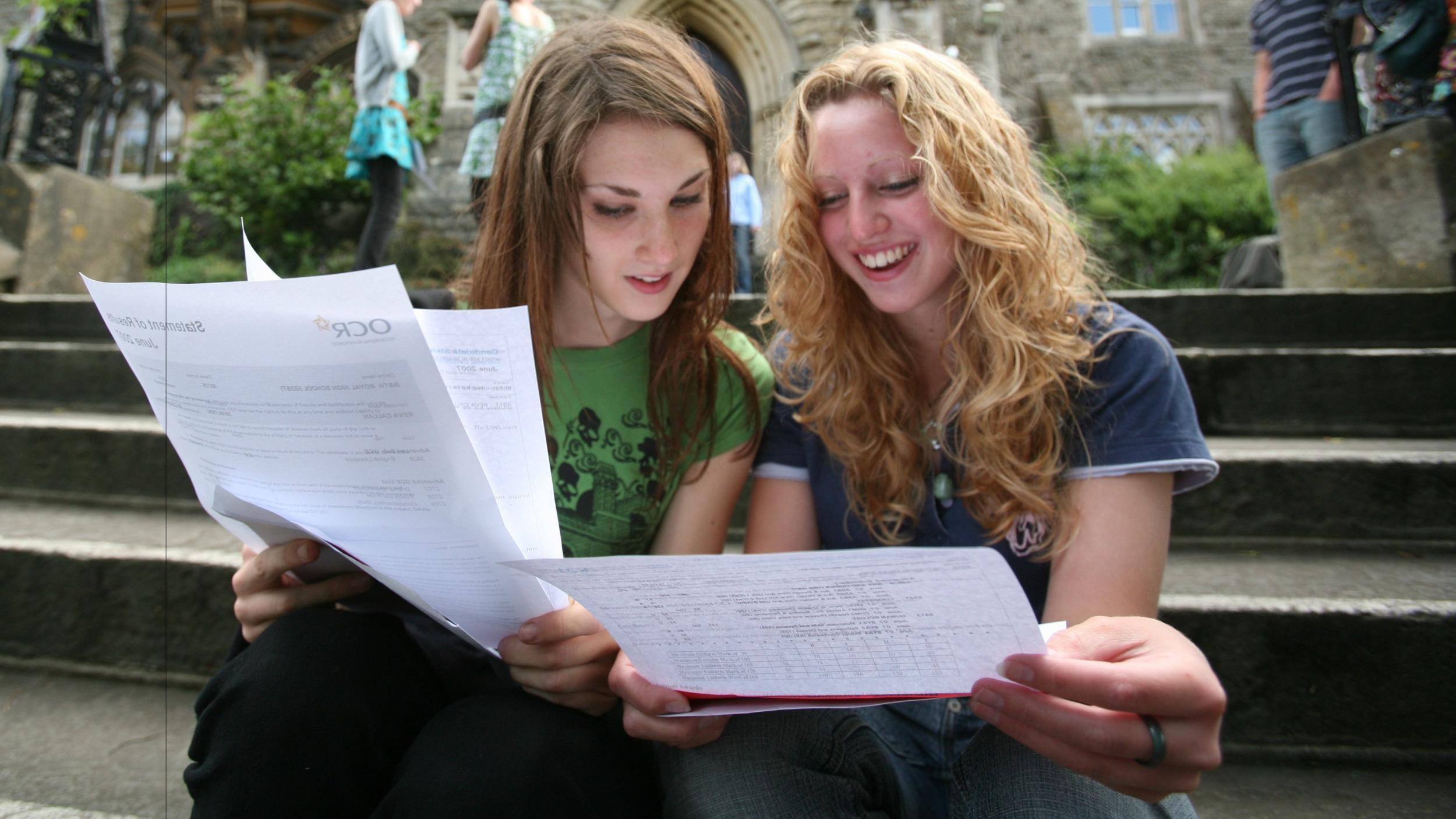 The number of students achieving passes at GCSE has fallen dramatically this year, despite a record number of pupils retaking their exams in the hope of achieving a grade C.
Grade outcomes for all candidates show that the number of A*-C grades have declined by as much as 2.1 percentage points on last year – the biggest ever drop since the exams were introduced more than 25 years ago.
Declining grades in maths, English, sciences and languages follow a major government shake-up of education policies in the past academic year.
Figures released by the Joint Council for Qualifications (JCQ), show that the gender gap has increased slightly, with 71.3 per cent of girls' entries awarded at least a C grade, compared with 62.4 per cent of boys'.
Results for both boys and girls were down on last year however, from 73.1 per cent and 64.7 per cent respectively.
English and maths grades suffered especially, with the overall proportion of pupils getting A*-C in falling by 5.2 per cent in English and 2.3 per cent in Maths. Combined sciences also experienced a significant drop in pass grades.
Could you pass a GCSE exam?
The fall in attainment levels are said to be partly due to changes to the education system seen this year.
Students are no longer allowed to leave school before the age of 18, and must achieve at least a grade C in English and maths, leading to a significant rise in the number of 17-year-olds entering for resits this year.
The over-17s cohort can account for the fall in pass grades to some degree, with a drop of -7.6 per cent A*-C grades. But, exam board associates agreed that some of the fall remains unexplained, since year 11 pupils taking their GCSEs for the first time also reflected badly with a fall of 1.3 per cent on last year's results.
In total, just over two thirds of entries in England, Wales and Northern Ireland (66.9 per cent) were awarded A*-C – deemed by schools to be a "good" pass.
Teaching groups have blamed the Government's recent education reforms, which place an emphasis on maths, English and science over creative subjects and modern foreign languages (MFL).
Jill Stokoe, education policy advisor at the Association of Teachers and Lecturers (ATL) said: "The Government must acknowledge that their policy to force 17-year-olds to re-take English and maths until they obtain a pass grade is not in the best interests of students, and is clearly not working because fewer students are passing their re-sits now that they are compulsory."
"This policy is clearly having an impact on the overall results for English and maths GCSEs, as this year nearly 40 per cent of students didn't achieve A*-C. We suspect the fall reflects the impact of the Government's ill-thought-out policy to push all students to do the English Baccalaureate (EBacc) subjects. This is making many students study subjects in which they do not excel, rather than subjects in which they would do well and could provide good career opportunities. It also means that students cannot focus on improving their English and maths skills."
Ms Stokoe warned that Government's plans to make 90 per cent of students study EBacc subjects including English, maths,physics and MFL places more pressure on schools that cannot provide enough support due to teacher shortages in these subjects.
University of Buckingham Vice-Chancellor, Sir Anthony Seldon, said: "There has been a ridiculous amount of changes to exams in the last ten years. The government needs to stop fiddling and meddling with the system and just let everything settle down."
"We've had years of government-driven change which have not helped children to learn or teachers to teach. It belittles their achievements and the hard work of schools. Almost nothing contributes more to stress than the constant need to respond to the latest government diktat. Stop the meddling and give our children a chance."
Exam board associates said the decline in grades could be partly due to an increase in numbers of candidates, particularly in science which saw a shift in the number of stronger candidates choosing to take on single sciences rather than combined.
The overall pass rate – those achieving A*-G – also dropped, albeit it only slightly, from 98.6 per cent in 2015 to 98.4 per cent this year. There was also a slight drop in the number of A* grades for the fifth year running, with 6.5 per cent of entries given the highest mark this year.
Professor Alan Smithers, director of Buckingham's Centre for Education and Employment Research, said the drop in A*-C grades was the biggest since the creation of GCSEs in 1988 and was unexpected.
He said: "I suspect it may also have something to do with this being the last year of the existing maths and English syllabuses, and some schools concentrating on the new syllabuses which they are already teaching for next year's exams."
This is the last year in which GCSE results are scored with grades A* to G. From next summer, pupils will take reformed courses in English language, English literature and maths, marked with numbers from 9 for the top-performing students down to 1 for those who have struggled. The changes will be rolled out across another 17 subjects by summer 2018.
As pressure is placed upon EBacc subjects, entry numbers for art and design, performing arts and media have all fallen, the latter by 11.6 per cent on last year.
Kath Grant, director of education at ASDAN, one of the UK's largest providers of skills-based programmes and qualifications said she was "concerned" to see such a decline in creative subjects.
"These results are published in a time of flux for schools, and in many ways reflect the pace of change imposed on teachers and students," she said. "We are concerned to see a drop in the number of students taking art and design, design technology and PE which is due to the focus on academic subjects imposed by the EBacc."
"This narrowing of the curriculum is very limiting for many students, who will not be given the opportunity to study subjects in which they excel and which may lead them into successful careers."
"We are also concerned at the gender imbalance, which continues despite the abolition of coursework which was said to unfairly advantage girls... More work needs to be done on addressing this imbalance to ensure that every student meets their potential and has an opportunity to successfully access employment and further education."
A total of 5,434,597 GCSE results have been issued today, up on last year's 5,429,478. School standards minister Nick Gibb said of the results: "The hard work and determination of hundreds of thousands of 16-year-olds will be rewarded today as they collect their GCSE results; qualifications that are the gateway to the next stage of their education.
"We want to make our country a place where there is no limit on anyone's ambition or what they can achieve, that's why we are working to ensure there are even more high-quality schools in every part of the country.
"I am pleased to see that there are more GCSEs being taken in the core academic subjects, those that give students a wider range of opportunities. And for those 17-year-olds who have struggled to achieve good grades in maths, we are seeing 4,000 more successful re-takes of those exams; delivering better prospects for every one of those young people.‎"
Join our commenting forum
Join thought-provoking conversations, follow other Independent readers and see their replies