A new library with spectacular lavatories is wowing students at Leicester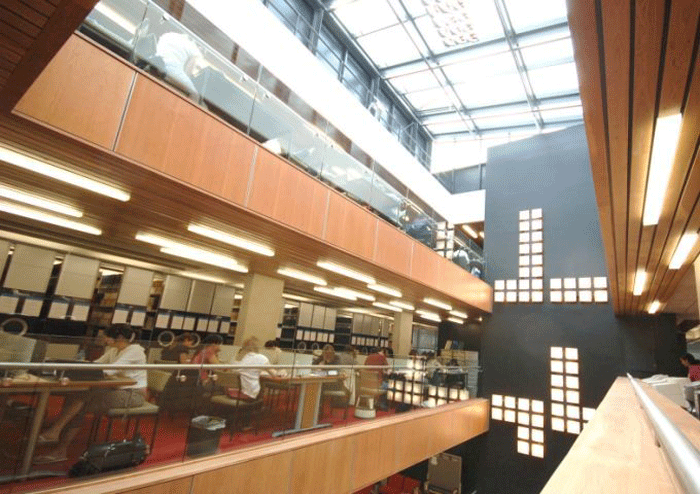 The massive building programme taking place at universities around the land is making British campuses positively stylish in places, and certainly more comfortable. Bedrooms with en suite bathrooms are now de rigueur, as are study areas where you can eat, drink and work at the same time.
But Leicester University has gone one better. Its new £32m library, due to open on 1 April, has the most amazing loos, with yellow trough-shaped sinks, automatic taps and efficient dryers. So enthusiastic are the students that they have established the Leicester University Library Toilets Appreciation Society on Facebook, where they wax lyrical about the beauty of the new lavatories.
"If these toilets were a bird, they would be an eagle as they soar above the rest of the competition," reads one comment. "If these toilets were a metal they would be gold. If these toilets were a footballer, they would be Pelé." And so on.
Louise Jones, director of library services at the university, is pleased that the loos have won the students' approval, but is hoping that they will also appreciate other aspects of the new building: particularly its black leather chairs and sofas, its 350-terminal PC zone and its 13 group study rooms with plasma screens. "We are a quality university," she says. "We want a quality library."
Leicester has always been famous for its library. Until now, its main claim to fame was that Philip Larkin was an assistant librarian from 1949 to 1951. But the former library was a rather grim place, built in the 1970s with black glass and brown shelving. To some observers it was reminiscent of a municipal car park because it was so dark inside and contained so little natural light. And, of course, its lavatories were unremarkable.
The new development, called the David Wilson Library after a local businessman who donated £2m, is effectively a makeover of the existing building with an extension which doubles it in size. Big holes have been knocked in the roof to bring in the light, walls have been clad in light cherry wood, and there are four new atria adorned with hanging sculptures.
Students' needs are at the centre of the new development, and the students' union has been consulted. Perhaps this is why the building contains a café and a bookshop, as well as the careers centre and the student development centre. There will be a help zone in which IT and library support staff – clad in distinctive polo shirts – will roam, aiding students who can't find a book or who have computer trouble.
All this will enable Leicester University to hold its head up high in the increasingly competitive world of higher education. Other universities with spectacular new libraries are Warwick, with its learning grid open 24 hours a day, and Wolverhampton.
The university's librarians did their homework, travelling to Boston in the US and Malmo in Sweden for inspiration. One innovation is a conveyor belt return system, which enables students to post their books back through a slot; another is an express system for students to take out books overnight that are in high demand; and a third is an array of self-service machines, so students can issue books themselves. During exam time the library will be open until 2am; during the rest of the term it will be open until midnight.
Moreover, the university is looking at whether the library should be open round the clock, says Professor Joanne Shattock, dean of the arts faculty. Leicester's position at the top of the student satisfaction league table in England, a position it shares with Oxford, has had a beneficial effect on applications: the number increased last academic year, and the same trend is evident again this year. "Because we have this increase in student numbers, we want to be sure that the students get what they want," says Shattock. "The library is crucial to that."
Perhaps the crowning glory of the new library is that postgraduates get their own space, a no-go area for undergraduates. Taking up around half a floor in the five-storey building, the postgraduate library has superior furniture. The same black leather sofas and chairs are in evidence, but there are also chaises-longues on which graduate students may loll.
Giving postgraduates their own study space is seen as crucial in a university where half the students are doing postgraduate courses and paying higher fees than undergraduates.
All this activity is being overseen by Professor Bob Burgess, the vice-chancellor, who has held the post since 1999 and who has managed to improve Leicester's standing by paying a lot of attention to important details.
The decision by the Higher Education Funding Council to change the amount of money it gave as a result of the Research Assessment Exercise caused great soul-searching in departments such as chemistry, which scored a less-than-glittering 4 rating.
Chemistry has done well in raising money for research and in student recruitment, so it has been kept going, and the hope is that it will do better in the RAE next time, according to Burgess. Another department that was investigated was mass communications in social sciences. A new professor was hired, the courses were changed and the department rejuvenated.
Where once the university was in the red, and had to enter clearing in 13 subjects to recruit students, it's now ranked number 20 in the Good University Guide, is in the top 10 in England for its research impact and in the world's top 200 in the Shanghai index.
"If we had said to colleagues some years ago that we'd be a top 20 university in the UK and in the international league tables in the top 200 in the world, I think some of them would have said, 'Don't be silly, this is Leicester'," says Burgess. "We have demonstrated we are there and have the capacity to do even better."
In addition to the new library, which is the largest building project ever undertaken at Leicester, other new buildings have gone up, including a new £23m biomedical centre and a £24m hall of residence. Burgess also boasts of a big increase in research grants and contracts, which have risen from £35m in 2005-6 to £54m in 2006-7.
The vice-chancellor is paid to show off on behalf of his institution, which this year celebrates its 50th anniversary as a university in its own right. His catalogue of successes may sound too good to be true, but it's worth pointing out that Leicester is not good at everything: it is not fashionable with educated parents, and struggles to recruit students from independent schools.
If it were popular with the middle classes, like Bristol and Leeds universities are, it would not do nearly as well in the widening participation stakes.
As it isn't, it has become one of the Government's golden boys when it comes to recruiting from state schools and lower socio-economic groups. Maybe the new library will change that.
'Postgrads now feel like part of the community'
Marie Weir, 21, a third-year history student, loves the fact that the new library takes account of modern technology and that students now work in groups on presentations and projects. "The loos are pretty edgy," she says. "I'm hoping to do a Masters next year, so I'm particularly pleased about the postgraduate library – it makes the postgrads part of the community."
Carlota Gayton, 22, a third-year modern languages student, likes the modern feel of the new library and the fact that the computer rooms are smaller than the huge space of old. "It is light and fresh," she says. "The old library was noisy and hot. It's a shame my degree ends this year, so I'm not going to be able to use it that much."
Join our commenting forum
Join thought-provoking conversations, follow other Independent readers and see their replies