Class of 2015 graduates desperately seek jobs to recoup £30,000 loans
A survey of over 18,000 final-year students revealed more than one in four will walk straight into a job after graduation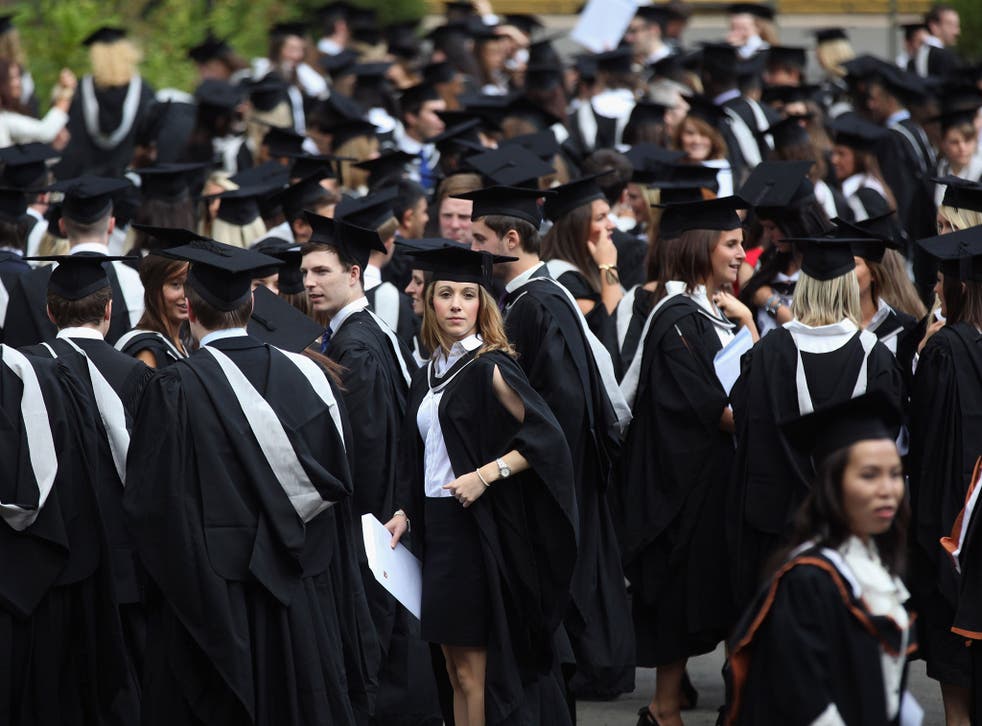 The Class of 2015 – the first to graduate from university having paid tuition fees of £9,000 a year – are the most job hungry and ambitious ever, according to published research.
A survey of more than 18,000 final-year students revealed more than one in four (26 per cent) will walk straight into a job after graduation – the highest level for 14 years.
The survey, by graduate recruitment experts High Fliers Research, also revealed that nearly half (an astonishing 48 per cent – the highest figure ever recorded) had begun searching for a job during their first year at university.
A glance at the levels of debts by this year's graduates gives a clue as to why – on average they owe £30,000 on graduating, 50 per cent higher than 2014's graduates. One in 50 estimate they will leave university owing more than £50,000. Those who studied at Imperial College London had the largest level of debt at £39,300 on average, followed by University College London (£36,500) and the London School of Economics (£36,400) – all possibly as a result of studying in the capital. Those with the least debt were graduates of Strathclyde (£13,000) and Glasgow (£15,700).
Top 10 subjects to study at university to get rich

Show all 10
The research also shows that a record number of students had done work placements or internships during their course. There was also a dramatic drop in the numbers leaving with "no definite plans" – only 9 per cent, the lowest proportion since 1998.
"Our survey shows that new graduates leaving the UK's top universities this summer ... are the most career-orientated, motivated and ambitious of their generation," said Martin Birchall, the managing director of High Fliers Research.
Researchers estimate final-year students made around 474,000 job applications between them – four-fifths more than during the equivalent period six years ago. Their reward was to gain higher starting salaries – earning on average £23,700 a year, £700 more than last year and the biggest rise in starting salaries for seven years. One in six expected to be earning £100,000 a year by the age of 30.
Figures show consultancy work was the most popular destination for graduates followed by marketing, the media and charity work. Among careers suffering a drop in popularity were actuarial work – down 18.5 per cent, property or surveying 17.4 per cent and purchasing 10.2 per cent. Teaching was also down by 7 per cent.
"London was the top destination for students at 26 of the 30 universities in the survey but for finalists at the other four – Glasgow, Strathclyde, Edinburgh and Queen's University, Belfast – the preferred destination was the region in which they had studied."
The report points out that in years gone by "the entire process of hunting for a job was directed almost exclusively at final-year students, most of who didn't begin researching their career options or potential future employers until well into the autumn term".
Register for free to continue reading
Registration is a free and easy way to support our truly independent journalism
By registering, you will also enjoy limited access to Premium articles, exclusive newsletters, commenting, and virtual events with our leading journalists
Already have an account? sign in
Register for free to continue reading
Registration is a free and easy way to support our truly independent journalism
By registering, you will also enjoy limited access to Premium articles, exclusive newsletters, commenting, and virtual events with our leading journalists
Already have an account? sign in
Join our new commenting forum
Join thought-provoking conversations, follow other Independent readers and see their replies